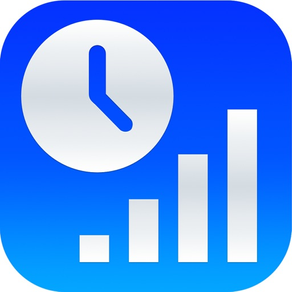 BeachWorktime
1.8.4
for iPhone, iPad and more
BeachWorktime Screenshots
About BeachWorktime
You need a simple App to keep the overview of your work time, your flex time and your holiday planning?
Just configure you work time model with you individual pauses und make your clock in/out every day with the App. Also enter your holidays, sick-leave and en route days.
The App does the rest!
The App will merge all your inputs and configurations and bring it together in a simple overview.

Functions:
- Time-based clock in/out
- All-day events
- Clock in/out notes
- Edit existing items
- Balance sheet
- Month report with week and month sums
- Year report and the year planner
- Configure individual time models
- Create different models for special days
- Manage your total flex. work time
- Edit public holidays manually
- Import public holidays from predefined profiles
- Configure an individual time model for your public holidays
- Admin-functions for your user profile
- Export as CSV, PDF and HTML
- and much more ...

You can access your data from multiple devices and also switch between different users on a single device.
This is possible because the App stores all your data in a secured personal online profile. Therefore you have to register once.
What's New in the Latest Version 1.8.4
Last updated on Jul 25, 2020
Old Versions
- all total day types can now be selected as half day types
- there is a new booking type called special days where you can find some new day types
- all booking types can now be combined
Version History
- all total day types can now be selected as half day types
- there is a new booking type called special days where you can find some new day types
- all booking types can now be combined
- Holiday integration for Reports and Planner
- Colored markers now available in the month report
- More detailed checks and hints to help you in unclear situations
- new pull down function for all lists, the Reports and the Planner
- new worktime based pause

- new teamfeatures

- performance optimization
- Worktime based breaks

- Working with templates

- Planner with more options

- Private and public teams
- The Yearplanner!!!

- In the main navigation you find the new feature 'Planner'.

- There you can plan your holiday and flex days over the whole year.
- App kann jetzt auch ohne Registrierung verwendet werden.
- In "Abweichende Einzeltage" und "Einzeltage eines Modells" kann man jetzt Tage als "Arbeits- oder Nichtarbeitstage" festlegen.
- Unter "Zeitmodell -> Sonderregeln pflegen" kannst du jetzt für Feiertage in deinem Zeitmodell eine abweichende Arbeitszeit definieren.
- Es gibt jetzt eine neue Frontendeinstellungsmöglichkeit - "Startreiter festlegen".
- Sonstige kleine Fehler korrigiert.
- mehr Infos auf der Website
- Setupmenü "Oberfläche"
- Sprachumschaltung
- Position Stempelbutton einstellbar
- neue Sprache Englisch
- "News"-Reiter
- Assistent zur Grundkonfiguration
- Bei GL Stand und fixe Auf/Abschl. jetzt auch -0:XX einstellbar
- Leeren von optionalen Datums- und Zeitfeldern
- Pflichtfeld und Formatprüfungen
- Umstellung auf Sencha Touch 2.4.2
- Unter "Setup"-"Zeitmodell" gibt es einen neuen Menüpunkt "Sonderregeln pflegen". Hier sind jetzt "Abweichende Einzeltage" sowie NEU "Monatlicher Ab/Aufschlag" zu finden.

- Die neue Funktion "Monatlicher Ab/Aufschlag" bietet die Möglichkeit, zeitraumabhängig Fixzeiten zu hinterlegen, welche am Monatsende ab/aufgeschlagen werden sollen.

- Die Ab und Aufschläge sind in allen Berichten (Monat/Jahr) sowie in allen Exports (HTML,CSV,PDF) aufgeführt

- Wird beim Login der angegebene Benutzer nicht gefunden, kommt ein Info-Popup aus dem man direkt in die Registrierung abspringen kann. (User und Passwort wird übernommen)
- Im Kontextmenü der Berichtsansicht (links oben) gibt es die neue Funktion "Export als CSV/PDF/HTML". Im folgenden Popup kann man das Exportformat auswählen und bekommt das Ergebnis dann per Email zugeschickt.

- Im Menü "Feiertage importieren" gibt es jetzt eine mehrstufige Navigation Land->Bundesland->Jahr

- Es wurden die Feiertage von Österreich mit aufgenommen
- Innerhalb eines Zeitmodells sind ab sofort die einzelnen Wochentage individuell einstellbar
- In ein Zeitmodell springen und dann die neue Funktion "Einzeltage" testen!
- Defaulteinstellung des Modells für alle Tage verwenden, oder einzelne Wochentage individuell anpassen

- Bei der Datumsauswahl kann man jetzt überall auch ein Jahr in der Zukunft auswählen

- viele sonstige kleine Stabilisierungen
BeachWorktime FAQ
Check the following list to see the minimum requirements of BeachWorktime.
iPhone
Requires iOS 10.0 or later.
iPad
Requires iPadOS 10.0 or later.
iPod touch
Requires iOS 10.0 or later.
BeachWorktime supports English
BeachWorktime Alternative