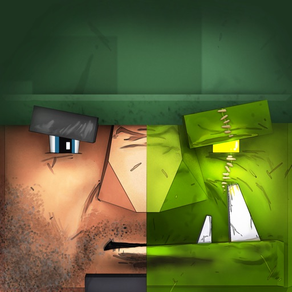 Block Fortress: War
A sci-fi block-building RTS
1.4.4
for iPhone, iPad and more
Block Fortress: War Screenshots
About Block Fortress: War
Welcome to the Blockverse: an alternate and blocky dimension, home to a diverse collection of alien civilizations. These creatures have been waging war for eons, and now you can take control of an army and join the fray!

FEATURES

• Block-building meets real-time-strategy in an action-packed and tactical game.
• Play as one of five races, each with their own unique troops, heroes, and blocks.
• Choose to control one of over a dozen heroes, each with different strengths, weaknesses, weapons, and abilities.
• Customize your army from a huge selection of equipment for each race.
• Build elaborate and powerful defenses by placing blocks, turrets, bombs, and more.
• Fight your way through a massive campaign on five different planets.
• Battle your friends and climb the leaderboards in 1v1 or 2v2 multiplayer, powered by GameCenter.
What's New in the Latest Version 1.4.4
Last updated on Dec 19, 2022
Old Versions
Added cross-platform multi-player and a privacy policy link.
Version History
Added cross-platform multi-player and a privacy policy link.
Fixed graphical settings for newer iPads.
iPhoneX screen support, optimizations, and bug fixes.
• Multiplayer 2v2 bug fix
• Decreased the effects of Blockbot's charger block.
• Other minor bug fixes.
Crash fixes, optimizations, and improved data stability.
• Fixed a crash on boot-up for devices running iOS 5.x
• Fixed a bug where Engineer's power boost ability would make turrets' range constantly decrease.
• Fixed a bug related to iCloud when unlocking heroes and equipment.
• Endless is more difficult in the very advanced stages.
• Mission 5 on Planet Z is slightly easier.
Thanks again to all of you who downloaded Block Fortress: War!

• Added an all new endless mode!
• The move stick is now a floating move stick.
• Units are now equipped with a basic weapon by default.
• Removed some irrelevant chat messages.
• Fixed a bug where Blockbot Alpha's high yield ability would stay active forever when he died.
• Significantly decreased the rate that Radioactive heals when being damaged with the transmutate ability active.
• Fixed a rare crash that could result in the loss of your campaign progress. If you lost data from this crash, let us know, and we might be able to help!
• Improved stability.
• Minor bug fixes.
Thank you everyone for downloading Block Fortress: War! We've been listening to your feedback and hope this update makes the game even better!

• Stay tuned - a brand new endless mode is coming in the next update!
• Added two new usable items (Reinforce and Mineral Shipment).
• Players now start off with several free usable items to help in the tougher battles.
• The barracks now projects a build radius around it.
• Drastically increased the build radius and height around resource nodes, allowing for much more flexibility when designing your defenses.
• Resource blocks now give a gradual flow of up to 50 minerals when captured, in addition to the initial shipment.
• Drastically increased the hp of level 2 and 3 building blocks.
• Improved drag controls - added pinch zooming and two-finger pivoting to rotate the camera.
• Changed the way enemy unit targeting works. Players can now set targets for their individual units, rather than marking enemies as priority targets. See the tactics section in the game guide for more info.
• Goblock missions 4 and 5 have been made slightly easier.
• Fixed a bug where you didn't earn rare minerals in multiplayer games.
• Decreased the minimum game duration necessary in multiplayer to gain minerals and rank points.
• In multiplayer, heroes do not get healed near a mineral node or the barracks if they are being attacked or attacking.
• All heroes now have a base 20% resistance to ailments (stun, slow, poison, etc).
• You now earn some rare minerals when you lose a mission but survive for at least two minutes.
• Fixed Zomblock mission 5 bug where the map would go dark.
• Fixed a bug where permanent hp buffs would reset after gaining a level.
• Fixed a bug where Brute's mutate ability would not increase its move speed.
• Fixed a bug where you could be knocked off the edge of the map.
• Improved stability.
• Minor bug fixes.
New icon, various tweaks and bug fixes.
Block Fortress: War FAQ
Block Fortress: War is available in regions other than the following restricted countries:
China
Block Fortress: War supports English
Block Fortress: War contains in-app purchases. Please check the pricing plan as below:
Check the following list to see the minimum requirements of Block Fortress: War.
iPhone
Requires iOS 9.0 or later.
iPad
Requires iPadOS 9.0 or later.
iPod touch
Requires iOS 9.0 or later.
Block Fortress: War Alternative