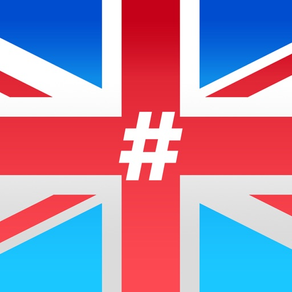 #BritishSlang Screenshots
About #BritishSlang
Want to sound like you've just spent seven weeks in a specific villa in Mallorca? Try #BritishSlang today...

Features 30 original stickers with the best of modern British slang. Plus, many more in FREE future updates!

Included in the sticker pack is:
+ Sesh: abbreviation of 'session', esp. used with drinking
+ Crack Open A Cold One: to open an ice cool drink
+ Lit: something which is amazing
+ Lowkey: to do something in a clandestine manner
+ Highkey: to do something overtly
+ Salty: the act of being angry or bitter
+ Legit: meaning something is real or cool
+ TY B: abbreviation of 'thank you bae'
+ xoxo: hugs and kisses
+ Keep The Streak: for when your friend is letting the streak end!
+ Yas, Queen!: alternative of 'you go girl!'
+ Ballin': the act of being very rich
+ m9 pls: for when your friend is not thinking in a coherent manner
+ Chirpse: to flirt with someone
+ Cheeky: a cheeky Nando's
+ Roadman: someone who knows the ins and outs of their area and makes questionable fashion choices
+ Savage: when someone has no chill!
+ Woke: a state of enlightenment
+ Wagwan, Fam: What's up, mate?

New in 1.1:
+ Peak: when a situation is 'peak', it is bad or gutting
+ Extra: over the top
+ Peng: extremely attractive man or woman

New in 1.2:
+ Do You Even Lift Bro?: an expression to question the legitimacy of someone's lifting expertise
+ #YOLO: You only live once

New in 1.3:
+ Melt: being soppy over someone
+ Take a Chill Pill: take one a day for a soothing and calming effect...

New in 1.4:
+ Bait: when something is made obvious in an unsubtle way
+ Beef: having a grudge against someone

New in 1.5:
+ Mug: a foolish person
+ Moist: term to describe perceived lack of masculinity

New in 1.6:
+ Long: when something is a lot of effort
+ Throws Shade: trash talking someone

New in 1.7:
+ Woii: woii.
+ RIP: Rest in peace

Download #BritishSlang today for these stickers and more in the future! Please Tweet us @CodingCornerLLP with any feedback or suggestions!
What's New in the Latest Version 1.7
Last updated on Sep 18, 2018
Old Versions
+ Woii: woii. + RIP: Rest in peace
Version History
+ Woii: woii. + RIP: Rest in peace
#BritishSlang FAQ
Check the following list to see the minimum requirements of #BritishSlang.
#BritishSlang supports English
#BritishSlang Alternative