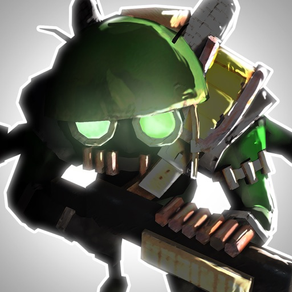 Bug Heroes 2 Premium
1.4
for iPhone, iPad and more
Bug Heroes 2 Premium Screenshots
About Bug Heroes 2 Premium
Master 25 unique heroes - from a hook wielding Waterbug pirate, to an old and wise Aphid sensei, a champion Bumblebee boxer, a grenade launching Worm, a poison obsessed Stinkbug, and tons more! Choose and customize your squad, and unleash powerful abilities on your enemies. Scavenge for food and junk, fortify your base, build turrets, level up your heroes, equip weapons and armor, and survive! Or, put your skills to the test in up to 2v2 competitive multiplayer battles!

----------------------------

FEATURES

• MOBA-like competitive & cooperative multiplayer
• Tons of single player content, including missions, an endless mode, and a base vs base skirmish mode
• 25 unique heroes to master - form your team of two
• Innovative squad based gameplay - control two heroes simultaneously
• Level up your Bug Heroes, increase their skills, and buy weapons, armor, and gear
• Scavenge for food, then defend your Food Stash with turrets and upgrades
• Complete missions, earn stars, and unlock a host of powerful upgrades
• Master both melee and ranged combat. Slice your enemies with swords, swat bugs off of ledges, blast them from long range with guns and magic, and more
• Tactical gameplay - use cover to defeat your enemies
• Over 75 varied enemy types to battle

----------------------------

Questions or comments? Follow us on Twitter @FoursakenMedia, or like us on Facebook!
What's New in the Latest Version 1.4
Last updated on Dec 21, 2022
Old Versions
• Full screen support
• Fixed a problem with in app purchases sometimes not processing
Version History
• Full screen support
• Fixed a problem with in app purchases sometimes not processing
This app has been updated by Apple to display the Apple Watch app icon.

• Bug fixes
• Sync error fixes
• Fixed a bug involving "Destroy the Enemy Base" objective in Endless/Coop
• Fixed an issue with training missions
• Improved performance
• Easier to navigate options window
• There can only be a max of 4 Bulb Ants out at once
• Crash/bug fixes
• DOMINATE AN ALL NEW GAME MODE! Play the new Turret Defense mode, complete with a 20+ mission campaign, a brand new hero, a new powerup system and more!
• Added a new turret: Laser!
• Many higher star missions made easier
• Balanced turret upgrade prices
• Balanced stun scroll effect on high rate of fire heroes
• Fly Bandito and Army Ant Cavalry abilities have unit caps
• Sniper Turret bullets move much faster, but they no longer target heroes in versus mode
• Revamped mission system to allow many more mission choices and options at once
• Fixed an issue with versus local multiplayer
• Miscellaneous bug fixes
Thank you for playing Bug Heroes 2 - stay tuned for an all new mode in the next update!

• Can now earn stars by playing Endless mode!
• Fixed a bug where players would get harder missions than they should've been getting
• Decreased mission randomness - mission should be more appropriate to player skill level
• Ladybug shielders will no longer shield Ladybug healers
• Ladybug healers will no longer heal other healers
• Tweaked builder missions to be easier
• Ladybug Shielders now have a 5s cooldown time on their shields every 15s
• Capped the amount of Ladybug shielders that can be out on the field at once
• Miscellaneous bug fixes
• Added unlockable banners for heroes!
• Fixed a crash on older devices running iOS 5.0 (iPad 1, iPod Touch 3g, iPhone 3GS, etc)
• Slightly increased diamond income in endless, hard
• Lowered armor of Ladybug support enemies
• Improved Cannon and Mushroom turrets
• Fixed a problem where you couldn't 1v1 certain players on a local connection
• Decreased cooldowns of Legendary Hero abilities as you level them up, increasing their overall effectiveness later in a game
• Fixed several issues with Tarantula abilities
• Added an option to disable quick turn
• Improved frame rate on low graphics and low generation devices
• Improved performance of Baby Spiders
• Decreased the amount of stars required to unlock new heroes
• Tweaked several mission types to be less frustrating
• Food Stash is less vulnerable to hero rushes and attacks in Versus/Skirmish mode
• Improved AI of heroes on hard in Skirmish mode
• If the game quits in the middle of a co-op game, you'll get your reward when you open the game again
• Fixed a bug where loading an Endless game would make it easier
• Added some failsafes to prevent hero stun locking
• Various hero balancing
• Miscellaneous bug/multiplayer fixes
*** Sorry everyone, we weren't able to get everything in this update, and there are MANY MORE FIXES AND IMPROVEMENTS COMING IN NEXT UPDATE which we will be submitting ASAP! Including lower star requirements to unlock heroes (faster hero unlocks), fix for iOS 5 devices (iPad 1, ipod touch 3g), and more! ****

Version 1.0.2 Change Log:

• Added a high/low graphics option
• Added saving and loading to Skirmish mode
• Fixed a problem with Worm's shot shooting the wrong way
• Fixed a crash if the game starts while you're typing in the lobby
• Fixed a bug where you could get stuck with 3 unplayable missions
• Removed missions that require heroes you don't own
• Fixed an exploit with 'Random Hero' option
• Fixed several other exploits
• Fixed a bug where base destruction missions would not finish after killing the enemy base
• Fixed a bug where strategic nodes would disappear
• Added a queue system to prevent massive enemy build-up
• Tweaked mission progression to be smoother and less random
• Fixed several abilities not upgrading correctly, and/or being displayed wrong
• Fixed a bug where you could obtain multiple versions of the same scrolls instead of them combining and upgrading properly
• Tons of balance and scoring tweaks
• Tons of other miscellaneous bug fixes/improvements
• Cleared leaderboards due to balance and scoring changes
• Added an Auto Buy option - automatically buys the next weapon/armor you can afford
• Added respawn cues when your non-controlled hero respawns
• Added tutorials for skirmish mode
• Shadow settings won't transfer between devices when loading from iCloud
• Fixed a bug where scores would show up invisible
• Fixed some abilities
• Miscellaneous other bug and balance fixes
Bug Heroes 2 Premium FAQ
Bug Heroes 2 Premium is available in regions other than the following restricted countries:
Afghanistan,China
Bug Heroes 2 Premium supports English
Bug Heroes 2 Premium contains in-app purchases. Please check the pricing plan as below:
Check the following list to see the minimum requirements of Bug Heroes 2 Premium.
iPhone
Requires iOS 11.0 or later.
iPad
Requires iPadOS 11.0 or later.
iPod touch
Requires iOS 11.0 or later.
Bug Heroes 2 Premium Alternative