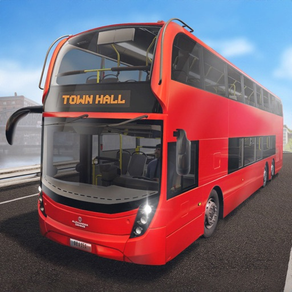 Bus Simulator
City Ride
1.1.2
for iPhone, iPad and more
Bus Simulator Screenshots
About Bus Simulator
Take the driver's seat as you transport passengers around a lively city in officially licensed buses from famous manufacturers: Alexander Dennis, Blue Bird, BYD, IVECO BUS, MAN, Mercedes-Benz, Scania, Setra, Volvo, and Vicinity Motor Corp. Drive routes and complete campaign missions to unlock even more buses, districts, and routes. Climb the career ladder and build a public transport network for your city.

YOUR BUS. YOUR CITY. IN YOUR HANDS.

10 ORIGINAL BUSES FROM WORLD FAMOUS MANUFACTURERS

Original, licensed buses are waiting for you! Drive 10 buses from 10 world-renowned manufacturers – from electric buses to articulated or double decker buses. Featuring manufacturers such as Mercedes-Benz, Volvo, IVECO BUS, and BYD, there is plenty of variety of buses. With detailed cockpits, you can take the driver's seat and experience real bus driving immersion while driving YOUR BUS.

TRANSPORT PEOPLE AROUND A LIVELY CITY

Explore the game's very detailed and lively map! The city of Havensburg is inspired by cities in northern Europe and offers you a variety of eye-catching buildings and landscapes, including the harbor warehouse district, harbor, old town, and surrounding countryside.
In such a vibrant city, people want to get around and drink coffee with friends in the old town district or visit the harbor with their family. Transporting passengers never gets boring – and perhaps they'll even share some stories with you. Now it's your job to connect the people of YOUR CITY.

MANAGE YOUR TRANSPORT COMPANY

Prove your driving skills: Make it to the top and build a successful bus transport company. Progressing through the campaign unlocks even more buses, districts, and routes. Build out your transport network by driving routes to earn more Credits, purchasing more buses, and assigning more and more buses to your routes. The success of the company is IN YOUR HANDS!
What's New in the Latest Version 1.1.2
Last updated on Mar 22, 2023
Old Versions
improved input sensitivity
Version History
improved input sensitivity
New Features

Engine sounds for Diesel and CNG buses adjust to different RPM and acoustically simulate gear shifting

Road signs now break and fall over on impact with the bus. They respawn after a short period of time in a certain distance from the bus.

Added localised subtitles for the passenger voice-overs during drives

Added customisation options for buses and profile pictures:

the primary and secondary colours chosen during Profile Creation are applied to buses as default colours; you can also choose "no colour" to play with the manufacturer's default colours for the buses

the primary colour also applies to your chosen character profile picture

added an option to adjust colours for individual buses in your Fleet Menu

You can choose two additional steering options for touch input in the Settings to use:

a "real" steering wheel based off the bus' actual steering wheel

or a "button" input to steer with a left and right UI button on the touchscreen

 

Bug fixes and improvements:

Improved physics stability for articulated buses and overall driving behaviour

Passengers and pedestrians are fading in & out when entering or exiting the bus

Fixed the sidewalk near the "Meyer Farm" bus stop overlapping with the grassy ground

RPM gauge in dashboard shows RPM in sync with the sound
New Features:
-Implemented Gyro / Tilt Controls
-Enabled rear mirrors for all 4GB devices / high performance devices
-Speed limiter now limits you maximum speed to the actual speed limit on the current road (was fixed to 50 km/h before)
-Added better icons to show newly unlocked content in route management and bus dealer menus
-Added blinking animation to turn indicator bus interaction state in HUD
-Added missing stop markings on intersections with traffic lights and yield signs



Bug fixes and improvements:
-Fixed iPhone X stability issue where the application terminated on the initial loading screen
-Fixed automatic resolution scaling to work on iPhone X, reducing issues with overheating and crashes.
-Fixed more instances of gamepad hints in the bottom bar in various menus to say "back" instead of "cancel"
-Fixed road signs being too close to some crossings and causing collisions during turns.
-Fixed navigation markers sometimes preferring the left lane on 4-lane roads causing confusing routing.
-Fixed a missing localization string in settings menu
-Fixed scrolling issue in settings menu
-Fixed selection highlight in ticket sales and menus distracting you from the actual thing you need to do when there is no controller present
-Fixed the camera clipping underground at bus stops
-Adjusted requirements for 3, 4 and 5 star ratings to align the difficulty across routes and make perfect drives regularly result in 5 star ratings (with the exception of being extremely -unlucky with very few Drive Events that occur during the drive)
-Fixed instances where the "Car blocks Bus Stop" drive event did not resolve and reduced the time until cars blocking a bus stop react to your horn
-Fixed texture quality issue for some dashboards on iOS
-Removed cut-off road piece leading to football stadium parking area
-Fixed issue with the Road Blocker visual effect being overlaid by fog in the background
-Fixed X-axis being inverted
-Reduced default steering sensitivity and added more range to adjust the sensitivity to your liking
-Fixed satisfaction score calculation showing wrong base values in the end-of-route score screen
-Fixed an instance where the camera could get stuck at the side of the bus when leaving a bus stop
-Fixed instances (especially in the Old Town district) where road signs were floating above the ground
-Fixed instance where guardrail pole collider was slightly protruding into the road
-Fixed UI layout issues when using mobile devices with notches
-Ticket Selling notification: Background is not clipped off on the sides anymore
-Routes menu: UI stretches correctly
-Reduced road sign collider sizes (some colliders were too big and close to the road making it easy for the bus to collide with them)
-Fixed "squashed" screen rendering issue
-Fixed an instance where cars do not react to the horn when blocking a bus bay
-Fixed route end animation being underground for new camera animations
-Fixed texture quality issue for some dashboards
-Fixed Settings scrolling issue
-Adjusted balancing making it easier to get the 4 and 5 star ratings
-Added better icons to show newly unlocked content in route and bus dealer menus


-Added missing localization string in the settings
-Fixed scrolling issue in the settings
-Removed the preselection highlight in ticket sales and menus to avoid distraction
-Reduced requirements for 3, 4 and 5 star ratings to make it slightly less difficult to get these ratings on shorter routes


various fixes and improvements
Bus Simulator FAQ
Bus Simulator is available in regions other than the following restricted countries:
Russia,China,Belarus,Myanmar
Bus Simulator supports English, Dutch, French, German, Italian, Japanese, Korean, Polish, Portuguese, Russian, Simplified Chinese, Spanish, Traditional Chinese, Turkish
Bus Simulator contains in-app purchases. Please check the pricing plan as below:
Check the following list to see the minimum requirements of Bus Simulator.
iPhone
Requires iOS 15.2 or later.
iPad
Requires iPadOS 15.2 or later.
iPod touch
Requires iOS 15.2 or later.
Related Videos
Latest introduction video of Bus Simulator on iPhone
Bus Simulator Alternative