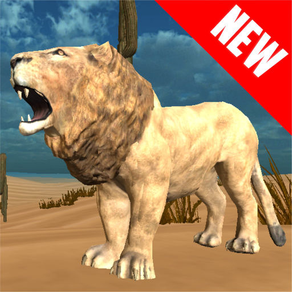 Call of Wild Lions IGI Survival Land Missions
Call of Wild Lions IGI Survival Land Missions Screenshots
About Call of Wild Lions IGI Survival Land Missions
Are you interested in forest hunting? Then get ready for to be a wild lion hunter! Choose your weapons and a hideout in wild jungle so wild lion king not get noticed your presence. This is a full of thrill with realistic fps game. You would feel as a real hunter while playing this new hunting game.
You will enjoy to play this awesome Lion animal hunting game with high definition graphics where beautiful meadows hill and green valley environment.

This real lion hunter game gives you all, and invites you to take the challenge if you can prove to be the best animal hunter in forest. Hunting is not easy profession or skill in real life and especially in jungle (forest) among wild animals where a lot of chances they can kill you. Be aware of dangerous and wild predators, hunt or be hunted.

real lion hunter is comprised on two different mode one of which is forest environment and other one is desert. As a hunter you hunt the lion before the lion hunt you.
You have a modern and latest inventory of weapons as a sniper,bow,mp5,m6,katana,archers etc where you can select your gun to hunt wild animal. Choose your most favorite weapon jungle Sniper, and start hunting to show your best skills of hunting or shooting in the wilderness. Even from old era soldiers are trained as archer shooter and they also learn archery hunting to hunt or kill the wild animals of forest. All warriors and knights were expert in hunting running animals.

As you know the lion is the king of jungle and the the lion king is very sharp animal and you also know the running speed of lion is very fast so deal with lion in jungle very carefully because they have ability to attack on you when you want to shot the lion completely set your aim on target lion for shot to kill. if you miss the shot then lion run away or climb away from targeted position now they try to attack on you before they attack on you shot them otherwise they will kill you.

Jungle animals are the most dangerous and killer animal in the forest, you have to hunt and survive yourself as well.
You have to be active and smart in aiming to kill lions. Otherwise lion can catch and tear your body in a lot of pieces. counter attack of these beasts with unique weapons. Knockout them before they hunt you in safari park.

There are unlimited levels in this game, you have to complete your mission by shot to kill lion in given time. You have to be very sharp while hunting lions in the forest and to kill more lions to be a top scorer among your friends.

Survive yourself from the deadly lions attack with your real and professional hunting sniper skills. Your real task is to stop and kill the angry and deadly lions attack. Lions are deadly and attacking, so bring your inner lion hunter out to kill them all Deadly Lions.

Few important tips for playing game:-
- Proper posture.
- Focus on your target and concentrate for at least few seconds before releasing the shot.
- Keep your eye on the target.
- Relax, aim and shoot.

Game Features:-
- unlimmited levels with all different difficulty.
- Realistic Forest and Desert Environment.
- The natural sounds of real wild lions and bullets fired.
- Stunning animal fighting animations.
- Radar system to indicate Lions positions.
- Easy to control and multiple touch enables.
- No connectivity required while playing.
- High quality 3D audio and a lively music soundtrack.
What's New in the Latest Version 1.0
Last updated on May 11, 2017
Call of Wild Lions IGI Survival Land Missions FAQ
Click
here
to learn how to download Call of Wild Lions IGI Survival Land Missions in restricted country or region.
Check the following list to see the minimum requirements of Call of Wild Lions IGI Survival Land Missions.
Call of Wild Lions IGI Survival Land Missions supports English
Call of Wild Lions IGI Survival Land Missions Alternative