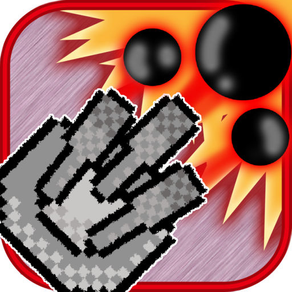 Cannon Master Screenshots
About Cannon Master
Defeat enemies that come from the sky by creating powerful missiles.
Monsters are invading us from the sky. Create missiles to defeat monsters.

◉ Upgrade the main cannon
When you defeat monsters, you earn gold. Upgrade the main cannon and missiles with the gold.

◉ Add sub cannons.
Build sub cannons that help with the attack. Sub cannons attack enemies in the sky automatically. Each sub cannon has its own characteristics. Try to make good use of their features

◉ Collect items.
If you kill monsters, items are sometimes given. Touch the item to obtain it. Items help you have special abilities throughout the game. Also, if the items collected accumulate, their effects could be levelled up!

◉ Create a powerful option cannon.
Monsters leave option cannon when they die. Option cannon are provided in the upgrade menu, option cannon category. Same option cannons can be integrated to level up to a stronger option cannon. As the level increases, attack power is increased and with some luck, you can have some special abilities. Actively use the option cannon's strength.

◉ Defeat boss monsters within the time limit.
Boss monsters appear during the game. Boss monsters have high stamina, so they are not easy to defeat. But if defeated, a large sum of gold and items are given.

◉ Defeat boss in boss raid mode.
When boss monsters are defeated, the boss raid mode is activated. When the boss is defeated continuously, the level of the boss raid mode increases, and the amount of gold earned also increases!

◉ Try out the overheat mode.
Overheat mode is automatically activated when a certain number of monsters are killed. In overheat, a large number of enemies appear, but my missile becomes even more powerful! Kill many monsters with a strong missile.

◉ Activate overheat with pure crystals.
When pure crystals are used, overheat 5x mode is activated. Saving crystals for use in dangerous situations is one strategy!
What's New in the Latest Version 1.00.12
Last updated on Oct 15, 2016
Old Versions
Version History
v1.00.10 업데이트 사항
- 불지옥 모드 추가 (업그레이드 상향)
- 보조포를 터치 했을 때 모드 설정 기능 추가 : 방향 고정, 공격 중지, 자동
- 데미지 표시 방식 수정 (1,000 = K, 1,000,000 = M, 1,000,000,000 = G)
v1.00.09 업데이트 사항
- 슈퍼다다닥 추가 : 화면을 마구마구 터치하면 공격력이 세집니다!
- 슈퍼다다닥 관련 업그레이드 사항 추가
- 자석기능 끌어당기기 버그 수정
- 아이템 획득을 더 잘 할 수 있도록 수정
- 기타 버그 수정
Cannon Master FAQ
Check the following list to see the minimum requirements of Cannon Master.
Cannon Master supports English
Cannon Master Alternative