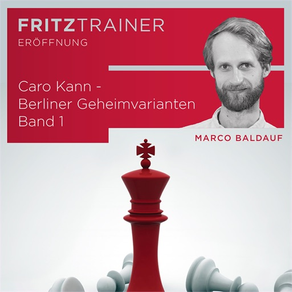 Caro-Kann 1, Marco Baldauf Screenshots
About Caro-Kann 1, Marco Baldauf
Der dänischen Schachlegende Bent Larsen wird bekannterweise das ironische Zitat zugeschrieben: "Wenn du Caro-Kann in jungen Jahren spielst, was wirst du dann spielen, wenn du alt bist?"

Zugegeben, Caro-Kann hatte lange Zeit ein etwas angestaubtes, ja langweiliges Image. Positionell veranlagte Strategen wie der Weltmeister Anatoly Karpow wählten diese solide Eröffnung, um ihren dynamischen Gegnern früh den Wind aus den Segeln zu nehmen. Doch Caro-Kann bekam in den vergangenen Jahren eine Imagekur verpasst - neben ihrem soliden kann sie auch ein sehr aggressives Gesicht zeigen.

Auf meinen beiden Fritztrainers lege ich ein vollständiges Schwarzrepertoire gegen den Zug 1.e4 vor. Ich lege besonderen Wert darauf, die Varianten nicht nur auf Vereinfachung und Remis auszulegen, sondern Ihnen mit dem Zug 1...c6 eine Gewinnwaffe an die Hand zu geben.

Klassische Variante 3.Sd2/Sc3, Abtauschvariante 3.exd5 cxd5 4.Ld3, Panow-Angriff 3.exd5 cxd5 4.c4
Die häufigste Antwort auf Caro-Kann ist das System 3.Sc3 (oder 3.Sd2), das wir klassisch mit 3... dxe4 und 4...Lf5 beantworten. In den entstehenden Stellungstypen ist die Kenntnis positioneller und taktischer Motive oftmals wichtiger als reines Variantenwissen, weshalb ich Ihnen hier neben den konkreten Repertoire-Empfehlungen strategisches Rüstzeug an die Hand geben möchte. Nicht anders verhält es sich mit der Abtauschvariante (3.exd5 und 4.Ld3), die sich in den vergan- genen Jahren zu einem sehr ernst zu nehmenden Aufbau gemausert hat. Darüber hinaus bespre- che ich auf dieser DVD den Panow-Angriff, der zwar zunehmend weniger auf den Brettern zu sehen ist, dies seiner Gefährlichkeit jedoch keinen Abbruch tut. Hier empfehle ich das interessante strategische Konzept 6...Le6.

Zum Schach kam Marco Baldauf, Jahrgang 1990, als er im Alter von sechs Jahren den Schachcomputer "Kasparov" geschenkt bekam und sich schnell zur Schwierigkeitsstufe "h8" hoch- spielte. Er ging bald darauf in seinen Rosenheimer Verein und seither hat ihn das Spiel nicht mehr losgelassen.
2015 debütierte der Wahlberliner in der Bundesliga, 2019 wurde ihm der Titel des Großmeisters verliehen. Für Chessbase schreibt er gelegentlich Turnierberichte, arbeitet als Livekom- mentator oder nimmt Fritztrainer auf. Zuletzt erschien seine zweiteilige Reihe "Caro-Kann - Berliner Geheimvarianten".
What's New in the Latest Version 1.0
Last updated on Dec 10, 2019
Caro-Kann 1, Marco Baldauf Price
Caro-Kann 1, Marco Baldauf FAQ
Check the following list to see the minimum requirements of Caro-Kann 1, Marco Baldauf.
Caro-Kann 1, Marco Baldauf supports English
Caro-Kann 1, Marco Baldauf Alternative