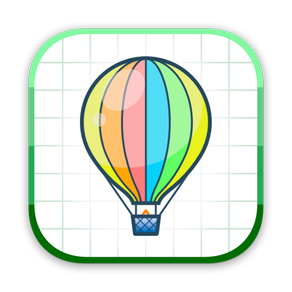 CDRViewer 4
Free
Offers In-App Purchases
About CDRViewer 4
Standalone Utility to Open and Convert CorelDRAW, Visio, PDF, EPS, PostScript, Adobe PSD, Ai, WordPerfect graphics and WordPerfect Documents.

Tool to Load, Open, Read and Convert Freehand, CorelDRAW CMX, TIFF, WPD, WPG, Encapsulated PostScript, Illustrator and Microsoft Visio Drawings.

CDRViewer 4 does not require CorelDRAW on the system to read CDR, CMX, Microsoft Visio to read Visio Stencils, Adobe Illustrator to read Ai, EPS, PostScript and PDF documents.

CDRViewer 4 is a portable software that immediately open, convert and view CDR, CMX and VSD, VSDX, VSS, VSSX, PDF, PSD, TIFF, EPS, Ps, Freehand, Ai files without CorelDRAW, Adobe Acrobat or Microsoft Visio on your computer. The application gives almost accurate result within few moments and without any data loss. However, some files may not open accurately.

CDRViewer 4 is a next major update version of CDRViewer which allows you open and view various vector/bitmap graphics and WordPerfect doc files on macOS.
Simple, beautiful app for converting PSD, EPS, Ps, Ai, freehand (only some versions apply), CorelDRAW (.cdr, .cmx) and Microsoft Visio (.vsd, vsdx, vss, vssx) files into .PDF (Vector Editable), .JPG, .PNG, TIFF and .EPS.

WordPerfect documents are converted to RichText (.RTF) document file format.

CDRViewer 4 features:

. Convert CorelDraw (CDR and CMX) files into PDF, JPG, PNG, TIFF and EPS documents;
. Convert Microsoft Visio (VSD, VSDX, VSS and VSSX) files into PDF, JPG, PNG and EPS documents;
. Convert PSD, EPS, PostScript (PS) and Ai (Adobe Illustrator) files into PDF, JPG, PNG, TIFF and EPS documents;
. Allows users to Open CDR, CMX, VSD, VSDX, VSS, VSSX, PDF, PSD, WPD, WPG, EPS, Ps and Ai file data in latest macOS;
. Open WordPerfect Documents and convert to RichText (.RTF) text file;
. Doesn't need of CorelDraw, Microsoft Visio, Internet Connection, Adobe Acrobat or any other tool;
. No file size limitation to read files;
. Resize, rotate imported file;
. Annotate with geometric shapes or text tool;
. Copy and Paste imported object into different Graphic Editors as vector or bitmap shape;
. Copy imported WordPerfect Documents as text into Clipboard and Paste it into Text editors;

- +++ Give new life to your old files +++ -

Simple and useful productive tool for designers. If you have any ideas or features, feel free to drop a message regarding your opinions by using our contact us page.

— Notable Features —

1. CDRViewer 4 runs on your macOS.
2. CDRViewer 4 can export your CorelDRAW, Microsoft Visio Stencils, to Vector PDF, JPG, PNG, TIFF and EPS file formats.
3. Provides an option to zoom-in-out and fast file reading.
4. Annotation tools - rectangle, circle, line and text.
5. Move and resize tool.
6. Includes Latest libraries and technologies to open and export supported file formats.
7. Automatic Version Detection.

Limitations - Free version allows to open 30 files without any time limit;
You can upgrade to Standard or Pro version any time with in-app purchase directly from Mac App Store.

- export to JPG, PNG and RTF - Standard Version,
- export to EPS, PDF, JPG, PNG, TIFF and RTF - Pro Version,
- daily unlimited file view,
- open unlimited file size.

If you enjoy this software, please contribute what you can. We are a small team, and your support allows us to continue developing.
If you need us you can find us at @BluetailTeam on Twitter, at facebook.com/BluetailTeam, or blue-tail.com/support/feedback/, we love hearing from you!
What's New in the Latest Version 4.0.7
Last updated on Feb 15, 2023
Old Versions
This release includes bug fixes and & performance improvements.
Version History
This release includes bug fixes and & performance improvements.
CDRViewer 4 FAQ
CDRViewer 4 contains in-app purchases. Please check the pricing plan as below:
CDRViewer 4 - Nice Tip
$0.99
CDRViewer 4 Standard
$6.99
Check the following list to see the minimum requirements of CDRViewer 4.
Mac
Requires macOS 10.14 or later.