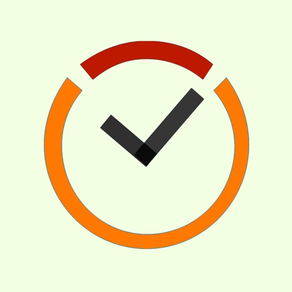 CheckOutIn
Monitors working hours
2.9
for iPhone, iPod touch
About CheckOutIn
If you want to measure your working time or time spent on one place this app is made for you. Unlike some other apps which relay on user's interaction (involvement) with this app you can forget that you have it.
App doesn't have to be in foreground, you can even kill it and it will still measure when you arrive and departure form place which you set to monitor.


How it works ...
=================
It uses location in order to detect when you enter in monitored area
For that purpose you have to enable: Location, Background App refresh and WiFi

It uses visitor location mechanism, the most conservative location mechanism for your iPhone's battery. You will notice in the status bar a location arrow but it doesn't work like normal location positioning which uses satellites and drains battery. This app one preserve your battery, but in order to make it as much as possible precise it is important to have WiFi enabled.


Setting up the app...
======================
There are only 3 steps to set this app:
1 ) Press SETTINGS
2 ) Press SET YOUR LOCATION
3 ) Find the place which you want to monitor and drop a pin (long press). By default radius around this place will be 150m but you can increase it using slider after which you have to press SAVE and that's it.


Additional functions...
=======================
There are backup/restore functions when you want to use another iPhone. In that case simply press BACKUP on the "old" iPhone wait for a 1-2min and press RESTORE on the "new" iPhone. You can check that both iPhones have the same date. In that case backup / restore was successful.
There is also automatic backup which performs backup each time app is started in the foreground.

There is no point to have same app on multiple iPhones so backup/restore functions are important only when you have to move from one iPhone to another.
It is using iCloud for backup/restore, not some proprietary server. Meaning nobody can see your data.
What's New in the Latest Version 2.9
Last updated on Feb 2, 2023
Old Versions
Some minor simplifications.
Version History
Some minor simplifications.
More optimisation on location service. Minor changes in UI
Minor bug fixes in search bar
New feature. In the Settings / Set Your location there is now search bar where you can write address to find easier location for which you want to monitor arrivals and departures.
Bugfix:
Back button in time sheet table was unaccessible for some iPhones.

New function:
When Automatic backup is enabled app makes backup on the iCloud at each arrival and departure
- Introduced function to export time table into PDF and to send it via mail
- Introduced Today button (function).
- Fixed bug with automatic backup
Improvements in time logging for short visit
Bug fix related to calendar selection
Bug fixes and minor changes in UI
Small bug fix related to calculation of time
Simplified Time Sheet view
Small bug fix in time handling logic
Small bug fix related to minor UI elements repositioning
CheckOutIn FAQ
Check the following list to see the minimum requirements of CheckOutIn.
iPhone
Requires iOS 10.3 or later.
iPod touch
Requires iOS 10.3 or later.
CheckOutIn supports English