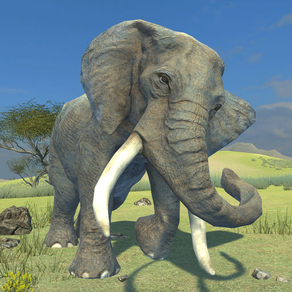 Clan Of Elephant Screenshots
About Clan Of Elephant
You begin your epic adventure as a young elephant, recently abandoned by his Clan. He's your responsibility now. You must take care of him and help him rebuild his lost family. This young elephant is last remaining member of the legendary Lovo Family. It is up to you to help him rebuild his tribe by finding new members. Since the great defeat of the Lovo Clan, other competing families have taken over. The goal of the game is to regain control and rule the territory again. With the right strategy and skill, victory can soon be yours!

Explore crocodile infested rivers, navigate the wild and treacherous safari landscape, fight off attacks from cheetahs, hyenas, rhinos, hippos, Lions, Leopards, snakes and other dangerous animals in this high action animal simulator. It will keep you on the edge of your seat. But this is no ordinary animal simulator . . .

The game is one part animal simulation, one part role playing game, and one part adventure game. It will take you on an ultimate epic journey as you establish your home, build your great warrior clan, use your magic skills, survive against enemies that attack, clash with 4 enemy clans, and ultimately defeat all 6 Super Bosses. Important Note : For best performance, try restarting your device before playing. The 3D graphics are very processor intensive and the game will work better on powerful devices.

In Clan of Elephants, you enter into a world of both epic adventure and magic. Your will unlock special magical spells as you locate various magic books. These magic abilities include: fireball, lighting bolt, invincibility, and healing . It is these magic elements that make this game very unique and, we believe, best in class for animal simulator games.


Top Game Features:
-- Ultra Realistic Safari 3D Landscape
-- Part Animal Survival and part RPG
-- Dynamic weather including thunderstorms
-- 4 Enemy Clans to defeat
-- 6 Super Giant Ultra Bosses
-- 4 Magic Spells to unlock - Fireball, Invincibility, Lightning Bolt, and Healing
-- Dynamic Time of Day - Sunrise to Sunset
-- Fight against big Cats : Leopard, Cheetah, and Lion


Useful Game Tips:

1. As you defeat the bosses, more bosses will appear. All the enemies are not shown on the map in the beginning of the game. The more you play, the more enemies will appear.

2. Use the Mini Map in the top right corner of the screen to help you find things on the map. It shows the locations of clan members, bosses, magic books, and other enemies. Use the mini map to find the members - "M", Bosses "B" and Books "b".

3. Seek advice from your spirit guide - a ghostlike figure found near your home.

4. Find all the magic books to unlock the magical skills including: Healing, Fireball, Lightning Bolt, and Invincibility.

5. Earn adventure points by defeating enemies. Use the points to Upgrade your strength, stamina, and magic.

6. Use the Call button to call the family members when you need help against the enemies as you race across the huge WIld Safari open 3D world. This is ultimate animal simulation like you have never seen it.

If you like this game, please be sure and check out our other 3D animal simulators. We understand that the game is not perfect and we welcome your constructive criticism, just email your suggestions. Alternatively, you may post them to our Facebook page. Help us get better! Evolved is a series of games from Wild Foot. So far, the response has been great for this new series of games. Let us know what you would like to see next!

It would be really great to hear from you. Please stop by our Facebook page:
https://www.facebook.com/wildfootgames for updates. This elephant needs you! Start building your clan!
What's New in the Latest Version 1.1
Last updated on Mar 14, 2021
Old Versions
Updated screen sizes, updated API's.
Version History
Updated screen sizes, updated API's.
Clan Of Elephant FAQ
Check the following list to see the minimum requirements of Clan Of Elephant.
Clan Of Elephant supports English
Clan Of Elephant Alternative