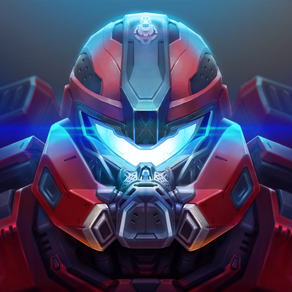 Colony Conflict: Advanced War
Colony Conflict: Advanced War Screenshots
About Colony Conflict: Advanced War
Colony Conflict: Advanced War is a RTS game developed for Sci-Fi fans, we use an innovative system for matching each game. In every single round you will be matched with players from different countries around the globe. Attack and defend on multiple fronts on the open battlefield, seize enemy resources, colonize to expand your empire and conquer the galaxy

Compete for galactic supremacy!

In this boundless galaxy, if you want to reign supreme you must obtain power at all costs! Build your strength, lead your mech troops, create an ally and overcome rival players on the battlefront. Your starship can mean the difference between victory. . . and defeat!

Lead your forces to victory with strategic moves !

What will your strategy be?

Fake attacks, spying, rallying allies, or maybe defensive maneuvers!?

Show us your expertise and explore which tactics work best in combat! Are you one of the few elite strategists who can siege enemies in their own strongholds?!

Hundreds of heroes!

Arrange your heroes and match their perks to best exploit your unit's strengths! Build the strongest team! Heroes evolved to be enhanced and equipped with special weapons such as light saber! There are hundreds of ways to customize your heroes, they're just waiting on you to be discovered!
What's New in the Latest Version 1.2.21
Last updated on Jan 4, 2020
Old Versions
Version History
1100 Version Update

New Functions
1. New military rank pack, level pack, new player's pack, they can only be bought once per ID.
New monthly pack. It can be bought accumulatively, lasting time of monthly pack effect will be accumulated once bought for multiple times.
Level pack and military rank pack are activated once certain level or military rank reaches, you can only purchase the pack within 3 days once it's activated.
Level pack and military rank pack only display once, buy it or you'll miss it!
2. Multiple languages: Germany and Russian languages are added, go to settings to change your language.
3. When number of player is under 7, map will be half unlocked; when number of player is over 7, map will be fully unlocked.

Function Adjustments
1. Event task rewards adjusted: Rewards changed from items to campaign resources, technologies, tactics, officers and stronghold enhancement.
2. Shorten battle duration: When guarding troops are eliminated, attacking army will attack by front row and back row, instead of attacking on individual.
3. Shorten attacking pirate marching time.
4. Shorten transportation time.
5. First purchase pack removed.
6. shorten technology upgrade time, resources required are increased.
7. Troop edit function adjustment: Click officer to enter officer enhance page.
8. When using Clonic Cellular on marching or guarding, troops are automatically filled.

UI Optimization
1. Adjusted building models
2. Optimization on item use UI
3. Optimization on base details
4. Optimization on many other UI

Adjustment on Officer Balance

Blue officers
Astraeus: Skill damage adjusted from 185% to 175%
Oceanus: Skill damage adjusted from 130% to 125%
Selene: Skill damage adjusted from 195% to 185%
Chimera: Skill damage adjusted from 205% to 200%
Coeus: Skill damage adjusted from 160% to 165%
Hyperion: Skill damage adjusted from 175% to 170%
Uranus: Skill damage adjusted from 185% to 180%
Hecules: Skill damage adjusted from 180% to 175%
Nierus: Skill damage adjusted from 180% to 175%
Echinda: Skill damage adjusted from 160% to 165%

Purple officers
Odysseus: Skill damage adjusted from 145% to 150%
Theseus: Skill damage adjusted from 225% to 230%

Orange officers
Hera: Skill damage adjusted from 220% to 225%
Zeus: Skill damage adjusted from 180% to 185%
Athena: Skill damage adjusted from 110% to 115%
Prometheus: Skill damage adjusted from 160% to 175%
Artemis: Skill damage adjusted from 180% to 185%
Hephaestus: Skill damage adjusted from 245% to 250%

Fixed Bugs
What's new in version 1090
Adjustment on functions:
1. Lower capacity of population on strongholds, population ceases increasing when capacity reaches.
2. Surrender time changed from 4 hours to 2 hours.
3. Turret does not cosume electricity any more. (Only available in new campaigns initiated after update)
4. Nearby mist will be automatically cleared when a stronghold is occupied.

Opitimizations:
1. All stronghold model changed
2. Opitimization on technology center UI
3. Opitimization on game performance
4. Opitimization on network connection

Bugs fixed
New functions:
1.Reserved campaign: Add new reserved campaign, players may sign up for incoming campaign according to its starting time, number of players etc. (Once you sign up, you will be in the campaign when it starts, no matter if you're online or not)

Adjustment on some functions:
1.Add capacity on number of buildings, when capacity is reached, you can not build anymore, but you can still loot others' buildings.
2.When eliminating a force, you will get a proportion of this player's resources.
3.Max level of technologies in technology center are reduced to 3, technology effects remain.

Optimizations:
1.New guides added.
2.Reduction on turret resource production rate.
1. Optimization of the new player guide
2. OPtimization of the UI interface
3. Fixed some bugs
What's new in version 1070
New features:
1.Map is covered with mist when commanders start a new campaign, commanders need to explore the map to get a full vision of the campaign.
2.A core building (Command center) is added, it controls amount of resource items a commander can use in a campaign. If command center is destroyed, some functions will be invalid, such as resource production, items and tactics, commanders need to rebuild command center to recover these functions.
3.New electric power system: Command center supplies electric power, when power is down, production rate drops.
4.New building: Technology center. Researches technologies which take effect in campaign. When technology center is destroyed, all upgraded technologies are invalid, rebuild technology center to restore technologies, it takes some time to restore technologies after the rebuild.
5.New building: Tactic center. Tactics are not obtained from occupying strongholds, commanders need to order tactics in tactic center. When tactic center is destroyed, all tactic points are cleared, tactics cannot be used. Commanders need to rebuild tactic center to gain these functions.
6.Redesigned tasks. More new tasks, more rewards.
7.A chasing buff, for those who enter the campaign later than others. They will get this buff to chase other commanders' progress.
8. Added new mode of choosing target: added ATTACK button on the target stronghold, then choose your own stronghold to send attack.

Features Adjustments
1.March speed up function is removed, march and transportation speed are increased.
2.All officers are preset at level 1, officers need to battle in campaign to gain experience to level up. Officers' initial level is based on commander's level. All officers' level will be cleared when campaign ends.
3.Resource production is no longer unlimited on strongholds, each stronghold has a resource capacity.
4.Stronghold production rate is increased.
5.Gas and crystal produced in stronghold need to be collected manually, uncollected resources can be looted by other commanders.
6.There are rewards for defeating galaxy pirates and exploring mist.
7.Adjustment on some officers' synergy and enhancement.
8.Adjustment on the counting mode of attached effect, from rounds counting to triggers counting (such like the damage enhancement buff, before: if the officer already launched before get the buff, he will waste the enhancement in current round, after: the officer will certain enjoy the buff for 2 rounds)
9.Added the function of filling troops by percentage, a more convenient mode to fill troops.
10.Adjustment on the strongholds list, optimized the experience of operation, much more convenient.
11.Adjustment on the entrance location of Align, click on the other forces in the small map to get the related information of alliance.

Modification on Units Type:
Purple Officers:
Artemis: units type changed from Fighter to War Chariot
Hermes: units type changed from War Chariot to Fighter
Blue Officers:
Coeus: units type changed from Mecha to Fighter
Oceanus: units type changed from Fighter to Mecha
Blue Officer:
Doris: units type changed from Mecha to Fighter
Persephone: units type changed from Rhinoceros to Bulwark
Notes: In this update, all units types will be reset to the basic units types, please change to the needed ones on yourselves.

Optimization on user experience
1.User interface optimization.
2.Sound effect optimization.
3.Animation optimization.
4.Small map optimization.
5.Performance optimization, the game will be more fluent.
6.Operation experience optimization.
1.Adjusted the stats of orange officers a little.
2.Original Tactic Point decreases into 6 from 10 in normal campaign.
3.Improved the opening speed of News interface.
4.Increased the honor required of Corporal from 100 to 150.
5.Improved the display of switching unit types.
6.Improved the of evolving officers.
7.Improved the display of the minimap.
8.Improved the interface of entering campaign.
1. Added Alter Building button: In the stronghold, you can alter the construction's types by clicking the Alter Building button. Construction's level decreases to 1 after alterting;
2. Added Equipment Management button: In the officer interface, you can switch, quick equip and unload all officers' equipments through Equipment Management button;
3. Now you can edit your troops on the strongholds with no constructions;
4. The surrender time decreases to 10 hours from 24 hours;
5. Removed the auto upgrade button of the base, to avoid misoperating;
6. Increased the cost of tactic card Earthquake to 10 from 6;
7. Changed the team member amount to 2 from 3 when join a campaign, but you can still align up to 3 players in the campains;
8. Adjustment of offciers' stats, enhanced the green, blue and purple officers a lot, weaken the orange officers a little bit;
9. Enhanced all units types.
Colony Conflict: Advanced War FAQ
Check the following list to see the minimum requirements of Colony Conflict: Advanced War.
Colony Conflict: Advanced War supports Chinese, English
Colony Conflict: Advanced War Alternative