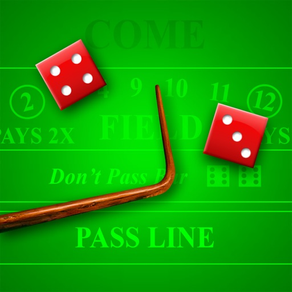 Craps Deluxe
7.2.5
for iPhone, Mac and more
About Craps Deluxe
Designed for both beginners and pros, Craps Deluxe is the premiere craps game for the iPhone and iPod Touch. No in-app purchases for chips, no ads - play as long as you want, as often as you want!

A clean, uncluttered interface makes playing a breeze. Tap a chip, tap a bet -it's that easy to get started. For more advanced players, extensive betting options and preferences let you tailor the game to your style of play.

Experiment with new betting strategies; try different dice sets; learn how to play the "dark side"; view the odds and payouts for all your bets at any time; or simply learn how to play with Craps Deluxe.

Easy to use and hard to put down, Craps Deluxe offers a true casino-style experience with 3D dice, over 160 authentic dealer stick calls, dealer prompts, and an authentic casino style table layout.

No other craps game gets you this close to the casino!

Features:

• Casino-style table layout with all bets available including hopping bets, Fire Bet and the newest bets in Vegas, All Small, All Tall and Make 'Em All.

• Optimized for large displays with high resolution graphics.

• 3D dice rolls - watch your dice bounce around the table with realistic action and hear the dealer call out the roll with real stick-man lingo!

• Over 160 authentic stick calls! Hear the dealer call out your rolls and suggest bets.

• Fast roll resolution lets you get more bets in each session and easily experiment with different betting strategies.

• "Ask the dealer" button shows you all the payouts for each bet and the amount you have wagered and will win.

• New rhythm/controlled shooter option in 2D dice mode reduces those seven outs to help keep you on a hot streak!

• Set the dice to one of six different sets in 2D dice mode to help roll your signature numbers!

• New Inside/Outside/Across betting options to quickly make place bets on all box numbers!

• Preferences for odds working, hardways working, place bet presses, shake to roll and more. Set your preference or let the dealer ask you what you want to do at the appropriate time during the game.

• Save/Restore allows you to resume a game in progress.

• 3x4x5x odds simulates popular casino-style odds.

• Easily remove part or all of one bet with a simple swipe.

• Multiple table color options.

• New roll history graphs show roll number totals for current game and all games in each dice mode.
What's New in the Latest Version 7.2.5
Last updated on Jun 6, 2023
Old Versions
Performance enhancements.
Version History
Performance enhancements.
Pays 3X label now appears correctly in the Field bet.
Swipe to reduce bet now works correctly.
Auto-bets now appear correctly when starting a new game.

Bug fixes and performance enhancements.
Dice are now reset to preferred set before each roll.
• Manual dice mode! Roll your own dice and enter the results. Track your manual dice rolls in roll history.
• Support for MacOS.
Place Bets on the 6 & 8 will be removed in $6 increments if possible when the $6 betting preference is set.

Box Bet descriptions will now always start with Place Bets when tapping on a different Box Bet.
Bonus Craps! You asked for it, you got it! Bet the All Small on the come out roll and win 34 to 1 if you roll a 2, 3, 4, 5 and 6 before rolling a 7. Bet the All Tall and win when rolling an 8, 9, 10, 11 and 12 before a 7. Or Bet 'Em All and win a whopping 175 to 1 if you roll every number before rolling a 7! Bonus Craps bets can only be made on the come out roll, so get your bet in right after any 7 is rolled!

Bug fixes and performance enhancements.
Fixed issue that prevented correct laying of odds on 2X table.
Fixed issue that could prevent dealer from asking betting questions on come out roll.
Added new roll history graphs for 3D dice.
Fixed a bug that could cause incorrect dice results for 2D dice.
2X odds games now allow 2.5 times pass line odds when the point is 6 or 8

Bug fixes and performance enhancements
• Updated dice graphics
• Dice sets and rhythm/controlled shooter settings now apply to both 2D and 3D dice
• New preference for dice size
• Bug fixes and performance enhancements.
• New button on the playfield lets you easy pull down place bets, buy bets, hard ways, odds, or even all non-contract bets at once.
• New button on the playfield lets you mark place bets, buy bets, hardways, or odds as working or not-working at any time while there's a point established.
• New preference to move a place bet to its sister number on the come out roll.
• You can now tap the bankroll text on the playfield to easily add more money during a game.
• Bug fixes and performance enhancements.

Enhanced support for larger devices.
Fixed issue that could cause graphics to stretch on some devices.
Bug fixes and performance enhancements.
Bug fixes and performance enhancements.
Improved speed of roll resolution when using 3D dice.

Bug fixes and performance enhancements.
Fixed bug that could cause the 1K chip to disappear.
Sounds of the casino! Background ambience enhances your gaming session and makes you feel like you are right in the middle of the casino!

New preferences for sound volume.

Bug fixes and performance improvements.
• Full support for iPhone 5 and the new iPod Touch.

• New Horn bet allows easy access to World, Horn and Horn High bets with one tap.

• Full Hop Betting - bet on single or multiple hopping combinations!

Localized for Spanish.
Added Fire Bet to auto betting preferences.
Improvements to stability and performance.
Auto Betting! New preferences allow you to set an automatic bet amount for every bet on the table. Automatic betting can take place during the come out roll only or at any time.

New preference for chip animation speed.

Compatibility with iOS 5.
Craps Deluxe FAQ
Craps Deluxe is available in regions other than the following restricted countries:
China,South Korea,Gabon,Afghanistan
Craps Deluxe supports English, Spanish
Check the following list to see the minimum requirements of Craps Deluxe.
iPhone
Requires iOS 13.0 or later.
Mac
Requires macOS 10.15 or later.
iPod touch
Requires iOS 13.0 or later.
Related Videos
Latest introduction video of Craps Deluxe on iPhone