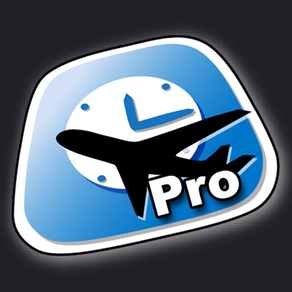 CrewAlert Pro Screenshots
About CrewAlert Pro
CrewAlert is the leading mobile app for airline safety professionals, crew scheduling departments and airline crew. CrewAlert assists fulfilling vital parts of the ICAO requirements on a FRMS:

- Predictive: Help crew and crew schedulers compare and identify upcoming fatiguing flight duties.
- Proactive. Assists safety departments to efficiently collect fatigue data from your operation – so called fatigue surveys.
- Reactive. Greatly simplifies fatigue reporting for crew but also for safety departments.
- Risk reduction: Built-in context sensitive fatigue mitigation functionality for crew.

CrewAlert Pro now also integrates with Apple Health for a faster and easier collection of sleep periods.
---

As part of a joint safety initiative, Boeing and Jeppesen have been developing tools for allowing better management of alertness and fatigue. CrewAlert is the first app designed specifically to help airlines and their crews manage alertness and fatigue. Built on the Boeing Alertness Model (BAM), a mathematical model of alertness, the CrewAlert app puts scientific knowledge in the palm of your hand.

Please Note: This application is designed for professional pilots and the airlines that they work for. Before you purchase, please read this description in full as well as the Application License Agreement to see if CrewAlert is for you.

For Everyone:
- CrewAlert provides the functionality of much more expensive alertness modeling products at a fraction of the cost.
- As flight and duty time limits increasingly move towards Fatigue Risk Management Systems, tools like CrewAlert will become increasingly useful for managing fatigue in any airline operation.
- While CrewAlert is designed with flight deck and cabin crews in mind, it is applicable to any 24/7 operation where human performance is crucial to safety.

For Crew:
- CrewAlert allows flight and cabin crew to build scenarios based on planned or actual flight and duty schedule. After entering a few key pieces of information, including departure and arrival time, number of legs (sectors), and time zone shift, CrewAlert allows crew members to visualize the impact of planned schedule on future alertness (according to BAM).
- CrewAlert allows crews to build sleep journals of either actual or planned sleep. The sleep journal functionality can be used to investigate potential sleep strategies – to see which available sleep strategy best follows the available science.
- CrewAlert allows crews to collect sleep (also via Apple Health) and alertness data for their own use. By keeping records of sleep and alertness, crews can discover what strategies work best for them.
- Built-in fatigue mitigation strategies
- Efficient fatigue reporting.

For Crew Schedulers:
- CrewAlert is a useful tool for visualizing how scheduling decisions affect the crew members that are being scheduled.
- CrewAlert allows schedulers to investigate the causes of recurring problems in schedules and to consider alternatives to patterns which consistently result in crew fatigue reports.
- CrewAlert supports server-based communication, allowing schedulers to publish crew schedules via a Jeppesen server directly to CrewAlert. This ensures that all crew members have the most up to date and correctly implemented schedule information to facilitate discussions of fatigue.

For Airline Safety Officers:
- CrewAlert can become a part of an airline's Fatigue Risk Management System – allowing crew, schedulers, and safety officers to visualize fatiguing patterns and to look for solutions.
- CrewAlert also supports data collection allowing for schedule, fatigue, sleep, and performance data to be collected as part of the basis for establishing an airline's FRMS.
- Data collected with CrewAlert may also be used in the Jeppesen Crew Fatigue Assessment Service (CFAS) – see www.jeppesen.com/cfas.
- Fatigue reports sent in from CrewAlert are more detailed and also pre-modeled using BAM reducing manual work.
What's New in the Latest Version 4.2.6
Last updated on May 27, 2020
Old Versions
- Fixed a few GUI elements that were out of position on certain devices
- Migrated from Fabric/Crashlytics to FireBase/Analytics
- General improvements and fixes
Version History
- Fixed a few GUI elements that were out of position on certain devices
- Migrated from Fabric/Crashlytics to FireBase/Analytics
- General improvements and fixes
- Minor bug fix
- Performance enchancements
- Minor bug fix
- Some GUI enhancements
- Improved HealthKit integration
- GUI bug fix for certain larger iPhones
- Updated the Airports database
- Added a section in the tutorial regarding iCloud and Scenarios
- Minor bug fixes
- Fixed a few minor bugs that were introduced in the latest version.
- Updated the GUI related to breaching red/amber alertness thresholds. Both in the App and on the Watch.
- The Watch GUI/complications no longer displays time to next threshold breach nor KSS values during confirmed or predicted sleep.
- We are introducing an Apple Watch companion application for CrewAlert Pro which features two watch face complications intended to display predicted KSS - more information found in the tutorial.
- Some GUI tweaks and improvements.
- Minor bug fix.
CrewAlert Pro FAQ
Check the following list to see the minimum requirements of CrewAlert Pro.
CrewAlert Pro supports English
CrewAlert Pro Alternative