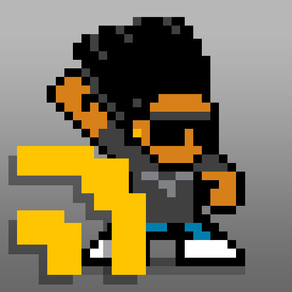 DJ Pauly D - Beat That Boardwalk
DJ Pauly D - Beat That Boardwalk Screenshots
About DJ Pauly D - Beat That Boardwalk
"THE OFFICIAL GAME" – Beat That Boardwalk is bumpin' out with DJ PAULY D! With all new sayings from DJ Pauly D! View the demo here: http://www.youtube.com/watch?v=AZOPZek_mXs.

MTV Says - "The fate of coastal NJ lies in your hands." Check out MTV's banging review - http://on.mtv.com/ubLVya

Featured in the Top 25 Best Apps of All Time at MacWorld's Appolooza!


FIRE UP THAT TANNING BED AND BREAK OUT THE HAIRGEL! DJ Pauly D is here with a ton of fistpumpin' fun.

• DJ Pauly D character!
• Expansive stages with rotating night and day!
• Mini-bosses!
• 3 lives per level!
• Jump command!
• Unlockable achievements!
• DJ Pauly D sound clips

Even take the party overseas with the Italy in-app upgrade!

• All new scenery!
• Italy-only feature: speed things up with the scooter!

————————————————————

BOMB THE BOARDWALK!
Maneuver DJ Pauly D down Jersey's bumpin' boardwalk, scoring points, pizza and babes! Keep'em alive through waves of brawny bros that try to bring the beatdown! Steer clear of fugly grenades that want to ruin the night! Dodge hordes of buzz-kill executives that try to stop the show!

BOARDWALKERS, MUSIC AND BLING!
Keep DJ Pauly D going strong by collecting gold chains, boom boxes and head phones. Use his mad game on the Garden-State girlies to score more points and get some boardwalk love!


PUMP IRON TO ACTIVATE JUICEHEAD MODE!
Hit up the gym to kick DJ Pauly D into JUICEHEAD mode, letting him plow through enemies like a grenade at the buffet!


STOP AND TAKE TAN!
Tanning salons keep DJ Pauly D from becoming DANGEROUSLY PALE! Pale skin costs you precious points and party time. Keep an eye on the complexion meter so you'll know when to bronze up.


LAUNDROMATS KEEP YOU LOOKIN' FLY!
Stop at the Laundromat or DJ Pauly D will go from stud to dud! Stay fresh to score more points and keep the night on fire!

_________________________________________________________________________________________________

HAVE SOMETHING TO SAY ABOUT BEAT THAT BOARDWALK?
We want to hear it. We are already at work on the next version and we would love to hear what you'd like to see. Email us at support@medlmobile.com!

We are proud to call Beat That Boardwalk a Shiny MEDL Object. You can see all of them at www.medlmobile.com.
What's New in the Latest Version 2.4.1
Last updated on Jul 20, 2012
Old Versions
Version History
New Pauly D voice sounds:
- Getting a Guido Streak
- Going to the Gym
- Going to the Laundry
- Going to get a Tan
- Getting pale
- Beating each boss
- Starting the game
- Losing the game
- Picking up the scooter
- Changed back from Christmas version
- It's Christmas time on the boardwalk
- Added VO's from Pauly D, Yeah Buddy!
- Mini bosses
- Achievement system
- Sound effects, music
- New italy in app purchase
- Game center
- Facebook integration
- New gameplay
DJ Pauly D - Beat That Boardwalk FAQ
Click
here
to learn how to download DJ Pauly D - Beat That Boardwalk in restricted country or region.
Check the following list to see the minimum requirements of DJ Pauly D - Beat That Boardwalk.
DJ Pauly D - Beat That Boardwalk supports English
DJ Pauly D - Beat That Boardwalk Alternative