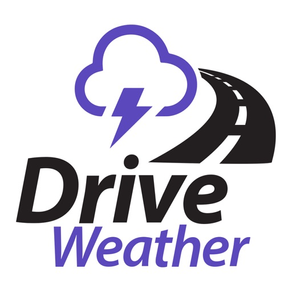 Drive Weather: Road Conditions
Weather Alerts & Storm Tracker
Free
Offers In-App Purchases
8.11.6
for iPhone, iPad and more
Drive Weather: Road Conditions Screenshots
About Drive Weather: Road Conditions
Check the Road Weather Conditions on Drive Weather.

Drive Weather takes the guesswork out of figuring out when and where the bad weather is! It shows the weather forecast on your route based on departure time. The Drive Weather app presents weather, wind speed and direction, temperatures, and radar along with other tools to help plan your road trip to avoid the bad weather and stay safe.

Drive Weather illustrates the National Weather Service's forecast showing drivers the weather along their route when they're expected to be at each point. In under 60 seconds you can know what weather forecast calls for and when to expect it on your route and have a safer journey. The app allows comparison of different routes, creating stops, interactively changing departure time, and other features that help plan road trips around the weather.

Drive Weather's unique difference is the vast amount of weather information it efficiently communicates. This provides comprehensive information needed to make informed decisions on what time and what route to take on your road trip ensuring safety and better situational awareness.

Great for truckers, RVers, bikers, van life, and road trips, storm chasers or any other reason you're on the road.

FREE FEATURES:
• Weather - Rain, Snow, Fog, Freezing Rain, Tornados, Thunderstorms, Hail, Smoke, & Haze
• Temperatures
• Animated Radar
• Cloud Cover Forecast
• Compare Routes
• Time Tweaker for Truckers and RVers
• Free Version has ads, provides up to 2 days of weather forecast.
• Area Weather for general weather
• Exceptionally cool animated waiting screens
• All data saves on close and reopening.
• Automatic updates while on the road.
• Updates Route while on the road - without internet connection.
• Clean and consistent interface.
• High resolution weather locations - See More Weather and Make Better Decisions.



PRO FEATURES - All the above plus:
• Icy Pavement Indicator
• Wind Speed and Direction, Gusts and sustained.
• Night Location Indicator
• 7 Days of Weather Forecast
• Severe Weather Alerts
• Ad Free
• Unlimited Route Length
• Add Stops on Your Route
• Add Waypoints
• Weather Filtering
• Fully Interactive Interface for Better Road Trip Planning.
• Summary View showing times and distances between each stop and waypoint.

Comments, Questions, Concerns email us at conceptElementsApp@gmail.com
What's New in the Latest Version 8.11.6
Last updated on Sep 13, 2023
Old Versions
Version History
Fixed Speed Factor Calculation
Added an option to select specific leave time for stops. If a stop is defined with a leave time it becomes a "floating day" stop where as the time slider is moved over the 7 days, the time of the stop remains the same but the day is incremented to the next day if the leave time is past the start time.
Added Dew Point to temps when vehicle is set to Motorcycle. Dew Point lets you know how easily your body will cool when riding. The higher the dew point the harder your body will cool. Set the vehicle type to Motorcycle (in the settings), then select temps and a Dew Point or Temps selector will show at the bottom of the map.

Summary View Scrolling UI improvements.
Search UI improvements

Improved loading performance
UI Improvements
A few fixes.
UI tweaks on landscape mode.
Added a "Reverse Route" button in search form.
Now you can go to Mexico! Well, with Drive Weather that is.
In the search form added the ability to drag any location any other location.
Added a setting that will clear out all data when the app is closed (not just in background but fully closed) - idk, a use wanted it and gave the app got a 1 star review cuz of that!
A few fixes and other improvements.
Fixed target area on moving stops.
Fixed location issue on address mode.
Timezone label fixes on UK and Canada locations.
History list improvements.
Added time zone labels for locations not in the users time zone.
Various fixes and improvements.
Fixed unnecessary UFL
Fixed crash when stop time is set to 0:00
History item added when a stop is moved

Fixed lag in time slider
Fixed being able to move stop after delay time has been edited.
Added ability to interactively drag stops to new locations and see the weather update due to new stop location.
Made compare route available for free users.
Fixes and tweaks

Fixed pavement ice indicator.
Drive Weather: Road Conditions FAQ
Drive Weather: Road Conditions is available in regions other than the following restricted countries:
South Korea,Lebanon,Norway,Brazil,Cyprus,Iceland,Malta,Sao Tome & Principe,Anguilla,Iraq,Japan,Philippines,Russia,Sierra Leone,Yemen,Finland,Liberia,Macedonia,Swaziland,Turkey,Belgium,Albania,Botswana,Cameroon,Ghana,Jamaica,Madagascar,Myanmar,Nauru,Bosnia & Herzegovina,Romania,Bolivia,France,Kenya,St. Kitts and Nevis,Morocco,Montserrat,Turks and Caicos,Dominica,Cote Divoire,Estonia,Australia,Austria,Benin,Luxembourg,Moldova,Mauritius,Netherlands,Rwanda,United Arab Emirates,Tunisia,Nicaragua,Ecuador,Bulgaria,Micronesia,St. Lucia,Barbados,Gabon,Georgia,Sri Lanka,Belarus,Congo, Democratic Republic,Guinea-bissau,Italy,Seychelles,Trinidad and Tobago,Venezuela,Bahamas,South Africa,India,Kazakhstan,Singapore,St. Vincent & The Grenadines,Chile,Algeria,Fiji,Honduras,Croatia,Indonesia,Mongolia,Nepal,Cape Verde,Taiwan,New Zealand,Angola,Belize,Czech Republic,Kuwait,Maldives,Nigeria,Panama,Afghanistan,Solomon Islands,Cayman Islands,Macao,Qatar,Switzerland,Gambia,Hungary,Malawi,Slovenia,Tonga,Uganda,Dominican Republic,Colombia,Guatemala,Ireland,Slovakia,Thailand,British Virgin Islands,Kosovo,Argentina,Bhutan,Congo,China,Burkina Faso,Denmark,Mali,Ukraine,Antigua And Barbuda,Costa Rica,Guyana,Latvia,Mauritania,Palau,Tajikistan,Zimbabwe,Bahrain,Germany,Lao Peoples Democratic Republic,Namibia,Poland,Serbia,Vietnam,Brunei Darussalam,Libya,Pakistan,El Salvador,Uruguay,Zambia,Greece,Papua New Guinea,Saudi Arabia,Turkmenistan,Azerbaijan,Peru,Kyrgyzstan,Malaysia,Paraguay,Grenada,Mexico,Suriname,Bermuda,Cambodia,Niger,Portugal,Senegal,Spain,Egypt,Hong Kong,Israel,Montenegro,Mozambique,Sweden,Chad,Armenia,Vanuatu,Tanzania,Lithuania,Oman,Uzbekistan,Jordan
Drive Weather: Road Conditions supports English
Drive Weather: Road Conditions contains in-app purchases. Please check the pricing plan as below:
Check the following list to see the minimum requirements of Drive Weather: Road Conditions.
iPhone
Requires iOS 13.0 or later.
iPad
Requires iPadOS 13.0 or later.
iPod touch
Requires iOS 13.0 or later.
Drive Weather: Road Conditions Alternative