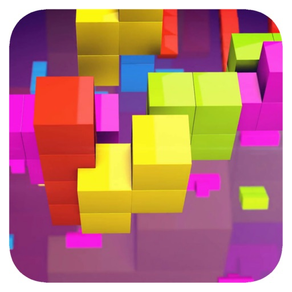 About Dropem
Your aim is to solve a real-time packing problem, by forming complete layers, which then disappear and score points. Playing badly leads to incomplete layers, these layers do not disappear, giving you progressively less space, and time, to play your subsequent pieces.

You manipulate a set of poly-cubes, which fall into a 3D tunnel (the pieces appear in the foreground and then move further away). The pieces can be rotated around any of the three axes, and moved horizontally and vertically within the limits of the tunnel.

Unlike the game this was inspired by, you don't get to choose the size of the tunnel ... practice and normal mode are played in a 5x7 tunnel, 20 layers deep ... and hard mode, the layers are reduced to 15.

The main difference between levels is in the "auto drop" ...

Practice mode : The piece never goes down the tunnel until you tap it, giving you all the time you need to decide how you want it. This mode will also help you get used to what each of the spin / roll / rotate / movement buttons do. This mode doesn't give you a score, but at the end, when you can't place any more pieces, you are still told how well you did.

Normal mode : The piece moves forward once a second, which doesn't seem that quick, but when you've got to think how to place the piece, a second isn't very long. The nearer the start of the tunnel you drop it from, the more points you'll receive.

Hard mode : The piece moves forward once every 1/2 second, so you have to think quicker. The tunnel is also shorter, so you've got added pressure. Has a bonus, every point you score in this mode is doubled.

Your 50 best scores are stored on the tablet, but you're not just competing against yourself to get an higher score, you could aim to be "The Best" on the "Worlds Highest Scores" list ... are you up to that challenge?
What's New in the Latest Version 1.1
Last updated on Jun 30, 2018
Dropem FAQ
Check the following list to see the minimum requirements of Dropem.