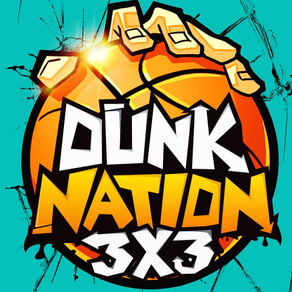 Dunk Nation 3X3
Real Street 3V3 Basketball
Dunk Nation 3X3 Screenshots
About Dunk Nation 3X3
NBA Legend, Vince Carter, is the new star of Halcyon's latest version of Dunk Nation 3X3! The Vince Carter custom edition released today, declaring DN3X3 is officially open for business. This very social game has multiple ways to connect with friends: form Club teams to compete, battle your way up the Ladder, or play real-time 3V3 pick-up matches. Gameplay is both intuitive and intense; players quickly learn to impress their peers with three-pointers, dazzling dunks, amongst other sick skills. A wide variety of character abilities means teams can create utilize various strategies to become champions. The graphics style is very hip-hop meets comic book, creating an immersive street feeling, and gives the game a playful yet competitive spirit. Now that international basketball all-star Vince Carter is here, fans may play as one of their favorite NBA players. Log in to the latest version for opportunities to win basketball shoes personally signed by Carter, and other out of game Carter-Dunk Nation merchandize!

DN3X3 is a fast paced MMO sports game, with arcade stylized graphics. It is taking Basketball gaming back to the streets, capturing the feel of half court street ball, and inspired by Hip-Hop. Dunk Nation allows players to link up with friends across the country and compete to be the best 3-on-3 team. The game features dozens of skills, tons of outfits, and wearable items to personalize your character, giving users the ability to express themselves.

Career Mode:Compete your way through a gauntlet of CPU challengers, and develop a mastery of the game.

PVP Mode: Play 3-on-3, 2-on-2, or 1-on-1. Practice with friends, improve your game, and compete just for fun.

Ladder Mode:Prove yourself as a true champion, compete your way up the leader board and let others know who is on top.

-Real Time Battle-
Team up with your friends, create clubs, and take on challengers together

-5 Positions to Choose from-
Pick from center, point guard, shooting guard, small forward and power forward. Mix and match positions and employ real-time tactical coordination between teammates to achieve victory.

-Create Your Own Style-
New threads are released weekly, customize your characters look, Looking good is part of playing good.

-Build Your Team-
Every position has it's own special attribute and over 20 characters can be signed in order to satisfy different gamers with different demands.

Homepage: https://www.dn3x3.com
Facebook: https://www.facebook.com/DN3X3
Twitter: https://twitter.com/DunkNationFans
Youtube: https://www.youtube.com/channel/UCmbqVJeLaAIrSN7hrUbjkyA
Mail: dunknationfans@gmail.com
What's New in the Latest Version 2.2.0
Last updated on Oct 17, 2018
Old Versions
1.The login process is optimized to make each login more convenient for the user.
Version History
1.The login process is optimized to make each login more convenient for the user.
【Restore】We fix the Twitter login system , now player can use twitter to login.
1. 【NEW】Two challenge modes
2. 【NEW】Two advanced skills
3. 【NEW】Clothing Category: Necklace
4. 【NEW】Costume suggestion when signing new players
5. 【NEW】Claim exclusive chests for free when signing new players
6. 【NEW】Player transformation
7. 【NEW】Share on Facebook when signing players
8. 【NEW】"One click equip" and "Master recommended" Skills
9. 【ADJUST】UI design to show more player data
10.【ADJUST】Lower player upgrading experience
11.【ADJUST】Lower training club gold consumption
12.【ADJUST】Lower entry standard for player ranking
13.【OPTIMIZATION】Matching speed
14.【OPTIMIZATION】MVP obtaining rules
15.【OPTIMIZATION】Main page color automatically changed when changing main players
16.【OPTIMIZATION】Smooth core gaming mechanics (pick-and-roll, switch, fake out, and 3-pointers)
17.【OPTIMIZATION】Open multiple chests at one time
18.【OPTIMIZATION】Larger Ladder chests rewards
19.【OPTIMIZATION】New player: Sky
This is the new updated Carter version of DN3X3, which has been upgraded to 1.2.0 from the original 1.1.0, take a look at what has changed:
1. [NEW] Carter SF has joined the game
2. [NEW] Carter interface theme event
3. [NEW] Carter themed main interface buttons
4. [NEW] Carter themed login interface
5. [CUT] Removed QR codes from sharing interface
6. [FIXED] Text description of some of the items.
Mandatory Updates
Time: Start from 3:00 am(EDT)Oct 10th.
Mandatory Updates for fixing the following bugs:
1. New characters in SIGN can't have the same off-sale time across America. ( There are four time zones in America)
2. 20 orange skill chips can't be put together to make the complete orange skill.
3. Sometimes, there is Chinese language in the ranking for Challenge match.
4. The players can't change the head portrait for "the virus" and " Shakespeare".
5. If any of your teammates don't click Ready button before entering ladder match, your position changing would become invalid.
6. Some translation problems.
Update: Change the names for two players: "Jake" will be replaced by "Jack"; "Raysor" will be replaced by "Rezai".
Dunk Nation 3X3 North American M9-1 Update
Additions:
1.Roulette Function added to SHOP, use gems or gold to take a spin and win.
2.New Character Mayara (SG)
3.In BAG you can view all your purchased and rewarded items in one spot.
4.7 Days of Joy event: every consecutive day you sign in you will receive a corresponding reward.
5.The new spectator function allows you to invite friends on the same  server to watch your PVP matches
6.A new orange skill is available to be won buy purchasing Lucky Balls.
7.Hit the report button after a game, to turn in players whom you believe are cheating or not taking the game seriously.
8.You can now celebrate teammates' scores with the addition of a like button.
9.Applause Reward, if you play well you will be rewarded.
10.You can now add friends located on other servers.
11.Challenge mode, pay the tournament entrance fee using gems, and compete to win Challenge points that can be exchanged for prizes.
12.Clothes chips can be earned through out game play and be exchanged for new clothes
13.Collect 20 orange skill chips by Challenge and receive that corresponding orange skill
14.Like and get liked and unlock new achievements and corresponding rewards.
15.Every character has new skill slot, you can unlock them by getting 3 characters to level 40 or becoming VIP/SVIP
16.Add game stats for Floorball and unlock new achievements and rewards
17.New daily packaged bundles of items in SHOP
18.iOS users can record their matches and share them with friends.
Changes:
1.To make the beginners tutorial better, the first match(2v2) time has been adjusted, and we've included blocks and rebounds in the tutorial.
2.Ladder match rules and UI-interface has been adjusted, now the players will choose their characters after being paired and start the game.
3.The Team matching system has been optimized to reduce wait time.
4.Obtain rare items from Lucky Ball or Roulette and a system wide announcement will be made.
5.We optimized the reconnection function for less lag time.
6.Interference on 3-points does not result in fireball.
7.CAMP changes include new UI interface and strengthening the 9 basic attributes together.
8.You can now view offline information.
9.Leveling up between 31-35 just got easier, now less EXP is needed.
1.Performance improvements
2.stability improvements
3.User experiences optimizations
Dunk Nation 3X3 FAQ
Check the following list to see the minimum requirements of Dunk Nation 3X3.
Dunk Nation 3X3 supports English
Dunk Nation 3X3 Alternative