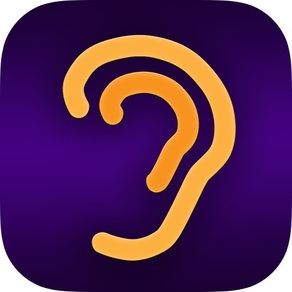 EarMan
1.7.9
for iPhone, iPad and more
About EarMan
A good ear is the key to all musicianship. One of the most basic skills for any musician is the ability to correctly identify intervals, something that is practiced in class or with a private tutor. EarMan is a program that helps you practice ear training on the go. This is an affordable, no-nonsense application that can help you improve your skills with a structured curriculum and fully customizable practice sessions. Completing a training session in EarMan takes about 1-2 minutes, only a fraction of a typical tutored lesson. All sessions are graded immediately and results are made available in the results section of the application.

A major key concept in EarMan is that of the interval set. Taking sevenths as an example, a session will first test you on major and minor sevenths. Eventually however unisons and octaves will be introduced as well and finally complementary intervals. But beginners need not worry about the terminology of ear training. Before any session, the answer buttons (and mostly there are only two at first) can be used to play back any interval so one can easily memorize it. All that's left then is matching a sound to a button. Naming the intervals eventually becomes second nature.

There are two basic training modes in EarMan, the Quick Session and the Curriculum.
Quick Sessions offer a way for spot learning. Interval set, range and playback direction are configured on the fly. These sessions are available at any time and can used to practice just in between or to prepare for the next Curriculum session.
EarMan's Curriculum on the other hand is a structured lesson plan of 105 sessions that begins with one interval set in a narrow range. Once a Curriculum session is completed with a grade of 80% or higher the next interval set is introduced, eventually the range is widened and the playback mode advanced.

Much thought went into the design of this application. There are high resolution playback samples, a "calm interface" designed to keep you focussed on the sound, interval songs to help memorize the base intervals, but above all EarMan is meant to be a constant companion. Like many things ear training needs to be done on a regular basis to truly yield results and that makes EarMan an ideal application for the iPhone.

EarMan main features:
* Structured Training Program with 105 Sessions
* Fully Configurable Quick Sessions
* High Quality Samples
* Music Notation
* Silent Mode (for Practicing Intervals Visually)
* Interval Songs as Mnemonic Aid
* Calm Interface
* Incorporation of Complementary Intervals
* Selectable Playback Range and Direction
* Automatic Grading of Sessions
* Detailed Reports
* Localized into English, French, Italian, Japanese, German and Spanish



To read more about this application or to view additional screenshots and videos clips visit the website indicated below. You also might want to download EarMan's free companion application EarTester. It tests your ear training skills at a proficiency level achieved when completing the EarMan curriculum.
What's New in the Latest Version 1.7.9
Last updated on Jun 29, 2020
Old Versions
This version updates overall appearance recent devices.

Version History
This version updates overall appearance recent devices.

This version includes several general updates and improves support for iOS 12.

This version adds a user selectable playback indicator option and further improves support for iOS 10.
This version improves support for iOS 10 and fixes a minor graphic issue.
This version updates generated audio synchronicity and includes general optimizations.
• EarMan is now a universal app that runs on all iOS devices. Some updates were also made for iPad Pro compatibility.
This version includes improved support for iOS 9 and fixes several minor graphic issues.
This version adds triple resolution graphics for iPhone 6 Plus and improved iOS 8 support.
• Adds new feature to allow running EarMan in English on devices not natively set to English.
• Several minor graphic issues have been addressed.
• Application support links have been supplemented and updated.
• New support links were added in the About Window.
• International language support has been improved.
- fixed curriculum resolution issue
- fixed several small cosmetic issues
- fixes issue assinging amount of Quick Session tests

- several graphic enhancements
- updated localizations

- improved compatibility with iOS 6.x
- several graphic enhancements
- added support for 4 inch iPhone 5 screen

- smoother animations
- several small fixes

- improved handling of sound libraries
- improved compatibility with iOS 6

- several graphic fixes
- added support for iOS 5.1

- several small fixes
- updated string resources

- updated for iOS 5
- improved support for sound libraries

- fixes several minor issues

- updated for iOS 4.3
- several graphic enhancements
- the number of Quick Session test intervals is now adjustable in Settings
- Dropbox support allows synching with EarMan run on other devices like EarMan for Mac OS X
- improved handling of In App content
- several small bugfixes

- several small fixes
- updated graphics for Retina display

- added localization into Chinese, Dutch, Korean, Portuguese and Swedish

EarMan FAQ
Check the following list to see the minimum requirements of EarMan.
iPhone
Requires iOS 12.0 or later.
iPad
Requires iPadOS 12.0 or later.
iPod touch
Requires iOS 12.0 or later.
EarMan supports English, Dutch, French, German, Italian, Japanese, Korean, Portuguese, Simplified Chinese, Spanish, Swedish
EarMan contains in-app purchases. Please check the pricing plan as below:
10_Folk_Strings_Pack
$0.99