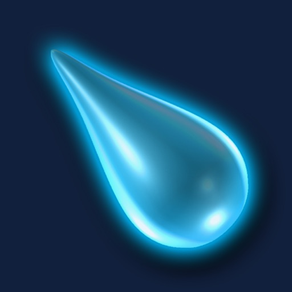 Enigmo
Physics Based Puzzler
6.2
for iPhone, iPod touch
About Enigmo
• NETWORKED MULTIPLAYER MODE WITH GAME CENTER!
• Voted "Best iPhone Game" at Apple's WWDC '08
• 2008 Austin GDC Independent Games Festival Showcase Winner!
• "Best Puzzle Game" from appstoreapps.com
• "Best Puzzle Game 2008" from Best App Ever Awards

Enigmo is a 3D puzzle game where you direct animated streams of flowing liquid so that the droplets get to their destination. Water, Oil, and Lava fall from Droppers and bounce around the walls of the puzzle. You move and rotate various types of bumpers, sliders, accelerators, and sponges in order to divert the flow of the falling droplets. The faster you complete each of the 50 levels, the more bonus points you receive.

The physics in Enigmo are truly amazing to watch! This is one of the most unique puzzle games ever created.

In addition to the 50 levels that come with the game, you can also download many more levels for free! As of version 1.1, you can download levels created by other users or by yourself with the Mac or PC version of Enigmo which has a built-in level editor. You may submit your levels to us and we'll include them in the public list if we like them enough.

_______________

Watch the behind the scenes video: http://pangeasoft.net/iphone/behindthescenes.html
What's New in the Latest Version 6.2
Last updated on Jul 7, 2022
Old Versions
Now supports up to 120h refresh rates on new iPhone models.
Version History
Now supports up to 120h refresh rates on new iPhone models.
Fixed some minor issues including a problem with audio not being output to external devices correctly.
Fixed crash bug on Level 47
• Updated for iPhone X!
• Now has music.
Fixes compatibility with iOS 5,6 and 7.
Updated for iOS 7 compatibility.
Major update! Lots of bug fixes and tweaks for iOS 6 and iPhone 5!
Improved graphics! 3D geometry now has specular hilighting and reflection maps to give the game more depth and detail.
Fixes potential crash problem if user isn't logged into Game Center at launch.
Fixes some minor bugs in multiplayer mode and fixes problem gaining certain achievements.
• NOW HAS MULTIPLAYER NETWORK CAPABILITY WHEN RUNNING ON GAME CENTER-ENABLED DEVICES.
• Supports Game Center Leaderboards & Achievements
Added support for the new Retina Display on the iPhone 4! All graphics in the game render at the full native resolution on the iPhone 4 and the game looks amazing! It is still 100% compatible with older iPhone/iPod devices running iOS 3.1.3.
Now uses OpenFeint 2.4 which adds many new features!
Added OpenFeint support which gives new leaderboards, chat rooms, etc.
• Significant performance boost when running on older iPhone and iPod Touch hardware (pre 3GS)
• Fixes one minor crash bug
Improved performance on iPhone 3GS
Fixed a potentially nasty bug in the new Level Pack purchase feature.
Enigmo FAQ
Enigmo is available in regions other than the following restricted countries:
China
Enigmo contains in-app purchases. Please check the pricing plan as below:
Check the following list to see the minimum requirements of Enigmo.
iPhone
Requires iOS 8.0 or later.
iPod touch
Requires iOS 8.0 or later.