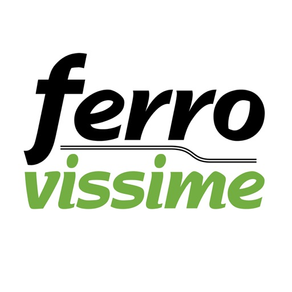 Ferrovissime
Free
Offers In-App Purchases
13.5.0
for iPhone, iPad and more
About Ferrovissime
Le magazine du train et de son histoire.
• Achetez votre exemplaire de Ferrovissime pour 6,99 € seulement.
• Accédez nos offres d'abonnement privilégiées directement dans l'application : deux formules d'abonnement vous sont proposées :

- 6 mois
 pour 19,99€
- 1 an pour 34,99€


Le montant de votre abonnement est débité sur votre compte iTunes automatiquement à la confirmation de votre abonnement.
 L'abonnement est reconduit automatiquement sauf si vous désactivez cette option au moins 24 heures avant la fin de la période en cours. Aucune résiliation n'est possible pendant la période active en cours.
 L'abonnement et son renouvellement peuvent être gérés à partir de votre compte dans l'App Store.

L'offre d'essai gratuit est réservée aux nouveaux abonnés. A l'issue de cette offre , votre abonnement sera renouvelé automatiquement.

Conditions générales de vente/ Terms and Conditions & Privacy Policy : http://www.lrpresse.com/index.php/conditions-generales-de-vente/
What's New in the Latest Version 13.5.0
Last updated on Dec 14, 2022
Old Versions
To make your reading experience even better, we update the app regularly.
This update includes:
• Minor bug fixes
• General performance improvements
Version History
To make your reading experience even better, we update the app regularly.
This update includes:
• Minor bug fixes
• General performance improvements
To make your reading experience even better, we update the app regularly.
This update includes:
• Minor bug fixes
• General performance improvements
To make your reading experience even better, we update the app regularly.
This update includes:
• New share feature
• General performance improvements
To make your reading experience even better, we update the app regularly.
This update includes:
• Minor bug fixes
• General performance improvements
To make your reading experience even better, we update the app regularly.
This update includes:
- Minor bug fixes
- General performance improvements
• Améliorations et mises à jour mineurs
• Prévisualisation de tous les articles dans la nouvelle section "Dans ce numéro"
• Possibilité de changer la couleur de l'arrière-plan du lecteur (choisissez entre gris et sepia) permettant une luminositée plus faible et réduisant la fatigue oculaire.
• Nouvelle interface mise à jours
• Menu découvrir : lisez des articles avant d'acheter le magazine
• Supporte l'IPhone X
• Ajout de la fonction Text to Speech
• Changez de mode de lecture facilement
• Recherche parmi tous les numéros
• Créez un seul compte pour vous connecter à travers toutes les plateformes
• Mode de lecture Jour et Nuit

Note : vous devrez restaurer vos achats et télécharger de nouveaux vos numéros
iOS 11.4 compatibility & push notification compatibility
Mise à jour et résolutions de bugs mineurs
iOS 11 compatibility
Faster issue download
General bug fixes and performance improvements
- iOS 10 compatibility
- Improved menu design
- General bug fixes and performance improvements
- Squashed an iOS 9 crash bug
- Fixed a performance issue affecting magazine and table of contents images
- Improved sharing options
- Fixed an issue in our FAQs that obscured the bottom of the screen
- Small performance and consistency updates
- Brand new user interface!
- Enhanced search functionality allowing search of all issues including those not downloaded
- General improvements and bug fixes
- In-app FAQ and support
- Push notifications for new issues
- Minor bug fixes
- Performance improvements
- Small UI tweaks
- Faster downloading
Ferrovissime FAQ
Ferrovissime is available in regions other than the following restricted countries:
China
Ferrovissime supports English
Ferrovissime contains in-app purchases. Please check the pricing plan as below:
SEPTEMBRE OCTOBRE 2017
$5.99
JANVIER FEVRIER 2017
$5.99
SEPTEMBRE / OCTOBRE 2023 - 125
$5.99
JUILLET / AOUT 2023 - 124
$5.99
JANVIER / FEVRIER 2024 - 127
$5.99
MAI / JUIN 2023 - 123
$5.99
Check the following list to see the minimum requirements of Ferrovissime.
iPhone
Requires iOS 12.0 or later.
iPad
Requires iPadOS 12.0 or later.
iPod touch
Requires iOS 12.0 or later.