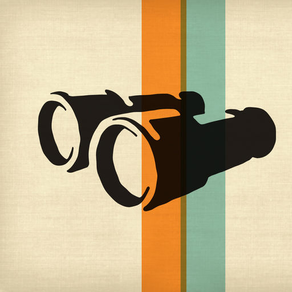 About Field Trip
"Field Trip can help guide the way..." - AllThingsD
"The future of Augmented Reality" - The Atlantic
"App of the Day" - Gizmodo

Field Trip, your guide to the cool, hidden, and unique things in the world around you is now on the iPhone! Field Trip runs in the background on your phone. When you get close to something interesting, it will notify you and if you have a headset or bluetooth connected, it can even read the info to you.

Field Trip can help you learn about everything from local history to the latest and best places to shop, eat, and have fun. You select the local feeds you like and the information pops up on your phone automatically, as you walk next to those places.

The hyperlocal history experts of Arcadia and Historvius will unveil local lore in places you never expected. Trend-setting publications like Thrillist, Food Network, Zagat, and Run Riot will point out the best places to eat and drink. Experts at Sunset, Cool Hunting, WeHeart, Inhabitat, and Remodelista will guide you to the latest unique stores and products. Atlas Obscura and Daily Secret help you uncover hidden gems no matter where you are. Songkick and Flavorpill guide you to local music.

What did you discover today? Enrich yourself with a Field trip during your commute. Live like a local when you travel to new places. Eat and shop off the beaten path. Or simply discover the obscure history about your neighborhood during your next walk to the park.

Get ready to see this world with new eyes!

NOTE: This app is optimized for the iPhone, not the iPad.

Highlights:

- Discover thousands of interesting places/experiences that fall under the following categories: Architecture, Historic Places & Events, Lifestyle, Offers & Deals, Food Drinks & Fun, Movie Locations, Outdoor Art and Obscure Places of Interest around you.

- Choose from three different modes to set frequency of Field Trip notifications. See "Field Trip" worthy places around you on a map, by tapping on cards in map view to pull up enthralling points of interest around you.

- Go on a Field Trip while you drive. Field Trip can detect when you're driving and automatically "talk" about interesting places and experience around you.

- Came across an amazing story or restaurant? Mark it as a favorite to easily come back to it at any point.

- Capture the memory of a special place, by sharing a wondrous discovery through email and social networks such as Google+, Twitter and Facebook.

- Wondering where the gem that you recently discovered is? Find your discovered field trip cards in the "recent' section.

For more information about how to use Field Trip, visit our help center at http://support.google.com/fieldtrip

Follow us on:
www.facebook.com/FieldTripApp
www.google.com/+FieldTripApp
www.twitter.com/FieldTripApp
What's New in the Latest Version 1.7.0
Last updated on Jan 13, 2017
Old Versions
Version History
- iOS 7 update
- Rate each card with 1 to 5 stars to tell us how much you like it
- Preview publisher content and get a glimpse of what each publisher offers
- Access the nearby, recent, favorite, and map tabs via the new bottom bar.
- Improved map view aggregates multiple cards into larger circles when zoomed out.
- Important settings are simplified and easily accessible in the left drawer.

New content:
Time Travel Ireland, Fest300, Abandoned NYC, Weird CA, Landmarks of New York, Curiosities Book Series, Andy Haler, Carpe Durham, Secretos de Madrid, Chimani
- Performance improvements and bug fixes

New content:
12hrs, MyDestination, I Love NY, The American Institute of Architects, San Antonio Tourist, Little Black Book Paris, Built Dublin, Cool Places.me, We Heart NY
- Support for audio and video content
- Performance improvements and bug fixes
New in 1.0.3:
- Go on a Field Trip Anywhere! Now available in 30+ languages and 80+ countries.
- Automatically translate cards that are not in your native language.
- You no longer need to sign in to use Field Trip.
- Quickly browse through cards by continuing to swipe up after scrolling to the bottom of a card.
New in 1.0.2:
- Improved battery life. Special fixes for older phones such as iPhone 3GS/4.
- The location services indicator icon should now disappear after you've closed the app when you have notifications turned off.
- New Snooze feature - when you open a Field Trip notification, now you can snooze it until the next morning by tapping "Snooze" at the bottom of the card.
- When battery is low (< 30%), all notifications will be automatically snoozed until the next morning to save battery.
- If Field Trip is active and you receive a notification, you'll only see the title of the card at the bottom of the screen, rather than the entire card. You can then tap or swipe up to see the whole card.
Bug fixes and performance improvements.
Field Trip FAQ
Check the following list to see the minimum requirements of Field Trip.
Field Trip supports Catalan, Chinese, Croatian, Czech, Danish, Dutch, English, Finnish, French, German, Greek, Hungarian, Indonesian, Italian, Japanese, Korean, Malay, Norwegian, Polish, Portuguese, Romanian, Russian, Slovak, Spanish, Swedish, Thai, Turkish, Ukrainian, Vietnamese