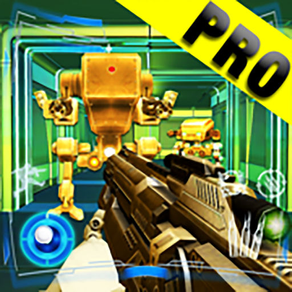 Futuristic Robot War Batle Pro Screenshots
About Futuristic Robot War Batle Pro
If you are looking for something new and love robot shooting & steels (robots) on the battlefield then it would be the surprise for the robot lover's initially it won't cost you anything. Futuristic Robot War Batle Pro is mech war and target shooting game of 2018. Robot mech war lovers have a unique surprise of 4 stunning environments for players. Be ready to target shoot killing all the robot terror from the futuristic city. You have targeted the terrorist with your modern robotic skills & you have the different harmful weaponry to target all the mafia bustard and terrorist make again peace in the futuristic city.

War with mech warrior battlefield robots is to play first-person shooter FPS Futuristic Robot War Battle - frontier shooting game. Games that'll make you fall in love man of iron & steel (robots) with futuristic sci-fi gun shooter & robots genre. With extensive 3D environment & a lot of missions full of guns, Pistols, Rifles, ShotGuns, RailGuns, Grenade Launchers, Rocket Launcher ( Heat Seeker ), Cluster Bomb lasers, canons & missile shooting action this game will change how you look at mobile robotic warrior games. Play the role of a steel iron ore robot on a special ops mission to rescue fellow spy robots from the enemy in this action filled thrilling adventurous gun shooting game. You can experience futuristic robots frontier shooting with modern weapons to survive in this robots shooting game.

Your mission is to target & attack so doesn't expect it to be easy. You'll face a lot of shooting guns & counter attacks and you need to be a skilled robotic warrior so you can protect yourself by enemy prototype robots but that shouldn't be a problem for you as you are a steel iron ore monster robotic survivor & warrior, but you have fought and attack carefully because the enemy is hard to defeat but you are more powerful so battle mech beast robot equipped with modern weapons & guns and army ammunition. To combat the enemy robot prototypes skilfully, wisely, eagle eye & strike hard to win this fought again terror. Shoot swift, aim accurately & don't allow the enemy robot prototypes to counter your attacks. It's a modern war & you need to win it all costs. Hack into enemy's system, rescue the two spy robots & make it back safely

MAIN FEATURES:
– Many battle robots with different strengths, and strategy.
– Many harmful weapon types, Pistol, Rifle, ShotGun, RailGun, GernadeLauncher, (Rocket Launcher)HeatSeeker, ClusterBomb lasers,
– Many possible combinations of robots and weapons. Create a war machine to fit your own playstyle.
– Four different environments with hard levels.
– join epic PvP battles against rivals from all over the world and play it for
– complete military tasks for bonuses and earn the Best Pilot title.
_ be the robotic hero is this mech war.
Onward, robot soldier! Victory is yours!y and be the superhero in the futuristic city.
What's New in the Latest Version 1.0
Last updated on Mar 12, 2018
Futuristic Robot War Batle Pro Price
Futuristic Robot War Batle Pro FAQ
Check the following list to see the minimum requirements of Futuristic Robot War Batle Pro.
Futuristic Robot War Batle Pro supports English
Futuristic Robot War Batle Pro Alternative