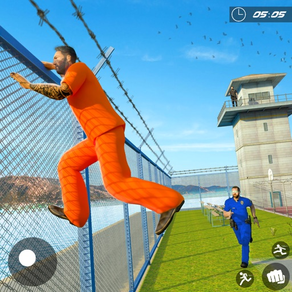 Gang Lockup Last Scarper Screenshots
About Gang Lockup Last Scarper
You are a prisoner stuck in prison and it is time for you to breakout and plan your open world prison escape. If you want to getaway from prison then start planning your prison breaking escape mission and kick start your journey. You are going to have to collect the key and gun at the start of your mission to breakout of prison in the prison escape survival mission.

You will be needing the gun to protect yourself from the open world prison jail guards. Make sure you polish your kicks and punches and defending skills to defend yourself from the police and open prison world guards. The prison runaway escape mission is going to be hard one. So, make sure that you are mentally and physically prepared for such a jail escape operation challenge.

Imagine that you are an open world jail prisoner and you are on the loose. The police and prison open world guards are looking for you all over the city. You would not want to give up this freedom and go back to gangster prison jail and become a jail prisoner. You will have to use your prisoner gun survival shooting skills to shoot the prison getaway guards and escape from the prison survival runaway jail operation.

As a prisoner you will have to practice your single prisoner shooting skills. So try to practice your jail prison shooting skills on the prisoner guards. In the prison runaway jail survival mission, you will have to sharpen your prisoner gun survival shooting skills. Follow the red indicators as they will help you in your jail getaway survival prison escape mission.

You will have to complete multiple police gun shooting objectives of the different prisoner escape survival level missions. You will have to steal a car to help you in your runaway survival prison escape jail mission. The realistic graphics and visuals will give you a real lifelike 3D prison escape mission experience. The awesome and realistic sound effects will only enhance your prison getaway escape mission.


Features:
- Plan your escape and collect the gun and key to breakout of the prison.
- Start this prison escaping mission and make sure you use you best defending techniques to protect yourself against the prison guards.
- Follow the red indicators to take you to your destination to complete your level mission.
- Be aware of the prison guards and stay away from them for survival or they will shoot you!
- Thrilling and exciting prison escape survival challenges that will make the whole survival escapade experience incredible for you.
- Great and smooth controls will make you instantly hooked to the game.
- The realistic graphics and visuals will enhance your prison escape survival mission simulator experience.
- The crazy sound effects will make you feel like a real gangster trying to escape free from prison.
What's New in the Latest Version 1.0
Last updated on Aug 30, 2019
Gang Lockup Last Scarper FAQ
Check the following list to see the minimum requirements of Gang Lockup Last Scarper.
Gang Lockup Last Scarper supports English
Gang Lockup Last Scarper Alternative