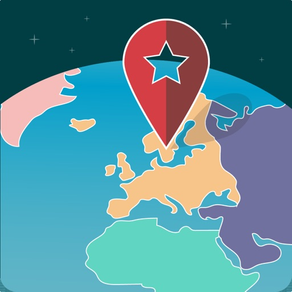 GeoExpert+ World Geography Map
Countries, Provinces & States
2023.3.0
for iPhone, iPad and more
GeoExpert+ World Geography Map Screenshots
About GeoExpert+ World Geography Map
*** No in-app-purchases, all the content included! ***

Learn to locate all the countries on a map and become a geography expert! Whether you need to improve your knowledge of world provinces, maps, or the flags of each country, GeoExpert geography games has you covered.

GeoExpert is an educational tool in the form of a quiz game, designed to help you learn geography, including ALL of the countries in the world. It's like having a portable world map atlas on your phone or tablet.

It is rigorously accurate, and we keep it up-to-date with the latest information which is why it is used in various schools to teach geography. If you need to review for a geography quiz on world capitals or just want to learn more about the mountains, rives and world monuments, GeoExpert is sure to be a fun and useful geography app!

To brush up on your world geography, try study mode. Review different world maps to see counties, their capitals, area, population and their flags. Alternatively, you can focus on natural features and you can study mountains, rivers and other bodies of water, as well as world monuments and wonders on the world map, or on several country specific maps.

When ready to test your knowledge of geography trivia, give play mode a go! Quiz yourself on our interactive world map with world capitals, countries, and flags as well as world monuments and natural wonders.

You'll be surprised at how quickly you learn geography with this educational trivia app!

Games included on the world maps in this geography trivia app:
- Countries & Territories.
- Capitals.
- Rivers.
- Bodies of Water (oceans, seas and lakes).
- Mountains.
- Flags.
- Monuments and Wonders.
- Study mode with information (area, population,...) of each country/state.

Specific maps for:
- USA.
- Spain.
- France.
- Sweden.
- Italy.
- Canada.
- Netherlands.
What's New in the Latest Version 2023.3.0
Last updated on May 5, 2023
Old Versions
We keep improving GeoExpert:
- Info window on dessert game.
- Fix bugs & small UI improvements.
Version History
We keep improving GeoExpert:
- Info window on dessert game.
- Fix bugs & small UI improvements.
We keep improving GeoExpert:
- New! World deserts.
- New icon!
- Improvements in the user interface.
NEW: Netherlands provinces map
- Capital Kazakhstan updated (now is Astana)
- User interface improvements
Many graphic improvements and animations.
- FIXED: Bodies of Water map
- FIXED: Close windows buttons
- FIXED: Autorotation
- NEW: France departments numbers
- NEW: Mexico maps (States & rivers)
- NEW: Option to turn off shading during game
- NEW: White Sea
- NEW: Polish language
- UPDATED: Mississippi flag (changed in 2021)
- UPDATED: Burundi capital (from Bujumbura to Gitega)
- FIXED: France regions progress
- Fix voices
- Improve map adjustment with UI
- Fix touches on top of the screen on play mode
- Fix flag zoom on play mode
- Allow to zoom out to 80%
- World "Bodies of Water" map
- Canada maps (provinces, rivers & mountains)
- Italy maps (regions, provinces & rivers)
- Option to name continent as Australia instead of Oceania
- Fix disputed territories label
- Fix Vatican area
- Sweden maps.
- France maps.
- USA maps.
- Spain maps.
- Similar flags updated to avoid confusions.
Totally new version!
- New graphics
- New UI (horizontal/vertical)
- New games: World, monuments and wonders
- Korean translation fixed
- Base upgrade & small improvements.
ADDED: Mountains of Africa
ADDED: Mountains of Oceania
ADDED: Greek translation
FIX: Swaziland name (now Eswatini)
- New: Asia mountains game.
- Fixed: Bogotá location.
- Fixed: Republic of Macedonia name.
NEW: North America mountains
NEW: South America mountains
FIXED: Some translations
FIXED: iPhone X optimization
- NEW: Europe Mountains.
- FIXED: Mauritania flag.
- FIXED: Korean translation.
- Added: Customize game option
- Fixed: Amur river name in Chinese
- Fixed: Capital name of New Hampshire in Russian
- Fixed: Georgia US state name in Danish
- Fixed: River mouth for Tiber river
- New option VOICES (to hear countries, capitals,...)
- Improve countries selection.
- Fix some rivers flow.
- Reported bugs fixed.
- Added rivers information in study mode (length, flow, river mouth).
- Added help to start a game.
- Added the possibility to share your score in Facebook.
- Fast start.
- Fixed Ural river location.
- Added Rivers!! Learn 147 worldwide rivers by continent & levels.
- Fixed some capitals positions.
- Fixed some german translations (thanks to Quicks!)
- Fixed some chinese translations.
- Fixed Palestine capital.
- Marked Crimea and Sevastopol as disputed territory between Russia and Ukraine.
- Libraries updated for better performance.
- Small bugs fixed (thanks for your emails!).
- Some translations fixed.
GeoExpert+ World Geography Map FAQ
Check the following list to see the minimum requirements of GeoExpert+ World Geography Map.
iPhone
Requires iOS 11.0 or later.
iPad
Requires iPadOS 11.0 or later.
iPod touch
Requires iOS 11.0 or later.
GeoExpert+ World Geography Map supports English, Danish, Dutch, Finnish, French, German, Greek, Italian, Japanese, Korean, Norwegian Bokmål, Polish, Portuguese, Russian, Simplified Chinese, Spanish, Swedish, Traditional Chinese, Welsh
GeoExpert+ World Geography Map Alternative