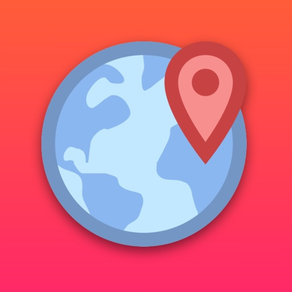 GeoGuesser 2
Unlimited games on all maps!
1.3.1
for iPhone, iPad and more
About GeoGuesser 2
Do you love to travel? GeoGuesser is a game that shows you panoramic street views of places around the world and challenges your ability to guess where they are!

GeoGuesser 2 is completely new and redesigned! If you're looking for the original with the classic game mode and unlockable levels, you can still download GeoGuesser Classic on the App Store too!

Choose from multiple game modes:

Standard Game - You'll be shown random locations and get get once chance to guess each location, then the actual location will be revealed

Accuracy Game - Keep guessing until you get it right! Each guess will give you a hint but also cost you extra time!

Endurance Game - Every correct guess unlocks another new location, but a wrong guess will end the game! See how many you can get in a row!

Download GeoGuessr now and see how many places you can recognize!




Attributions:
Maps from Google Maps SDK for iOS
Icons from Icons8
What's New in the Latest Version 1.3.1
Last updated on Feb 25, 2021
Old Versions
- New custom locations option - Now you can choose specific countries!
- Added button to enlarge guess map

Version History
- New custom locations option - Now you can choose specific countries!
- Added button to enlarge guess map

- New custom locations option - Now you can choose specific countries!
- Fixed compass rotation direction
- Other small bug fixes
Now includes a high scores table and keeps track of your scores!


- Added compass and reset location button
- Added settings menu with options for miles/km distance units and toggle sound on/off
- Fixed iPad display issues
- Added expand button for larger panorama view
- Other small bug fixes

GeoGuesser 2 FAQ
GeoGuesser 2 is available in regions other than the following restricted countries:
Angola,Egypt,Niger,Macedonia,Mongolia,Tajikistan,Guinea-bissau,St. Kitts and Nevis,Lebanon,Lao Peoples Democratic Republic,Tunisia,Yemen,Ecuador,Vietnam,Finland,Sierra Leone,El Salvador,Ukraine,Kosovo,Antigua And Barbuda,Iraq,Maldives,Oman,Pakistan,Uruguay,Botswana,Cambodia,Bolivia,Ghana,Mozambique,Nepal,Paraguay,Uganda,Trinidad and Tobago,Liberia,Burkina Faso,Cameroon,India,Azerbaijan,Guyana,Mali,St. Vincent & The Grenadines,Kazakhstan,St. Lucia,Morocco,Russia,Afghanistan,Bhutan,Congo,Saudi Arabia,Turks and Caicos,Grenada,Georgia,Montenegro,Benin,Macao,Qatar,Swaziland,Honduras,British Virgin Islands,Nigeria,Nauru,Philippines,Turkmenistan,Vanuatu,Dominica,Libya,Moldova,Micronesia,Kuwait,Sao Tome & Principe,Panama,Cape Verde,Malawi,Kenya,Palau,Algeria,Madagascar,Mauritania,Cayman Islands,Namibia,Rwanda,Sweden,Brunei Darussalam,Belize,Jordan,Tanzania,Uzbekistan,Norway,Solomon Islands,Kyrgyzstan,Mauritius,Zambia,Bosnia & Herzegovina,Guatemala,Myanmar,Venezuela,Anguilla,Bahrain,Bahamas,Brazil,Dominican Republic,Nicaragua,Belarus,Costa Rica,Senegal,Jamaica,Montserrat,Tonga,Barbados,Congo, Democratic Republic,Gabon,Suriname,China,Cote Divoire,Sri Lanka,Papua New Guinea,Fiji,Seychelles,Chad,Zimbabwe,Albania,Armenia,Bermuda,Gambia
GeoGuesser 2 supports English
Check the following list to see the minimum requirements of GeoGuesser 2.
iPhone
Requires iOS 10.0 or later.
iPad
Requires iPadOS 10.0 or later.
iPod touch
Requires iOS 10.0 or later.