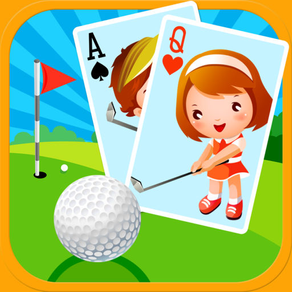 Golf Solitaire Pro App - Go Snap Cards Up Mobile
Golf Solitaire Pro App - Go Snap Cards Up Mobile Screenshots
About Golf Solitaire Pro App - Go Snap Cards Up Mobile
Golf is a Patience card game where players try to earn the lowest number of points (as in golf, the sport) over the course of nine deals (or "holes," also borrowing from golf terminology). It has a tableau of 35 face-up cards and a higher ratio of skill to luck than most other solitaire card games.

Setup
From a standard 52-card deck, 7 columns of 5 cards each are dealt, all face up. This is the tableau. One additional card is dealt as the base of the foundation. The remaining 16 cards are turned face down to form the stock.

Rules:
-Only the topmost card in each column (closest to the player) may be removed from the tableau. When it is removed, the card beneath becomes available for play.
-Cards may be moved from the tableau to the foundation if they are either one rank higher or one rank lower than the top card of the foundation, regardless of suit, but nothing may be played on top of a King.
-Cards rank A 2 3 4 5 6 7 8 9 10 J Q K. There is no "wrapping" (Ace on a King, or King on an Ace) in golf.
-Whenever there are no possible plays, turn cards up one at a time from the stock to the foundation and resume playing cards from the tableau when possible.
-There is no redeal. The game is over when the stock is exhausted and no more moves are available.
What's New in the Latest Version 3.0
Last updated on May 3, 2016
Old Versions
Golf Solitaire Pro App - Go Snap Cards Up Mobile FAQ
Click
here
to learn how to download Golf Solitaire Pro App - Go Snap Cards Up Mobile in restricted country or region.
Check the following list to see the minimum requirements of Golf Solitaire Pro App - Go Snap Cards Up Mobile.
Golf Solitaire Pro App - Go Snap Cards Up Mobile supports Chinese, English
Golf Solitaire Pro App - Go Snap Cards Up Mobile Alternative