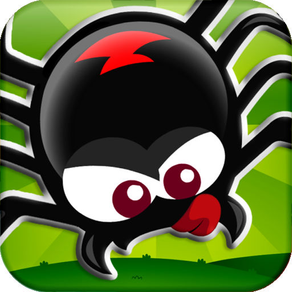 Greedy Spiders Screenshots
About Greedy Spiders
Save the bugs from the Greedy Spiders!

Somewhere out there, a tiny world needs a huge hand...

The Spiders have come to town and they are planning on dining their friendly neighbors.

Use your intelligence in this exciting puzzle game and prevent the Spiders from pulling off their plan.

Carefully plan your escape from Wild Hills, Scary Crypts and many other scenarios to reach the final cut scene.

Thinking of an easy game? Wait until you find yourself dealing with up to three evil and hungry spiders.

As you progress through the levels, new actions, new spiders and new surprises will be available.
Deceive a spider, burn down the spider web or even invoke a supernatural power to save a bug... use everything at your hands to avoid being eaten in this breath taking journey.

★★★★★ By Steve (September 17, 2011)
This is one of the most addictive games! It is right up there with Angry Birds. Awesome graphics, amazingly smart spiders. Tough in the beginning, forces you to think out your strategy prior to making your move. I HIGHLY recommend this game, it is one of a kind. Don't play it too long though, I find myself playing it in my head, even when holding a conversation with someone.

★★★★★ By Brian (August 3, 2011)
"Absolutely worth downloading. Great gameplay. Best free game i've played so far!!"

★★★★★ By Heidi (August 2, 2011)
"What a fun game! Be careful; it's very addictive. I love setting my bugs free :)"

KEY FEATURES:

✓ 198 free challenging levels!
✓ 7 different types of bugs!
✓ Retina display optimized.
✓ Warning: extremely addictive!
✓ Delightful and funny graphics.
✓ More scenarios and levels coming soon!

Those Greedy Spiders have set up a diabolical trap for their bug neighbors. With the help of an out-of-the-way bar, a sign, a few musical instruments, and some clever disguises, they now have the bugs right where they want them: in their webs.

It's up to you to rescue the helpless bugs in this clever and addictive puzzle game. Each turn, you move to stop a spider from advancing on their hapless prey. The spider then responds by crawling along the complex web toward one of their victims. Cut off the spider's path or free the bugs before any of them become dinner!

Free all the bugs, and you'll move on to the next level, where even more await your aid. You'll earn one, two, or three stars for each level, depending on how efficient you were in your rescue. But if a spider catches even one bug, you'll have to try again! But don't worry if that happens; a hint system will help you defeat the spiders on your next attempt.

Visit our site
http://greedyspiders.com

Become a fan of Greedy Spiders on Facebook
http://facebook.greedyspiders.com

Try this addictive puzzle game!
What's New in the Latest Version 1.5
Last updated on Oct 11, 2012
Old Versions
New scenario added with 20 levels! Improved cutting accuracy
Version History
New scenario added with 20 levels! Improved cutting accuracy
Greedy Spiders FAQ
Check the following list to see the minimum requirements of Greedy Spiders.
Greedy Spiders supports English
Greedy Spiders Alternative