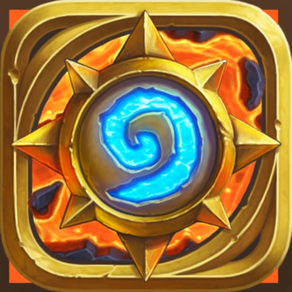 Hearthstone
Strategy Card Battle
Free
Offers In-App Purchases
26.4.175913
for iPhone, iPad and more
About Hearthstone
From the studio that brought you World of Warcraft® and Overwatch®, comes HEARTHSTONE®, Blizzard Entertainment's award-winning collectable card game! Collect powerful cards and create mighty decks. Summon minions and sling a spell to seize control of ever-shifting battlegrounds. Wield a masterful strategy and outwit all players who dare challenge you.

Each card brings to life an extraordinary ability; use strategy to craft your deck and clever tricks to turn the tides of these PvE and PvP battles. Whether they're minions, a spell, quests, or heroes, a Hearthstone card can dramatically change the duel with powerful effects and crazy interactions. Play as a clever rogue, a powerful mage, or any other of the game's ten Hero classes - they're all free!

Experience the magic, mischief and mayhem with your friends. Battle with friends and join the millions of players around the hearth to enjoy Hearthstone, and DOWNLOAD TODAY!

AN EVER-EXPANDING WARCRAFT UNIVERSE. Go into battle with your favorite Warcraft heroes like Illidan Stormrage, Jaina Proudmore and more. Explore iconic locations from the beloved Warcraft universe as you master your deck, collect cards, and assemble powerful combos, in this fast-paced card game of cunning strategy. Master the unexpected and seize control over the battlegrounds of Azeroth.

PLAY THE HIT GAME MODE HEARTHSTONE BATTLEGROUNDS. Invite your friends to play Battlegrounds with you, where eight heroes compete in a PvP auto-battler. The last one standing takes it all! Will you end up with the Battlegrounds crown?

MASTER AN ALL-NEW RPG MODE WITH ROGUELIKE ELEMENTS: HEARTHSTONE MERCENARIES. Assemble and customize your dream team of iconic Warcraft characters. No need to build a deck, just grab your Mercenaries and jump into combat, choosing the right skills to help you vanquish your foes. Master an all-new RPG and engage in epic combat. Use your earnings to upgrade and equip your team of Mercenaries with the abilities and treasures needed to fight through roguelike maps and conquer an all-new combat system. As your Mercenaries progress, so too will their opponents, so use strategy to take on tougher, ever-evolving enemies. Which of your Mercenaries will earn their glory?

FEATURES:

HONE YOUR SKILLS: Practice in PvE adventures, face fierce competitors around the world in real-time PvP, and duel the strongest Heroes in the Warcraft universe. Jaina, Thrall, Uther, and Illidan, and more!

JUMP RIGHT IN: Fun introductory missions bring you into the world of Hearthstone's intuitive gameplay, only a few seconds until your first duel!

DUEL EPIC HEROES, GLORY AWAITS: Defeat tough opponents around the world in real-time PvP, win and craft your deck using hundreds of unique cards – your collection grows with you in this CCG.

8-PLAYER EXPERIENCE: Are you ready to take your skills to the Battlegrounds? You and 7 other competitors take on the roles of familiar Heroes straight out of WoW history, craft powerful boards of recruited minions, and duel in this auto-battler until a single winner is crowned!

COMPETITIVE RPG MODE WITH ROGUELIKE ELEMENTS: HEARTHSTONE MERCENARIES: Discover new ways to play with this all-new RPG. Roguelike maps and seemingly endless team, treasure, and ability combinations make for a unique roguelike RPG experience with every battle. Say goodbye to building and balancing 30 card decks. Instead, choose which 6 Mercenaries you think has what it takes to take down your opponents and secure your bounties. Progress as you play to unlock new abilities and equipment that will make your Mercenaries more powerful and unlock new ways to fight!

© 2014-2022 Blizzard Entertainment, Inc. Hearthstone and Blizzard Entertainment are trademarks or registered trademarks of Blizzard Entertainment, Inc. in the U.S. and other countries
What's New in the Latest Version 26.4.175913
Last updated on May 31, 2023
Old Versions
THE AUDIOPOCALYPSE IS UPON US—The fate of all music hangs in the balance in the Festival of Legends Mini-Set, Audiopocalypse, featuring the return of dual-class cards, remixed cards, and a new E.T.C. Legendary card!

DIABLO RETURNS—Diablo is back in Battlegrounds, Duels, and more for a limited time!

For full patch notes visit http://hearthstone.blizzard.com
Version History
THE AUDIOPOCALYPSE IS UPON US—The fate of all music hangs in the balance in the Festival of Legends Mini-Set, Audiopocalypse, featuring the return of dual-class cards, remixed cards, and a new E.T.C. Legendary card!

DIABLO RETURNS—Diablo is back in Battlegrounds, Duels, and more for a limited time!

For full patch notes visit http://hearthstone.blizzard.com
BATTLEGROUNDS SEASON 4—E.T.C. is taking the show to Battlegrounds for Season 4, with a new Rewards Track and Season Pass, a new Hero, and over 55 new minions! For the first time, our new minions are taking the stage in phases. Login now for the opening acts!
For full patch notes visit http://hearthstone.blizzard.com/

FESTIVAL OF LEGENDS BEGINS—Hearthstone's jam-packed expansion launches April 11! Festival of Legends includes the new Finale keyword, Legendary musicians and songs, instrument weapons, Harmonic spells, and Soloist minions!

CORE SET UPDATE—The free Core Set gets a shakeup with card changes and the new Priest keyword: Overheal!

For full patch notes visit hearthstone.blizzard.com
FESTIVAL OF LEGENDS—E.T.C. is hosting Hearthstone's next jam-packed expansion, featuring 145 new cards, the new Finale keyword, Legendary musicians and songs, and more! Pre-purchase options and a free login reward available now.
BUDDIES ARE BACK—Battleground Buddies are back with an improved Buddy system, new Buddies, new minions, and more!
For full patch notes visit hearthstone.blizzard.com


NAXX OUT!-Revisit the iconic floating necropolis in the March of the Lich King Mini-Set, Return to Naxxramas!

MERCENARIES GETS MYTHIC-Mercenaries gets an infusion of six new Mercs, dual-types, Factions, and the new Mythic Boss Rush challenge mode!

For full patch notes visit hearthstone.blizzard.com
UNDEAD INVADE BATTLEGROUNDS—Good news, everyone! Battlegrounds Season 3 is here, featuring Professor Putricide with an all-new Hero Power, the new Undead minion type, and dual-type minions!

LUNAR NEW YEAR—Celebrate the new year with a special in-game event!

For full patch notes visit hearthstone.blizzard.com
MARCH OF THE LICH KING ARRIVES—Hearthstone's biggest expansion yet launches on December 6! March of the Lich King features the new Death Knight class, the Manathirst keyword, Undead and dual-type minions, and more!
SEASONAL EVENTS—Celebrate the new expansion with a Death Knight launch event, followed by this year's Winterveil festivities!
For full patch notes visit hearthstone.blizzard.com

MARCH OF THE LICH KING ARRIVES—Hearthstone's biggest expansion yet launches on December 6! March of the Lich King features the new Death Knight class, the Manathirst keyword, Undead and dual-type minions, and more!
SEASONAL EVENTS—Celebrate the new expansion with a Death Knight launch event, followed by this year's Winterveil festivities!
For full patch notes visit hearthstone.blizzard.com

MARCH OF THE LICH KING ARRIVES—Hearthstone's biggest expansion yet launches on December 6! March of the Lich King features the new Death Knight class, the Manathirst keyword, Undead and dual-type minions, and more!
SEASONAL EVENTS—Celebrate the new expansion with a Death Knight launch event, followed by this year's Winterveil festivities!
For full patch notes visit hearthstone.blizzard.com

MARCH OF THE LICH KING—The new Death Knight playable class comes in Hearthstone's next expansion, featuring 145 new cards, the new Manathirst keyword, Undead minions, and more! Pre-purchase options and a free login reward available now.

PREPARE FOR DEATH—Knights of the Frozen Throne is playable in Standard for all players for a limited time!

For full patch notes visit www.hearthstone.blizzard.com

MARCH OF THE LICH KING—The new Death Knight playable class comes in Hearthstone's next expansion, featuring 145 new cards, the new Manathirst keyword, Undead minions, and more! Pre-purchase options and a free login reward available now.

PREPARE FOR DEATH—Knights of the Frozen Throne is playable in Standard for all players for a limited time!

For full patch notes visit www.hearthstone.blizzard.com
NEW MAW AND DISORDER MINI-SET—Order in the court! After the Murder at Castle Nathria, Sylvanas has been called to answer for her crimes in this Mini-Set of 35 all new cards filled with shocking accusations, advanced Infuse cards, and powerful new synergies. Court is in session starting on September 27.
For full patch notes visit www.playhearthstone.com

BATTLEGROUNDS SEASON 2—Battlegrounds is getting a huge revamp in Season 2, with the new Battlegrounds Track and Season Pass, the new gameplay Quest system, two new Heroes, a plethora of new minions, and balance updates to minions and Heroes alike!
For full patch notes visit www.playhearthstone.com

MURDER AT CASTLE NATHRIA IS HERE – Start sleuthing! Hearthstone's newest 135-card expansion launches on August 2 and features the new Infuse keyword and Location card type!

BATTLEGROUNDS UPDATE - An all-new Hero, balance adjustments, new emotes, and more come to Battlegrounds!

For full patch notes visit www.playhearthstone.com
23.6.2.143410
Jul 11, 2022
MURDER AT CASTLE NATHRIA – Hearthstone's next expansion includes an all-new card type, Locations, as well as Murloc Holmes, 10 Legendary suspects, the new Infuse keyword, and more! Pre-purchase options and a free login reward are available now!

CELEBRATE SUMMER – Fire Festival Legendary Quests are coming, plus updates to Battlegrounds and Arena!

For full patch notes visit www.playhearthstone.com

MURDER AT CASTLE NATHRIA – Hearthstone's next expansion includes an all-new card type, Locations, as well as Murloc Holmes, 10 Legendary suspects, the new Infuse keyword, and more! Pre-purchase options and a free login reward are available now!

CELEBRATE SUMMER – Fire Festival Legendary Quests are coming, plus updates to Battlegrounds and Arena!

For full patch notes visit www.playhearthstone.com

THRONE OF THE TIDES MINI-SET—Turn the tides on your opponents to claim your throne with 35 all-new cards, including powerful disruption tools and two Colossal Legendary minions, available now!

NAGA INVADE MERCENARIES—Naga make a splash in this major update of 18 new Mercenaries, over a dozen new Bounties, quality of life improvements, and more!

For full patch notes visit www.playhearthstone.com

RISE OF THE NAGA—The first Battlegrounds season kicks off with the new Naga minion type, a new hero, the new Spellcraft keyword, and over 20 new minions!

N'ZOTH COMES TO MERCENARIES—The Old God's influence is seeping its way into Mercenaries with the new N'Zoth event! Complete 10 special Tasks to get the new Mercenary and other great prizes.
For full patch notes visit www.playhearthstone.com

RISE OF THE NAGA—The first Battlegrounds season kicks off with the new Naga minion type, a new hero, the new Spellcraft keyword, and over 20 new minions!

N'ZOTH COMES TO MERCENARIES—The Old God's influence is seeping its way into Mercenaries with the new N'Zoth event! Complete 10 special Tasks to get the new Mercenary and other great prizes.
For full patch notes visit www.playhearthstone.com

VOYAGE TO THE SUNKEN CITY IS HERE – All aboard! Hearthstone's newest 135-card expansion, featuring Naga minions, Colossal and Dredge keywords, and more, embarks on April 12.

DUELS UPDATE – The League of Explorers has come to Duels! Each explorer combines two classes. Explore new heroes, updated card pools, and more in this adventurous Duels update.

For full patch notes visit www.playhearthstone.com

PREPARE FOR VOYAGE TO THE SUNKEN CITY – Hearthstone's next expansion features a new minion type, the new Colossal keyword, the new Dredge keyword, sunken treasures, and more! Pre-purchase options and a free login reward are live now!

ARMORED BUDDIES – Armor returns to Battlegrounds, along with a new Hero, new minions, and other updates!

For full patch notes visit www.playhearthstone.com

PREPARE FOR VOYAGE TO THE SUNKEN CITY – Hearthstone's next expansion features a new minion type, the new Colossal keyword, the new Dredge keyword, sunken treasures, and more! Pre-purchase options and a free login reward are live now!

ARMORED BUDDIES – Armor returns to Battlegrounds, along with a new Hero, new minions, and other updates!

For full patch notes visit www.playhearthstone.com

ONYXIA'S LAIR MINI-SET– The full 35-card Mini-Set can be purchased with in-game Gold, and an all-Golden version of the Mini-Set is in the shop as well!

CHI-JI MERCENARIES EVENT—The first ever, Mercenaries limited-time event is coming soon, featuring the August Celestial Chi-Ji!

For full patch notes visit www.playhearthstone.com

BATTLEGROUNDS BUDDIES – Armor is out and buddies are in! In this update, every Battlegrounds hero has a special "buddy" minion they get to help throughout your game!

MERCENARIES TRAINING GROUNDS – As an alternative means of leveling your Mercenaries, you can visit the new Training Grounds, which allows them to passively gain XP throughout the day!

For full patch notes visit www.playhearthstone.com

FRACTURED IN ALTERAC VALLEY IS HERE – Jump in now to play Hearthstone's newest 135-card expansion, featuring a new keyword and the return of Hero cards!

MERCENARIES UPDATE – Four new Mercenaries enter the fray! Get Vanessa VanCleef for free as part of the new Rewards Track.

DUELS UPDATE – Duels adds 15 all-new Treasures to the Treasure pool!

For full patch notes visit www.playhearthstone.com
Hearthstone FAQ
Hearthstone is available in regions other than the following restricted countries:
Zambia,Congo, Democratic Republic,Afghanistan,Rwanda,Cameroon,Gabon,Cote Divoire,China
Hearthstone supports English, French, German, Italian, Japanese, Korean, Polish, Portuguese, Russian, Simplified Chinese, Spanish, Traditional Chinese
Hearthstone contains in-app purchases. Please check the pricing plan as below:
Bundle of 7 Classic Packs
$9.99
Bundle of 2 Classic Packs
$2.99
Bundle of 15 Classic Packs
$19.99
Welcome Bundle of 10 Classic Packs + Classic Legendary Card
$4.99
Bundle of 40 Classic Packs
$49.99
Bundle: All 4 League of Explorers Wings
$19.99
Bundle of 7 "Whispers of the Old Gods" Packs
$9.99
Bundle of 7 Grand Tournament Packs
$9.99
Check the following list to see the minimum requirements of Hearthstone.
iPhone
Requires iOS 12.0 or later.
iPad
Requires iPadOS 12.0 or later.
iPod touch
Requires iOS 12.0 or later.
Related Videos
Latest introduction video of Hearthstone on iPhone