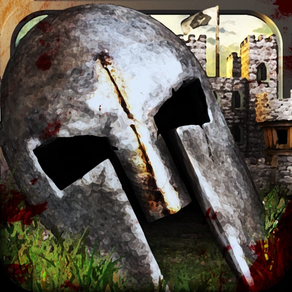 Heroes and Castles
Free
Offers In-App Purchases
2.1
for iPhone, iPad and more
Heroes and Castles Screenshots
About Heroes and Castles
The Undead Horde and their Orc and Goblin allies are at your castle gates, the King is on the brink of death, and only you stand between the enemy and complete annihilation! Choose one of many powerful heroes, summon an army to fight beside you, and defend your castle in Heroes & Castles, a seamless blend of 3rd person Action-RPG, Strategy, and Castle Defense elements!


-----FEATURES-----

CASTLE DEFENSE, STRATEGY, AND ACTION-RPG GAMEPLAY!
Take to the battlefield in an immersive 3rd person perspective, summon entire armies to fight beside you, and defend your castle to the death! Fight in the middle of a huge battle that you control!

UNIQUE, POWERFUL HEROES!
Level up, learn new skills and abilities, find randomized Runes and loot, and destroy your enemies with one of many unique heroes!

SUMMON HUGE ARMIES TO FIGHT BESIDE YOU!
Summon Dwarves, Archers, Pikemen, Giants, Catapults, Mages and much more to aid you in your defense! Watch them battle the enemy right beside you!

BUILD AND UPGRADE YOUR CASTLE!
Build Towers, upgrade your castle walls, and build buildings to upgrade your units!

2 PLAYER COOPERATIVE MULTIPLAYER!
Team up with a random ally or one of your friends and compete in the GameCenter leader boards!

TONS OF ENEMIES TO BATTLE!
Fight against dozens of enemies on screen at once, from hordes of the Undead, to Orcs, Goblins, Ghouls, Siege Wagons, Trolls, Catapults, Mummies, and more!

ADVANCED GRAPHICS AND TONS OF FEATURES!
Incredible mobile graphics and lighting, iCloud saving, full iPhone 5 widescreen display support, and much more!

----------

Search for Heroes & Castles on Youtube for awesome gameplay footage!

Visit the forums at http://heroesandcastlesforum.com for all your Heroes and Castles questions, answers and discussion!

Follow us on Twitter @FoursakenMedia or like us on Facebook for more Heroes & Castles news!
What's New in the Latest Version 2.1
Last updated on Aug 27, 2017
Old Versions
This app has been updated by Apple to display the Apple Watch app icon.

• 64 bit support
Version History
This app has been updated by Apple to display the Apple Watch app icon.

• 64 bit support
• iOS8 fixes
• Crash fix
• Sync error fix
• Fix for early generation devices (iPad1, iPhone 3GS, etc)
• Bug fixes
• Age rating change
• Crash/Multiplayer fixes
• Fixed auras persisting through games
• Data loss fixes
• Multiplayer sync error fixes
• Fixed a bug where your hero could get overwritten during multiplayer
• Crash fixes
• Multiplayer fixes
• Crash fixes
• Multiplayer fixes
• Bug fixes
• Fixed a persistent crash on boot up related to IAPs
• Fixed a multiplayer crash with devices running pre-OS6
• Fixed some crashing issues
• Hunter range bug fixed
• Changed voice commands to be player input text
• iOS 7 compatibility
• Added local WiFi/Bluetooth multiplayer!
• Fixed a crash with the iPod setting
• Fixed some multiplayer sync error
• Bug fix: Dwarf range now gets buffed accordingly with Dwarven Hut
• Increased the chance to earn a Rune when playing Endless and Co-op (100% chance after 5 minutes)
• Fixed a multiplayer sync error
• Improved multiplayer connectivity
• Significantly improved multiplayer connectivity
• Heroes must be on at least Level 25 before playing coop on Corte
• Added an experience bar on the pre game screen
• Increased up/down looking for Ranger on Corte
• Fixed enemies coming through the back of Corte
• Fixed heroes going underneath the ground from some abilities on Corte
• Fixed Dwarven Tank movement
• Miscellaneous bug fixes
• Added a new 'Graphics' setting in the Options menu for optimal performance (only available on select devices). Set to "Low" graphics to drastically decrease crashing on middle generation devices, especially in Multiplayer/Siege Modes - without much actual loss in graphical quality!
• Fixed a bug that would cause Blunderbusses and Dwarven Tanks to gain extra bonuses from a Forge
• Fixed a crash when a Dwarven Tank is built in multiplayer
• Dire wolves will now catch up to and attack slower units
• Several balance tweaks, especially with damage multiplying abilities and bonuses
HUGE new update - thank you for all your support!

• New female hero added: Assassin - Sneak in, kill the enemy, and sneak out!
• New hero added: Barbarian - Get in the fray and build your strength to untold levels!
• New hero added: Druid - Use the power of nature to support your allies and destroy the enemy!
• New campaign added, complete with new environment and several new enemies to battle! (Note: You must complete the first campaign to unlock the new one)
• New co-op and versus map to battle on!
• New ally units! Destroy the enemy with a Dwarven Tank, hit long range targets with the Hunter, hold the line with armored Dwarven foot soldiers, or achieve victory with the powerful magic of 2 new Wizard classes!
• 3 powerful new upgrade levels for units and buildings! • Take your units to new levels to match your high level heroes!
• Dynamic, real time shadows added to high gen devices for even better graphics!
• New achievements!
• Evil units in versus mode now scale up slightly along with the the Evil hero, to help compensate for additional Good unit upgrades
• Lowered RAM usage on 512 meg devices (iPad 2/iPad Mini, iPhone 4/4s, etc), reducing crashing in Siege and Multiplayer
• Balance fixes and small tweaks
• Minor bug fixes
Heroes and Castles FAQ
Check the following list to see the minimum requirements of Heroes and Castles.
iPhone
Requires iOS 8.0 or later.
iPad
Requires iPadOS 8.0 or later.
iPod touch
Requires iOS 8.0 or later.
Heroes and Castles supports English
Heroes and Castles contains in-app purchases. Please check the pricing plan as below:
Hero Alternate Skins
$1.99
Heroes and Castles Alternative