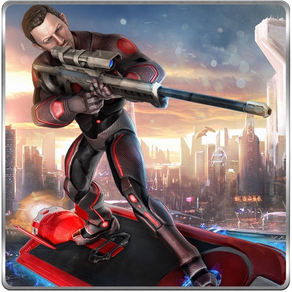 Hoverboard terrorist Sniper
Hoverboard terrorist Sniper Screenshots
About Hoverboard terrorist Sniper
Hoverboard Terrorist Sniper is the game that is set in the futuristic city where transportation of cars is not the only option. We have flying cars as well as the most popular means of the ​hoverboard. Hoverboard Terrorist Sniper Game is all about making this futuristic city free criminals and gangsters and smugglers. The corrupt mob of mafia that governs this futuristic city in hoverboard terrorist sniper must be removed and killed. You will be assigned to get rid of this mafia gang and their friend smuggler and criminal. The amazing control of using the hoverboard in hoverboard terrorist sniper will use it to your advantage and will kill you under the gunfire and get rid of these terrorists and gangsters. A hoverboard terrorist sniper would allow a master sniper like you to make even a shot like a pro shooter not hesitate to get out of the hoverboard and eliminate the terrorists and smugglers and gangsters. The city was captured by the sniper Assassin and the Master Shooter, who were the only ones to kill anyone who gets in the way. If you trade secrets with corrupt officials and you kill these mafia gang smugglers and killers, you would be able to shoot and shoot. Hoverboard Terrorist Sniper would become your legend if you are able to fulfill all the missions and get rid of these criminal elements and Mafia gang boss.

Your hoverboard is your ultimate weapon against these criminals and smugglers. Use it to your advantage in combination with your pro shooter sniper gun skills and all the missions for you to be easy. Use your decades of sniper gun experience with taking the kill shot to eliminate all the enemies of the state. They are a legend pro sniper who is in this area for the best purposes to serve. All Mafia gang boss takedown and smuggler and her pet assassin and shooter. Kill all the negative and criminal elements of this city and win this game from good to bad. Be the hope to kill this futuristic city by getting all the assassins and shooters and all the criminal elements like smuggler and mafia gang boss. Until the end of the game, Hoverboard Terrorist Sniper would have reclaimed the futuristic city from this criminal and terrorist and a mafia boss.

Hoverboard Terrorist Sniper Game comes loaded with amazing features:

- Fantastic and realistic 3D city environment with crazy missions
- Hoverboard to fight enemies in all missions
- The large and intuitive user interface for the real don Hitman shooter
- High-quality graphics and animations
- Big rifles and other weapons against mafia gang and their -criminals and shooter assassins
- Exciting missions for a shooter like you who can take the final shot
- Super fun to play and shoot like a pro shooter
- Excellent game action to get the revenge by shooting the deadly
- Shoot, Kill, Chase, Run and Escape all in one game
- It's FREE !!

What are you ready to download now !!
What's New in the Latest Version 1.0
Last updated on Sep 1, 2018
Hoverboard terrorist Sniper FAQ
Check the following list to see the minimum requirements of Hoverboard terrorist Sniper.
Hoverboard terrorist Sniper supports English
Hoverboard terrorist Sniper Alternative