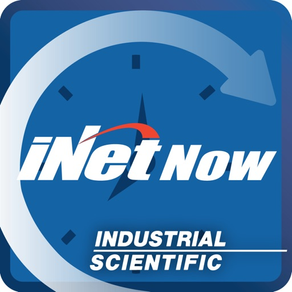 iNet® Now Sync
7.5.1
for iPhone, iPad and more
iNet® Now Sync Screenshots
About iNet® Now Sync
iNet® Now is a live monitoring solution by Industrial Scientific that enables safety leaders to continuously monitor workers . Supervisors receive customized SMS alerts when workers are exposed to up to 5 hazardous gases in the field or activate panic and man-down alarms. Alerts and visualization of workers on a map allow for the following benefits: increased awareness of worker activities, especially lone workers, and continuous process improvements across people, equipment, and gas hazards.

How it Works

The iNet® Now Sync app enables communication from Industrial Scientific gas detectors to the iNet® Cloud. The iNet® Now Sync app runs in the background so workers have the peace of mind that they are being looked after without interfering with their work. Upon login workers see two tabs:

* Status tab - Presents connection status so workers know communication across gas detectors, the smart device, and the iNet® Cloud is fully functional.

* Activity tab - Presents a list of status messages and alerts that have been generated from the gas detectors and an ability to view their location on a map. All alert conditions can be configured by the supervisor.

The communication between the gas detectors and smart device is done via Bluetooth. Therefore it is recommended that workers stay within 30 feet of the smart device. Communication to the iNet® Cloud is handled via Wi-Fi or cellular networks. Location data from the smart device is sent to the iNet® Cloud together with the data from the gas detector. Please note continuous use of GPS running in the background can dramatically decrease battery life.

IMPORTANT! TO LOG INTO INET NOW SYNC, YOUR EMPLOYER MUST HAVE SIGNED UP FOR INET NOW AND PROVIDED YOU WITH LOGIN DETAILS.

iNet® Now brings live monitoring of workers. Through the companion web application, supervisors receive SMS messages and can view gas detectors and workers from an Internet connected device.
What's New in the Latest Version 7.5.1
Last updated on Jun 24, 2021
Old Versions
Language support added for Spanish, French, German and Portuguese (BR).
Version History
Language support added for Spanish, French, German and Portuguese (BR).
Enhancements to improve bluetooth connectivity
iNet Now Sync v7.4.4 has bug fixes that eliminate the need to restart the application after updating the app, toggling "Bluetooth Sharing" settings, and using Ventis Pro periodically.
iNet Now Sync v7.4.3 has updates to support iOS 11, improve connectivity, and reduce nuisance notifications. This includes a bug fix that maintains connection after Bluetooth is toggled off/on on the device, without having to restart the application.The app will need to be uninstalled and then reinstalled for all changes to take effect.
iNet Now Sync v7.4.1 improves worker safety by fixing one defect.

Workers Alerted when the iNet Server is Not Available

• To establish valid communication between the gas detector and the iNet Server, each gas detector sends a registration request through the iNet Now Sync app. If the server is unreachable for any reason, for example invalid credentials, iNet Now will send a message to the gas detector. Thus, the worker knows they are not being monitored.
iNet Now Sync v7.4.0 fixes defects, improves app performance, and delivers one enhancement.

Defects Corrected
If user password credentials have expired, iNet Now will stop sending data to cloud until the credentials are renewed, an error message will be displayed

Performance Improvements
Changes to when data is uploaded to cloud makes the app more responsive

Enhancements
iNet Now Sync can now receive information from the cloud to let the user know their instrument isn't entitled to be monitored
iNet Now Sync v7.3 provides new safety features and a better user experience.

Ease of Use for Workers
1. Enhanced troubleshoot messages/graphics on "Status Tab" to fix connectivity issues
2. Simplified login process
3. GPS position added to the "Activity Tab," so workers know where the status was recorded

Safety Features for Supervisors
1. New status message sent to cloud, "charging"
2. More robust ways to send logs
3. Now sending GPS accuracy to cloud to get more data on workers
iNet® Now Sync FAQ
Check the following list to see the minimum requirements of iNet® Now Sync.
iPhone
Requires iOS 10.1 or later.
iPad
Requires iPadOS 10.1 or later.
iPod touch
Requires iOS 10.1 or later.
iNet® Now Sync supports English, French, German, Portuguese, Spanish
iNet® Now Sync Alternative