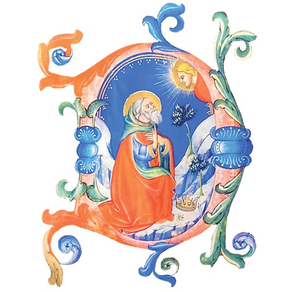 Preghiere dei santi
2.0
for iPhone, iPod touch
Preghiere dei santi Screenshots
About Preghiere dei santi
Santità e preghiera costituiscono da sempre un binomio indissolubile: tutti gli uomini di Dio hanno dedicato molto tempo alla preghiera, ed il rapporto con il Signore che ne è scaturito, ha trasformato la loro vita in preghiera-offerta vivente.

L'applicazione raccoglie le preghiere di 127 santi e beati elencati in ordine cronologico e in ordine alfabetico. Sono preghiere adatte ad ogni circostanza della giornata. I santi ci invitano a cercare Dio nelle faccende quotidiane. Preghiamo insieme ai santi!

Indice dei santi: Agostino, Alberto Hurtado Cruchaga, Alberto Magno, Alberto Marvelli, Alfonso Maria de Liguori, Ambrogio, Andrea Avellino, Angela da Foligno, Anna Maria Taigi, Annibale Maria Di Francia, Anselmo d'Aosta, Antonio da Padova, Bartolo Longo, Bartolomea Capitanio, Basilio Magno, Benedetto da Norcia, Bernardino da Siena, Bernardo di Chiaravalle, Bonaventura da Bagnoregio, Camilla Battista da Varano, Camillo de Lellis, Carlo Borromeo, Caterina da Siena, Cecilia Eusepi, Charles de Foucauld, Cirillo d'Alessandria, Claudio de la Colombiere, Claudio Granzotto, Clelia Barbieri, Colombano, Contardo Ferrini, Curato d'Ars, Damiano de Veuster, Efrem il Siro, Elena Guerra, Elisabetta della SS Trinità (Elisabeth Catez), Ermanno lo storpio, Federico Ozanam, Francesca Saverio Cabrini, Francesco d'Assisi, Francesco da Paola, Francesco di Sales, Francesco Pianzola, Francesco Saverio, Francesco Spinelli, Gaspare Del Bufalo, Geltrude la Grande, Gemma Galgani, Germano di Parigi, Giacomo Alberione, Giacomo della Marca, Gianna Beretta Molla, Giovanna Francesca di Chantal, Giovanni Bosco, Giovanni Crisostomo, Giovanni Damasceno, Giovanni della Croce, Giovanni Eudes, Giovanni Leonardi, Giovanni Paolo II, Giovanni XXIII, Girolamo Emiliani, Giulia Salzano, Giuseppe da Copertino, Giuseppe Marello, Giuseppe Moscati, Giuseppe Puglisi, Giustino Maria della SS. Trinità, Gregorio di Nissa, Gregorio Nazianzeno, Guido Maria Conforti, Ignazio di Loyola, Ilario di Poitiers, Innocenzo da Berzo, Ireneo di Lione, Isidoro di Siviglia, Jacopo (Iacopone) da Todi, John Henry Newman, Laura Vicuna, Ludovico da Casoria, Luigi Giussani, Luigi Guanella, Luigi Maria Grignion da Montfort, Luigi Monza, Luigi Novarese, Luigi Orione, Madre Speranza di Gesù, Marco d'Aviano, Margherita Maria Alacoque, Maria Bertilla Boscardin, Maria Candida dell'Eucaristia, Maria Crocifissa Curcio, Maria Crocifissa Di Rosa, Maria de Mattias, Maria degli Angeli (Marianna Fontanella), Maria di Gesù Crocifisso (Mariam Baouardy), Maria Enrichetta Dominici, Maria Faustina Kowalska, Maria Gabriella Sagheddu [o dell'Unità], Massimiliano Maria Kolbe, Nicolas Barrè, Paolo VI (Giovanni Battista Montini), Patrizio, Pier Damiani, Pietro Canisio, Pietro d'Alcantara, Pietro il Venerabile, Pio da Pietrelcina, Pio IX, Pio X, Riccardo Pampuri, Simeone il Nuovo Teologo, Teresa Benedetta della Croce (Edith Stein), Teresa di Calcutta, Teresa di Gesù (d'Avila), Teresa di Gesù Bambino, Teresa di Gesù delle Ande, Teresa Eustochio Verzeri, Timoteo Giaccardo, Tommaso d'Aquino, Tommaso Moro, Umile da Bisignano, Venanzio Fortunato, Veronica Giuliani, Vincenzo Maria Strambi, Vladimir Ghika, Zelia Guerin.

Applicazione per iPhone.
What's New in the Latest Version 2.0
Last updated on May 5, 2020
Old Versions
Correzioni di bug e miglioramenti delle prestazioni.
Version History
Correzioni di bug e miglioramenti delle prestazioni.
Preghiere dei santi FAQ
Check the following list to see the minimum requirements of Preghiere dei santi.
iPhone
Requires iOS 9.3 or later.
iPod touch
Requires iOS 9.3 or later.
Preghiere dei santi supports Italian
Preghiere dei santi Alternative