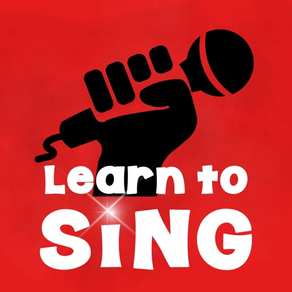 Singing Lessons AI Vocal Coach
Vocal Warm Up, Learn to Sing
Free
Offers In-App Purchases
8.1
for iPhone, iPad and more
Singing Lessons AI Vocal Coach Screenshots
About Singing Lessons AI Vocal Coach
Unleash your true singing potential with Sing Sharp - Your Personal Vocal Coach! This revolutionary app is designed to help you discover, develop, and perfect your singing voice like never before. 

Are you a beginner seeking to find your voice? Or an experienced vocalist aiming to reach new heights? Sing Sharp has got you covered! Our app is packed with powerful features and cutting-edge technology to enhance your vocal skills and make every note shine. 

***** Pitch + Vocal Resonance | Real-Time Feedback:
Get instant feedback on your performance with our advanced audio analysis. Sing Sharp's state-of-the-art algorithms analyze your voice in real-time, providing you with valuable insights and actionable suggestions for improvement. Ever wonder if you're using Chest or Head Resonance, you can now visually see your vocal resonance inside of your body!

***** Interactive Lessons with Video Demonstration: 
Embark on an engaging journey of vocal mastery with our interactive lessons. From warm-ups to breathing techniques, from vocal exercises to stylistic nuances - we've got it all covered. Each lesson is designed to challenge and inspire you, paving the way for continuous growth. Simply see the video demonstrations, and follow the instructions from our vocal coach!

******Personalized Experience:
Sing Sharp adapts to you, ensuring an engaging and personalized experience. Every exercise is tailored o your unique vocal needs and preferences. Your learning journey is now customized. No more pre-recorded MP3 for vocal trainings, Sing Sharp is like a singing teacher playing piano for your vocal training!

****Vocal Range Expansion: 
Expand your vocal range and unlock new possibilities. Our app guides you through carefully crafted exercises that strengthen and stretch your vocal cords. Reach those high notes with confidence and hit those low tones with precision. 

***Perfect Pitch Training:
Master the art of perfect pitch with our comprehensive pitch training exercises. Train your ears to recognize and reproduce the correct pitch effortlessly. Say goodbye to hitting those sour notes!

****Fun and Engaging Challenges: 
Inject excitement into your singing practice with our fun and rewarding challenges. Test your skills, compete with friends, and unlock achievements as you conquer new milestones. Learning has never been this enjoyable! 

****Progress Tracking: 
Track your progress and witness your growth firsthand. Sing Sharp keeps a record of your performances, achievements, and areas for improvement. Set goals, monitor your development, and watch yourself evolve into a confident and skilled vocalist. 

Don't let your singing dreams stay dormant any longer. Download Sing Sharp now and unlock the full potential of your voice! Whether you're an aspiring singer or a seasoned performer, this app is your ultimate companion on the path to vocal excellence.


********* Happy Singing Users Reviews *********

"Love it, the only vocal coach I use :) "

"I'm a song writer and have been looking for ways to analyze and correct my vocal abilities, this is what I've been waiting for."

"This is the only app that's actually designed to teach you to listen and sing"

"Genius app for singing. This app is simply amazing. It gave me the exact tools I was dreaming about to develop my voice and I finally I feel that I can learn to be in tune!!"

"Very Useful! I love this app I see improvements in my singing and it's only day three it help me get a better ear and also better tone this app is worth downloading"

"Replaces the need for a vocal coach. I wanted to learn how to sing and I'm so grateful I came across this app. With the membership (well worth it) it teaches you how to sing with some ear training too. Best app!"

***** ***** ***** ***** ***** ***** ***** *****

Terms of Use: https://www.singsharp.com/terms-of-service
What's New in the Latest Version 8.1
Last updated on Aug 14, 2023
Old Versions
- Vocal Resonance Detection Optimized
- Progress Summarisation after each exercise
Version History
- Vocal Resonance Detection Optimized
- Progress Summarisation after each exercise
Vocal Resonance Detection and Visualisation in Singboard
Improved Performance
Optimized Video Trainings
Optimised Singer Type Determination Algorithm.
UI Change for Music Sense "Sing The Note"
Fixed Music Sense Bugs on Harmony & Trio
Optimised UI flow for easy understanding
In this version, your choice of any "Focused Training Topics" anytime you want!
Training for resonances, tone quality, bridging, edging, building vocal power, and much more...
App performance is also optimised.
Video instructions and demos improved
- O'Meter Voice Tuner: The legendary tuner has come back with even better performance!
- Vocal Warm-Up: Your Own Choice of Scale, Arpeggio, Keys, Range, BPM!
- New Training Programs: Develop Every Vocal Qualities!

Roadmap to Vocal Success;
Optimized Performance

Personalised Trainings: 
Trainings are tailor-made according to each and every unique voice, no more pre-recorded mp3 for vocal trainings

Vocal Character Detection: 
State-of-art Vocal Analysis Technology find out Vocal Characters including Vocal Range, Singer Type, and Resonance Transitions (Bridges)

Breath Detection Technology: 
building abdominal muscles to support Vocal System and find Vibrato

Focused Training Plans: 
Daily Workout, Sing High Notes, Mix Voice, Vibrato, Harmony, Ear Training, Extra Warmup
Music Player Bug Fixed
iCloud Membership Restoration Bug Fixed
- Support iPhone 11 Pro & iOS 13
- Support Apple Music
- Support Bluetooth Headset
- Bug Fixed
- Audio Quality Enhancement
- iPhone X support
- Bugs Fixes
-Fixed iPhone 6s Crash Issue
- Native Support iPhone 6 and iPhone 6 Plus
- Fixed crashes on iOS 8 and iOS 9
- Highly enhanced Signboard performance
- Highly improved Pitch Detection performance
- Major improvement in Music & Audio Quality
Support for iOS 8.0. If you upgraded iOS 8, please also upgrade to this version of Sing Sharp. If you are using iOS 7, this update is optional.
A brand new Sing Sharp is here!

Thank you for your great support and awesome reviews to motivate our team to put the greatest efforts into bringing you a lot more songs and fun training experience to help you sing EVEN better!!

- New Songs, with more future songs updates
- New features: Practice, Record, Playback, Save, Share and Customize your singing
- Sing songs from your music library
- More Warm Up exercises
- New Melodic Warm Up exercises
- New and Enhanced Vocal Range
- Note Bar Octave Control
- Training Program
>>> Train - 10 levels, 1000+ ear training and vocal control exercises to help build your musical sense and pitch accuracy
>>>Track - keep records of your Singing Scores+Progress+Report Statistics
*More songs added
*Share your Vocal Range on Facebook
Singing Lessons AI Vocal Coach FAQ
Check the following list to see the minimum requirements of Singing Lessons AI Vocal Coach.
iPhone
Requires iOS 14.0 or later.
iPad
Requires iPadOS 14.0 or later.
iPod touch
Requires iOS 14.0 or later.
Singing Lessons AI Vocal Coach supports English, Simplified Chinese, Traditional Chinese
Singing Lessons AI Vocal Coach contains in-app purchases. Please check the pricing plan as below:
1 Year Membership Subscription
$29.99
Package of 5 Basic Warm Up Exercises
$0.99
Sing Sharp Membership -1 Year
$99.99
Package of 5 Intermediate Warm Up Exercises
$0.99
Package of 3 Melodic Warm Up - A
$0.99
Package of 3 Melodic Warm Up - B
$0.99
Package of 5 Advanced Warm Up Exercises
$0.99
Sing Sharp Membership -3 Month
$39.99
Sing Sharp Membership -1 Month
$14.99
Related Videos
Latest introduction video of Singing Lessons AI Vocal Coach on iPhone
Singing Lessons AI Vocal Coach Alternative