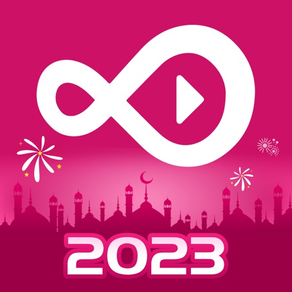 Loops - يجمع العرب
نجمع الأصحاب والأحباب مباشرةً
Free
Offers In-App Purchases
5.1.21230519
for iPhone, iPad and more
Loops - يجمع العرب Screenshots
About Loops - يجمع العرب
لوبس لايف تطبيق صمم كأداة تواصل لجمع العرب من جميع أنحاء العالم للتواصل والتفاعل وتكون مجتمعات عصرية مع لمسة
عربية.
مع لوبس بإمكانك دائما أن تجد المجتمعات التي لديها محتوى الذي يهمك والتفاعل مع الناس الذين لديهم نفس اهتماماتك وأيضا أن تجد
الدعم والمحبة من المجتمع.
في لوبس لدينا صفات مميزة عدة:
بث حي مع مجتمعات: تحدث مع ناس جدد، شاهد مواهبهم أو تحدث معهم بمواضيع عامة ومشاركة أرائك في مواضيع عدة، وأيضا يمكنك الظهور في بث حي ومشاركة ما تفعله مع آلاف الناس وبالاضافة يمكنك إضافة ناس الى البث خاص بك مع خاصية الضيف في التطبيق مع خصائص أخرى عديدة.
عضوية مميزة: شارك في عضوية لوبس المميزة وتمتع بمزايا عدة، وإبقى على تواصل مع المضيف المفضل لديك بميزات عدة.
عدة ضيوف في البث: يمنكم مشاركة غرفة البث الخاصة بك مع ضيفين لجعل البث أكثر فعالية ومتعة.
المتعة اللانهائية: يوجد لدينا تحديات وأحداث ممتعة عدة على شكل مستمر لدعم روح التحدي بين المشتركين.
مناسب للعائلات: لدينا مراقبين على مدار الساعة لمراقبة المحادثات وأخذ الإجراء اللازم في حالة وجود محتوى غير مناسبة، للحفاظ على مجتمعات آمنة ومحترمة للأخلاق لتكون مناسبة لجميع العائلات والناس.

[إشتراكات]

لوبس لديها عدة باقات: نادي معجبي لوبس المميز فئة الأولى (٤.٩٩ دولار/شهريا)، نادي معجبي لوبس المميز فئة الثانية (٩.٩٩ دولار شهريا)، نادي معجبي لوبس المميز فئة الثالثة (١٩.٩٩ دولار/شهريا)، لتفاصيل أكثر يرجى النظر الى داخل التطبيق.
سيتم احتساب خصم مبلغ الاشتراكات من خلال حسابك في الآيتيونر تلقائيا الى في حالة إلغاء الاشتراك قبل ٢٤ ساعة من تجديد الاشتراك. سيتم خصم مبلغ الإشتراك من حسابك الخاص خلال ٢٤ ساعة عند نهاية الاشتراك. يمكنك التحكم بالاشتراك الشهري شهري من خلال الإعدادات في حسابك مع آيتيونز.

شروط الخدمة: https://www.loopslive.com/web-loops/subscription-term/index.html
سياسة الخصوصية: https://www.loopslive.com/#/app/privacy-policy

ابقوا متطلعين لآخر التحديثات والميزات في لوبس.

الموقع: https://www.loopslive.com

شكرا لإستخدامك لوبس وتمتعوا بالتواصل مع الآخرين.

لوبس يجمع العرب!

Loops live is a tool designed for Arabs to connect, communicate and interact with each other in 100% Arab way.

You can always find the community content that you are interested in, engage with like-minded people like yourself, or even feel loved and respected.

In Loops, we have a lot unique functions:

-Live Streaming-Communities: Chat with new people, watch potential talents or even a simple chat, there are just too many things to share. Or just Go Live and broadcast what you are doing with thousands of people with Multi-Guest/Duo Live and other amazing features.

-Exclusive Member: Subscribe the Loops Member, enjoy more than 6 privileges here. Stay connected with your favourite host closely as an exclusive status.

-Multi-Guest Streaming: Have up to two other users as your guests to make your broadcast more interesting.

-Never-ending Fun: Every week a new fun event hits Loops, to revive the joyable and competitive spirits of the users.

-Family-Friendly: 24/7 moderators who will take action against any inappropriate behaviour, which helps create a safe and respectful community, free of any sexual or violent content, so any member of the family can view it.

[Subscription]
1.Loops provide subscription plans: Loops Fans Club Premium Tier 1 ($4.99/monthly), Loops Fans Club Premium Tier 2 ($9.99/monthly), Loops Fans Club Premium Tier 3 ($19.99/monthly). Please check in the app for details.
2.Subscriptions will be charged to your iTunes Account and will automatically renew unless turned off at least 24h before the period ends. Your account will be charged within 24-hours prior to the end of the period. You can manage or turn off auto-renew from iTunes account settings. The unused portion of the free trial is forfeited after purchase.

- Terms of Service: https://www.loopslive.com/web-loops/subscription-term/index.html
- Privacy Policy: https://www.loopslive.com/#/app/privacy-policy

Stay tuned for more exciting new features and top influencers in Loops.

Website: https://www.loopslive.com

Thanks for using Loops and enjoy Looping!

Loops -Connecting Arabs
What's New in the Latest Version 5.1.21230519
Last updated on May 21, 2023
Old Versions
Live room comment bug fix.
Version History
Live room comment bug fix.
1, pk voice after the end.
2, pk opposite anchor close the camera after showing the open picture.
3,shopping hang bug fix.
4, pk penalty to enter the room.
5, shopping sub-tab participation history.
6, closed wheat demand.
PK issues fixed.
New h5 pop-up window on home page.
New shopping table.
Video issue fix.
PK issue fix.
PK function is officially online.
Shopping cart entrance.
Share new types.
Reopen web page.
Personal page badge shrink.
No host room invitation to share.
Grade background.
SVIP microphone video frame effects
Host sharing pulling new user.
Fancy ID online.
One-click recharge.
Horizontal pop-up window.
Carousel logic modification, data punctuation.
UI display problem fix, data punctuation.
Lucky wheel lottery to receive rewards.
Personal page badge entrance.
Recharge oppression parameter delivery, data burial point.
The 2023 year icon.
New game level.
Guide rounded corners.
Black screen problem fixed.
2023 year icon.
Web horizontal screen.
For you add horizontal screen.
New level.
live advertising and points.
nudge function.
pop-up window optimization.
fix the gift and welcome message crash problem.
message protocol jumping.
bug fixed.
Bug fix and data punching.
World Cup Icon.
Event page recharge optimization.
Data punches.
World Cup activity page improvement.
Bugs fixed.
World Cup diversion, add 400,450 levels
New World Cup gifts and World Cup operation positions.
Icon replacement, selling point map refresh
Support beauty download.
Email binding.
Vip exclusive games.
New beauty effects and stickers.
Deeplink function.
Host red envelope entrance.
Data embedding and problem repair.
Lucky game top-up and invitation.
bug fix.
Loops - يجمع العرب FAQ
Check the following list to see the minimum requirements of Loops - يجمع العرب.
iPhone
Requires iOS 12.0 or later.
iPad
Requires iPadOS 12.0 or later.
iPod touch
Requires iOS 12.0 or later.
Loops - يجمع العرب supports English, Arabic
Loops - يجمع العرب contains in-app purchases. Please check the pricing plan as below:
Loops Fans Club Premium Tier 2
$9.99
Promotional 200 coins
$0.99
Join The Exclusive Club
$0.99
Loops - يجمع العرب Alternative