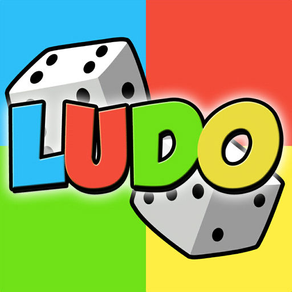 Ludo 3D Extreme Screenshots
About Ludo 3D Extreme
Ludo is an exciting board game for two to four players. Race your four tokens from start to finish according to dice rolls. Play against other players or against AI. You can also play in Augmented Reality!

Rules:

At the start of the game, the player's four pieces are placed in the start area of their colour.
Players take it in turn to throw a die. A player must first throw a six to be able to move a piece from the starting area onto the starting square. In each subsequent turn the player moves a piece forward 1 to 6 squares as indicated by the die. When a player throws a 6 the player may bring a new piece onto the starting square, or may choose to move a piece already in play. The player is also granted another turn as a bonus, but if a 6 is rolled three times in a row it is counted as a foul and the player therefore loses her turn.
If a player gets a 6 they can separate chances (the player can separate 6 on one piece and 3 on the other if they get a 6 and a 3, if the pieces are already out of the house). The player can also play the numbers (6 & 3) using the same piece in any order. If a player cannot make a valid move they must pass the die to the next player.
If a player's piece lands on a square containing an opponent's piece, the opponent's piece is captured and returns to the starting area. A piece may not land on a square that already contains a piece of the same colour (unless playing doubling rules; see below).
Once a piece has completed a circuit of the board it moves up the home column of its own colour. The player must throw the exact number to advance to the home square. The winner is the first to get all four of their pieces onto the home square.
What's New in the Latest Version 7.0
Last updated on Feb 27, 2019
Old Versions
Big update:
- Added AI difficulties (Easy, Medium and Hard).
- New Augmented Reality mode.
- Fixed some bugs.
Version History
Big update:
- Added AI difficulties (Easy, Medium and Hard).
- New Augmented Reality mode.
- Fixed some bugs.
Fixed crash bug. Fixed not remembering if ads were removed.
Added Augmented Reality mode on supported devices.
HATS! Added over 50 hats you can wear on your pieces.
New UI! Changed the way ads are delivered.
Fixed a bug that made the game freeze.
Fixed bug where it didn't remember that ads have been removed.
Added some extra effects. Added back button to go back from starting a New Game.
Added store to remove advertisements. Changed background color.
Reduced ads a lot. Online gameplay coming soon (I promise).
Supports iOS 11. New sounds and updated graphics.
- Added a selection of board styles to choose from.
- Fixed being able to quit to menu and play your turn again.
- Fixed not being able to finish a game.
- Fixed ad covering part of board.
- Made it easier to tap a piece.
- AI uses same random dice code as player.
- Fixed a bug where you couldn't finish a game.
- Added game messages to tell you what's happening.
Major overhaul:
- Improved graphics and gameplay.
- Saving/loading of games.
- Bug fixes.
- No cheating AI ;)
- Added sound.
- Other improvements.
Updated Random Dice Code.
- Fixed random dice throw. Both player and cpu use the same random generator.
- iOS 5 ready.
Moved the camera to make it easier to click on the dice and pieces.

Added popup when game is over.
Ludo 3D Extreme FAQ
Check the following list to see the minimum requirements of Ludo 3D Extreme.
Ludo 3D Extreme supports English
Ludo 3D Extreme Alternative