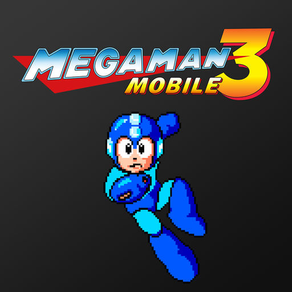 MEGA MAN 3 MOBILE Screenshots
About MEGA MAN 3 MOBILE
The Third Chapter in the Mega Man Saga

Defeated by Mega Man and shown the error of his ways, Dr. Wily renounces
evil and helps Dr. Light develop the massive robot "Gamma."
But all is not well: One day, the robots dispatched to eight mining planets go haywire!
Mega Man sets off with Rush at his side to uncover the cause of this interplanetary crisis!

[Caution]
-------------------------------------------------------------------------------
・The gameplay and difficulty of this version have been optimized for smartphones,
so certain elements will differ from the original game.
-------------------------------------------------------------------------------

◆New features
・"Rush," your mechanical pal
Mega Man 3 was the first game in the series to feature the now-familiar robot dog, Rush!
Built to aid in all tactical situations, Rush can transform into a jump pad, a jet, or a submarine!

・Sliding
Mega Man 3 also introduced sliding to the series.
Some narrow spaces can only be navigated by sliding through them!

Hold down + jump while playing to slide.
You can also use this technique to move quickly and dodge attacks!

◆Modes
This version features a choice of two difficulty modes.

・Normal Mode
Unlimited continues.
The continue screen is displayed whenever Mega Man dies.
Selecting continue allows you to restart from the last
checkpoint you passed in the current stage.

・Hard Mode
This challenging mode limits your number of continues,
and enemy attacks deal more damage.
There are also fewer checkpoints within stages.

◆Options
The following settings can be adjusted in-game.

・Sound
Increase the number to raise the volume.

・Vibration
Set to "On" to have your device vibrate when Mega Man takes damage.
(Default setting: On)
Note: This option will not be displayed on devices with no vibration function.

・Attack
Auto: Hold the attack button for rapid-fire Mega Buster shots.
Manual: Each press of the attack button fires one Mega Buster shot.
Tap repeatedly for rapid-fire shots.
(Default setting: Auto)

・Speed
Choose between Normal and High to adjust gameplay speed.

・Key Config
Change position of the in-game attack button and jump button.
What's New in the Latest Version 1.03.00
Last updated on Jan 31, 2018
MEGA MAN 3 MOBILE FAQ
Check the following list to see the minimum requirements of MEGA MAN 3 MOBILE.
MEGA MAN 3 MOBILE supports English
MEGA MAN 3 MOBILE Alternative