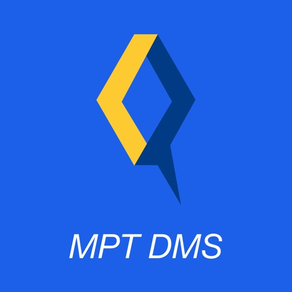 MPT DMS
2.5.3
for iPhone, iPod touch
About MPT DMS
• MPT DMS application is designed for MPT Dealer Management
• Authorized user can use easily to get notification
• User can check the detail transaction history.
• User can Create issue ticket by application
• This application is available both Burmese and English languages.
What's New in the Latest Version 2.5.3
Last updated on May 16, 2023
Old Versions
Improve NRC digit limitation
Version History
Improve NRC digit limitation
1. To show warning message under customer name field.
2. Keyboard function improvement in OTP and phone number.
3. Modify button improvement in customer registration function and customer data update function.
4. To adjust number pad or keyboard that is prompted when selecting 6 digit field to Burmese
Fixed incorrect popup message content and survey function enhancement.
Fixed MPT Registration History query issue
Update Etopup popup message
1.Realtime commission enhancement based on dealer category.
2.Beautiful SIM sales enhancement based on Product Category.
3.SIM Registration function improvement for checking NRC township code.
1. Add Etopup Lock function
1.Added new Staff Attendance function
2.Added new Handset sales recording function
1. Enhance APP login function by adding device checking
2. APP login password rule enhancement

1. Add OCR function for Update Customer Data
2. Add Service Agreement function
Fix the content for MPTPACK4U.

1. Add new function sales 'MPT PACK4U' package.
2. Update Registration function
1.Change the length of Address for customer registration.
1. Improve SIM Registration Identification function
1. Improve TT fucntions
2. Add prompt for customer registration functions.
1. Add check logic and improve the Customer Registration function.

1. Improve the Customer Registration function.
1. Add the new function 'Verify Customer Data'
2. Improve the function 'PosUtilization'
3. Fix the popup message when input invalid number.
1. Change some options from Mandotary to Optional in 'Update Customer Data' menu.
2. Improve Task Center and Ticket Creation UI.
1. Fix customer registration problem.
Improve the function 'Update Customer Data'
1. Customer Registraion Photo change to be mandatory.
2. Improve Digist Keyboard
1. Change verificode to digist.
2. Add new function about update sim registration
1.Enhance SIM Lost&Damage Function.
2.Add sim sales function
3.Resolve some small bug to make DMS more and more convenient.
MPT DMS FAQ
Check the following list to see the minimum requirements of MPT DMS.
iPhone
Requires iOS 9.0 or later.
iPod touch
Requires iOS 9.0 or later.