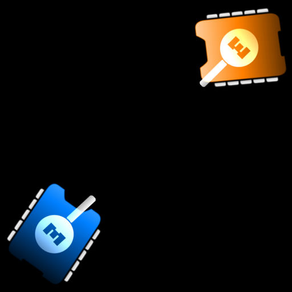 About mTanks
MISSION BRIEF: Four days ago NASA's Spirit rover discovered a growing army of tanks beneath the surface of Mars. The alien technology is far too advanced for even our latest weaponry to compete. Our only hope is to infiltrate the facility from within, using their technology against them. This is where you come in - your mission is to destroy the mTanks.


SUPPORTED DEVICES:
★ iPhone 3GS / 4
★ iPod touch 3rd / 4th generation
★ iPad


FEATURES:
★ 36 Weapons
☆ 9 Primaries :: Needle Gun, Laser, Rocket Launcher, ...
☆ 9 Secondaries :: Sticky Bombs, Toxic Gas, Cluster Grenades, ...
☆ 9 Abilities :: Slow Time, Build Turrets, Cloning, ...
☆ 9 Impairers :: Tunnel Vision; Shield Drainer; Reload Delayer, ...

★ 4 Modes
☆ Easy :: Primaries only
☆ Medium :: + Secondaries
☆ Hard :: + Abilities
☆ Easy :: + Impairers

★ 67 Levels
☆ 60 Sectors
☆ 7 Armouries / Bosses

★ Multiplayer
☆ Wi-Fi / Bluetooth
☆ 4 Game Styles
• Co-Op Campaign
• Co-Op QuickPlay
• VS
• Deathmatch

★ Localised Online High Scores
☆ Reach the top 10 list for your:
• Suburb
• State
• Country
• Global
☆ Separate list for every mode of every level

★ Training Levels
☆ Active, on-demand training
• Basic movement/shooting
• Each weapon

★ Simple Powerful Controls
☆ Tilt to move
• One-touch calibration in pause menu
☆ Multi-touch to use equipment, eg.
• Touch to aim; release to shoot
• Flick to launch grenade
• Two-finger touch to use ability
• Three-finger touch to release impairer
☆ No switching weapons during play required

★ Misc
☆ Unlock levels; replay any time
☆ Earn your weapons; equip on any level
☆ Shields / damage system
☆ Auto-saving of progress


If you encounter an issue with mTanks, send us an email at zensengames@gmail.com. Reporting an issue as an iTunes review doesn't work so well because we can't reply to you to ask for the detail required to fix it.
What's New in the Latest Version 1.4.2
Last updated on Nov 5, 2012
Old Versions
Fixes
- multiplayer menu broken in iOS 6

Improvements
- new music, courtesy of Julian Schuller
Version History
Fixes
- multiplayer menu broken in iOS 6

Improvements
- new music, courtesy of Julian Schuller
Fixes
- Crashing on iPads and other
. - Apparently it's been crashing for a lot of people - eg. all iPads. The lite version is working fine though (same code just restricted). Looks like issue might've been (xcode) config file differences so have recreated the full version config file from a copy of the lite one. Hopefully that fixes it; if not let us know - zensengames@gmail.com. Thanks to all that reported it.
- Turned off automatically connecting to WiFi - was to make starting a multiplayer game a bit easier but noticed it behaving weirdly on a device recently. As per the connection tips, if you wanna get into some (local) multiplayer action then connect to WiFi or turn on bluetooth before you start mTanks.
- Note the minimum device requirements for this app are: iPhone 3GS / iPod touch 3rd gen / iPad 1. I've tried to add this in as a hard restriction in this version but it won't let me. If you've got something older than this I suggest you wait until your next device before playing this game. The reasons older devices aren't supported are that they don't have enough RAM (causing game to crash when it hits the limit - during most startup attempts or after a few levels) and their CPUs are too slow (causing lag when there's too much going on).
mTanks FAQ
Check the following list to see the minimum requirements of mTanks.