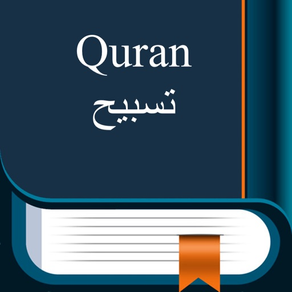 Muslim Quran Salat Zikir تسبيح
1.3
for iPhone, iPad and more
Muslim Quran Salat Zikir تسبيح Screenshots
About Muslim Quran Salat Zikir تسبيح
It's now super easy to read the Quran, memorize it, listen, and do many activities as a Muslim.

• Arabic, Deutsch, English, Español, Français, Nederlands, اردو ,فارسی ,Bahasa Indonesia, Bahasa Melayu, Türkçe, Italiano,Hrvatski, Norsk, Język polski, Português, Limba română, русский язык, Shqip, Azerbaycan dili, Bălgarski esik, čeština, Svenska translations of the Quran as well as the app itself is translated.
• Surah by surah and verse by verse recitations by: Mahmoud Khaleel Al-Husary, Mishary Rashid Alafasy, Abu Bakr al-Shatri, Abdul Basit 'Abd us-Samad, Saad Al-Ghamdi, Abdul Rahman Al Sudais, Salah Bukhatir, and Maher Al Muaiqly
• Ajza's list
• Smart Audio Download to manage audio
• Download the audio in the sleep mode
• Smart audio repeat options to memorize the Holy Quran, for example: repeat a single verse multiple times, repeat a single surah multiple times
• Play any aya audio by just clicking on the aya
• More Surah information added
• New Quran font (PDMS Saleem) added
• More share options added, Facebook, Twitter, Whatsapp, Mail, iMessage
• Copy Ayah option added
• Social media options are integrated:Facebook
• Simple and unlimited Favorites.
• Smart audio controls to Play/Stop, FF, and RW.
• Smart and very fast search, to allow you to find any Aya, Hizb, Surah Number, or Word (in translation)
• Tasbih feature to count your daily Zikir with beautiful UI.
• Add/Edit your custom Tasbih
Some common tasbeeh's are:

سُبْحَانَ اللّهِ الْعَظِيمِ وَ بِحَمْدِهِ - Glory be to Allah, The Supreme, and I Praise Him

سبحان الله و بحمده سبحان الله العظيم - Allah is free from imperfection and all praise is due to Him\nAllah is free from imperfection, The Greatest

اللَّهُمَّ صَلِّ عَلَى مُحَمَّدِنِ النَّبِيِِّ الأُمِّيِّ وَعَلَى آلِهِ وَسلِّم تَسْلِيمًا - O Allah, bestow your blessings upon the unlettered Prophet and upon his family; and bestow your Mercy upon him and his family

سُبْحَانَ اللّهِ وَ بِحَمْدِهِ - Glory be to Allah and I Praise Him

اللَّهُمَّ إِنِّي أَسْأَلُكَ عِلْماً نَافِعاً، وَرِزْقاً طَيِّباً، وَعَمَلاً مُتَقَبَّلاً\" - O Allah, I ask You for knowledge that is of benefit , a good provision , and deeds that will be accepted.
• Salat time with your zone, set alarm before your specific salat time to remind you, manage your reminder
• Qibla direction
• Hijri Calendar : https://www.islamic-relief.org.uk/resources/islamic-calendar/
• Send feedback/suggestions/errors

Search the app on iTunes using keywords: Quran, Muslim, salat time, qibla, Islam, Muslim, Allah, tasbih, تسبيح, مسبحة,tasbeeh,dhikr,Zikr,counter,islam,tespih,durood,wazifa,fatema,Misbah,rosary,bibi.
What's New in the Latest Version 1.3
Last updated on Apr 8, 2023
Old Versions
- Updated SDK for performance
- Small bug fixed
Version History
- Updated SDK for performance
- Small bug fixed
- UI and performance improved
- Minor bug fixed
- Fixed minor bugs
- UI improved
Muslim Quran Salat Zikir تسبيح FAQ
Check the following list to see the minimum requirements of Muslim Quran Salat Zikir تسبيح.
iPhone
Requires iOS 10.0 or later.
iPad
Requires iPadOS 10.0 or later.
iPod touch
Requires iOS 10.0 or later.
Muslim Quran Salat Zikir تسبيح supports English, Dutch, French, German, Indonesian, Spanish, Turkish
Muslim Quran Salat Zikir تسبيح Alternative