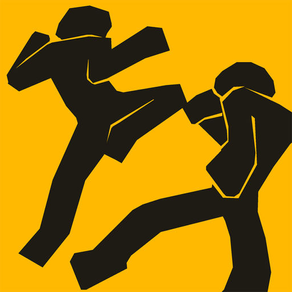 NAMAKO02F
-Bare knuckle fight-
About NAMAKO02F
-----------------------
*Rules
-----------------------
"NAMAKO02F" is a only blowing fighting game excluding unrealistic factors.

Attack and defense using screen taps, flicks, guard buttons.

You can change fighting style by switching the stance pushing the switch button.

This game is two minutes and one round.

Winning / losing will be determined by K.O. or judging by time over.

The attacks is permitted by fist, palm, fist hammer, hand sword, back hand, elbow, shoulder, head butt, knee, shin, toe, heel, etc.

Also, you can also attack opponents who fell to the ground themselves in the process of attack.

Because players who show unprotected figures are bad, and there are players who stopped the game by falling down and earn time frequently.

Prohibited actions are throwing and suppressing, clinch and grapple, submission, byting, thumbing, low blow, rabbit punch, grabing hair, putting fingers in the nose and mouth etc.

-----------------------
*Web ranking score
-----------------------
"NAMAKO02F" is not just a game to win.

Your fighting behavior for fans to get wildly excited bring you higher score.

Moderate game is not appreciated.

Be hot, cool, amazing, intense, cruel, more exciting.

You must be a fighter and an entertainer.

First of all, you have to knock out the opponent in front of you.

About other point, study by yourself.

Well then, have a nice fight tonight.

-----------------------
*Character & Features
-----------------------
Karate01: Tough body, basically attacks has strong pressure.

Karate02: Combination punch, Tricky kick.

Boxing01: Hand spead, footwork is very fast.

Boxing02: Great tough, great punch, is suitable in short range fight.

Boxing03: No guard style like snake, surprise & powerful punch.

Kick boxing01: Wealth on variation of attack.Moving speed is a little fast.

Kick boxing02: Strong on right straight punch & low kick. And Tough.

Muay thai01: Good balance fighter. strong at kick&elbow.

Muay thai02: Basically good for long range fighting, but also has dangerous weapons like elbow & knee in short range.

Bajiquan: Baziquan style is suitable for heavy charge attack, Fanzi boxing style is suitable for combination like machingun.

Capoeira: Strong kick from various posture.

Taeqwondo: Various kick arts. Moving speed is fast. Suitable in long distance.

-----------------------
*Staff & Developing tools & Materials
-----------------------
Planninng, Programing, Graphics:B.cos
Music:hana*2
Font : Google Font (Coda)
Developer tools : X-code, cocos2d-x
Facebook page:https://www.facebook.com/namako02s/
Twitter:@BcsFightGames

-----------------------
*Precautions
-----------------------
1. This game is played by tap, flick, flick after long press. Screen size and performances of each terminal model may change your operational feelings. Please note.

2. "NAMAKO02F" is a difficult game. We recommend that you start by practicing with "Practice" mode for getting used to this game. Commands of each character are displayed during "Pause".

3. Each time returning to the title screen, the advertisement is displayed. Please pardon.

4. Detailed information will be released by Twitter account "@BcsFightGames".

5. We are planning to add 4 more characters.

6. Let's upload your cool play movie.
What's New in the Latest Version 0.85.2
Last updated on Sep 4, 2017
Old Versions
Version History
Release again for upload miss.
NAMAKO02F FAQ
Check the following list to see the minimum requirements of NAMAKO02F.
NAMAKO02F supports English