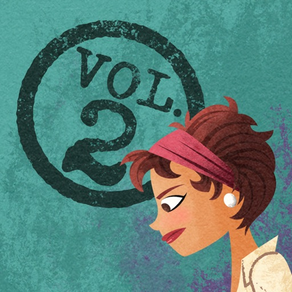 Paperback Vol. 2
A novel deck-building game
$4.99
2.2.19
for iPhone, iPad and more
Paperback Vol. 2 Screenshots
About Paperback Vol. 2
Paperback the game is back! Paige Turner has been cranking out novels of all genres and has a new set of tricks. Follow her journey to become a bestselling author!

Paperback, the deckbuilding word game fuses smart wordsmithing with clever combos. Based on the bestselling card game, it returns with Vol 2! Try out the new cards, new modes and new art. The advanced computer players can challenge the best players or work alongside you in cooperative mode.

Cooperative mode - play with friends even play alongside the AI
New massive card set - as you play, you'll unlock new cards and abilities.
Advanced AI - can find the best words faster and challenge the best players.
New Art and interface
New mini-expansions - spacebar, dyslexic and alternate starting wilds.
New kitchy novels to finish!
What's New in the Latest Version 2.2.19
Last updated on May 29, 2023
Old Versions
Fixed an issue where online games would fail to start
Version History
Fixed an issue where online games would fail to start
Fixed issue where you could trash commons before claiming them
Fixed issue with cards that add to draw when they are the last letter



Added ? symbols to game modes
Added new "3 Pile End" option
Added new "Original Deck" option
Added option to use Typos or not
Fixed bug with cards that turn other cards not working when scoring a word
Fixed issue where trashing a zero cost card would cause a crash
Fixed issue where AI would get stuck buying
Numerous bugs dealing with cards fixed.
Numerous UI bugs patched.
Score preview is now more accurate.
Volume sliders added instead of the toggle buttons in the menus
Number of optimizations made to help with CPU performance.
Fixed an issue where the AI would take a really long time to find a word when it has a lot of wilds in its hand
Fixed an issue where players could join games with older versions of the game which then caused a crash




Card Fixes:
Fixed an issue where you could trash fame cards from the store
Fixed an issue where on card abilities dealing with "three consonants in a row" not working properly with wilds
Fixes to online games when the game ends in a condition involving common cards
BRAND NEW CARDS for the Tenth Anniversary.
Fixes to common win conditions
Fixes to card backgrounds being incorrect
Three letter words now swap properly
Scoring 10 letter common card in Coop no longer crashes game
Sped up how long it shows a condition is not being met
Copied multiplier cards not award proper points
Card "A" with the ability to draw if first letter, no longer awards when it is not the first card
Player can no longer target a nonadjacent card when making them into wilds
+1 per vowel in word now considers wilds changed into vowels
Bot targeting cards to triple now doesn't freeze the game

Card Changes:

3 Cent A had wrong effect
6 Cent Wild is suppose to be a W
7 Cent K was missing effect
7 Cent K had wrong condition and effect
7 Cent X missing triple effect
Users can now play their own music while playing
AI now can use triple point cards
Plus Draw cards with duplicate letters condition will now rewards the correct amount of cards
Notifications badges added to the in game UI to help remind users of current games
Redeem codes functionality added
-Fix AI to not be stuck when it cant make a word
-Increased knock sound
-Look function patched to not clone cards
-Triple now properly triples card value

-Auto spelling not marking word as valid
-Minor bug in game creation not able to select bots
-Fixed issue where bot endlessly looks for valid words
-Trash cards trashing card before resolving
-Dyslexic card now allows to swap the letters back
Paperback Vol. 2 FAQ
Check the following list to see the minimum requirements of Paperback Vol. 2.
iPhone
Requires iOS 11.0 or later.
iPad
Requires iPadOS 11.0 or later.
iPod touch
Requires iOS 11.0 or later.
Paperback Vol. 2 supports English
Paperback Vol. 2 Alternative