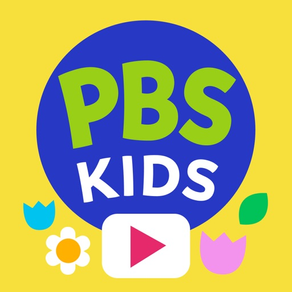 PBS KIDS Video
Stream & Download Fun Episodes
6.7.2
for iPhone, iPad and more
PBS KIDS Video Screenshots
About PBS KIDS Video
Watch live TV, stream, and download episodes with PBS KIDS Video! Safely stream videos from shows like Daniel Tiger's Neighborhood, Wild Kratts, Sesame Street, Curious George, Odd Squad, Alma's Way, and more!

Watch safe videos for your kids anytime, everywhere! Download free episodes and bring the fun of learning to your child, at home or on the road. Watch educational shows from PBS KIDS Video to encourage learning for toddlers and early grade school children.

PBS KIDS Video is a safe, kid-friendly streaming video app for children. Free educational episodes and clips are added weekly. Your child will play, learn and grow watching shows designed to spark their imagination and curiosity.

Stream, watch, and download free videos that are child safe. You can also watch free live TV from the PBS KIDS 24/7 channel on the app with no subscription or login! Enter your zip code and tap "LIVE TV" to see what's on your local station.

----------
* 2022 Webby Winner and People's Voice Winner - Apps and Software - Family and Kids App
* Webby People's Voice Winner in Apps, Mobile, and Voice: Best Streaming Service (2020)
* Winner of Webby People's Voice for Best Family & Kids Mobile App (2020)
* Parents' Choice Recommended Mobile App (2017, 2013)
* Cynopsis Kids !magination Award Winner for Best Educational App (2012)
----------
PBS KIDS Video Features

FREE EDUCATIONAL VIDEO STREAMING
-Watch 400+ free full episodes of over 35 PBS KIDS shows
-Stream live TV or watch over 5,000+ clips from shows children love
-Download shows to watch offline
-Educational entertainment live or on demand

NEW VIDEOS EVERY WEEK
Watch new episodes every week from your favorite PBS KIDS shows, including:
-Daniel Tiger's Neighborhood
-Wild Kratts
-Sesame Street
-Odd Squad
-Curious George
-Alma's Way
-Donkey Hodie
-Elinor Wonders Why
-Arthur
-Xavier Riddle & the Secret Museum
-Dinosaur Train
-Pinkalicious & Peterrific
-Molly of Denali
-Hero Elementary
-Clifford the Big Red Dog
-Let's Go Luna
-Nature Cat
-The Cat in the Hat Knows A Lot About That
-And more!

PARENT RESOURCES VIA THE GROWNUPS BUTTON:
*TV schedule for your local PBS station
*Learn more about a TV series, such as intended age and learning goals
*Download kids learning apps from PBS KIDS
*Buy full episodes and shows from the App Store
----------
This app update is only compatible with iOS 12 or higher.

GEOGRAPHIC RESTRICTIONS
The PBS KIDS videos may only be viewed from within the United States. This is due to restrictions on PBS's license to offer this service.

DOWNLOAD RESTRICTIONS
Currently, select shows can be downloaded: Daniel Tiger's Neighborhood, Alma's Way, Donkey Hodie, Dinosaur Train, Elinor Wonders Why, Jelly Ben & Pogo, Let's Go Luna, Peg + Cat, Odd Squad, Sesame Street, SUPER WHY!, Wild Kratts, Word World, and Xavier Riddle & the Secret Museum. Additional shows will become available for download in the near future.

SPONSORSHIP
PBS KIDS Video is a key part of PBS KIDS' commitment to making a positive impact on the lives of children through curriculum-based entertainment—wherever kids are. More PBS KIDS videos may also be found online at pbskids.org/video.

Funding from corporate sponsors supports PBS KIDS' mission to use the power of media to open worlds of possibilities for all children. To acknowledge the vital support that PBS KIDS receives, brief messages from corporate sponsors are included at the start of select full-length episodes on the PBS KIDS Video App. You can support PBS KIDS through the selection of other apps and TV shows available in the App and iTunes Stores.

ABOUT THIS APP
The PBS KIDS Video app gives kids and parents access to thousands of free videos, including full episodes and clips from top PBS KIDS series. With this app, kids can watch their favorite PBS KIDS shows anytime, anywhere! PBS KIDS, the #1 educational media brand for kids, helps children ages 2-8 learn lessons that last a lifetime.

This app was designed by PBS KIDS.
What's New in the Latest Version 6.7.2
Last updated on Apr 24, 2023
Old Versions
Bug fixes and performance improvements
Version History
Bug fixes and performance improvements
PBS KIDS is celebrating Spring with an updated app icon
Bug fixes and performance improvements
App icon is back to usual. Keep an eye out for a Spring update!
Bug fixes and performance enhancements
PBS KIDS is celebrating Love Day with an updated app icon. Check out the app for a playlist of Love Day content and more in February!
This release also includes crash fixes and performance enhancements.
Updated app icon to celebrate Winter!
Bug fixes and performance improvements
Crashfix for a bug affecting some users at app launch
Chromecasting improvements and bug fixes
Removed Halloween theme-ing. Keep an eye out for Winter themes coming soon!
Update to app launch to help resolve an issue where the app hung at the PBS KIDS + PBS Station logo for some users.
Bug fixes and performance enhancements.
Spooky season is here and PBS KIDS Video is celebrating Halloween!
Check out our new series Rosie's Rules on October 3rd and keep an eye out for spooky stories episodes of some of your favorite PBS KIDS shows.
Users can select an alternate language caption track by tapping the gear icon in the video player controls. Keep an eye on Alma's Way for add Spanish language captions!
Popup promotion for new episodes of Daniel Tiger's Neighborhood
Bug fixes
Crash fix for users on iOS 12
Updates to iMessage Sticker pack
Bug fixes and performance enhancements
Updated PBS KIDS logo
Bug fixes and performance enhancements
Bug fixes and performance enhancements
Backend updates and improvements
Minor updates and bug fixes
Bug fix for PBS KIDS logo and other icons on some iOS devices

Performance enhancements, library updates, and bug fixes
PBS KIDS Video is now available in Spanish
- Some Daniel Tiger's Neighborhood and all Alma's Way full episodes will be available in Spanish!
Animation improvements
Bug fixes
Updated libraries
Performance enhancements and bug fixes
Bug fix for downloading videos for iOS 12 - users were seeing an incorrect "Whoops! You've run out of space." error message when downloading any video
Crash fix affecting some users on v.6.1
Accessibility improvements
Updated libraries for networking and image caching
Bug fixes and performance enhancements

Fix for app crashing on launch for some users.
Fix for a crash affecting some users
PBS KIDS Video FAQ
PBS KIDS Video is available in regions other than the following restricted countries:
Latvia,Montenegro,Tonga,Angola,Gabon,Gambia,Iceland,St. Kitts and Nevis,Vietnam,Fiji,United Arab Emirates,Namibia,Serbia,Thailand,St. Lucia,Montserrat,Nigeria,Barbados,Belgium,Belize,Cape Verde,Egypt,Poland,Vanuatu,Bosnia & Herzegovina,Bahrain,Ireland,Israel,Sri Lanka,Benin,Ghana,Guatemala,Guinea-bissau,Croatia,Uzbekistan,South Africa,Zambia,Bolivia,Chile,France,Kenya,Nauru,Bulgaria,Cyprus,Libya,Norway,Sao Tome & Principe,Liberia,Mali,Saudi Arabia,Kosovo,Afghanistan,Morocco,Ukraine,Sierra Leone,Uruguay,Greece,Lithuania,Mauritius,Philippines,Portugal,Tajikistan,Armenia,Austria,Ecuador,Mozambique,Russia,British Virgin Islands,Cote Divoire,Madagascar,Paraguay,Singapore,Swaziland,Luxembourg,Palau,Taiwan,Tanzania,Turkey,Venezuela,Kyrgyzstan,Peru,Rwanda,Suriname,Turks and Caicos,Colombia,Honduras,Australia,Lebanon,Panama,Solomon Islands,St. Vincent & The Grenadines,Micronesia,Hong Kong,Macedonia,Mongolia,Malawi,Uganda,Argentina,Mauritania,Maldives,Papua New Guinea,Trinidad and Tobago,Czech Republic,Spain,Jamaica,Oman,Senegal,Brunei Darussalam,China,Jordan,Kuwait,Slovenia,El Salvador,Zimbabwe,Bahamas,Hungary,South Korea,Pakistan,Qatar,Macao,Switzerland,Dominica,United Kingdom,Slovakia,Chad,Germany,India,Cayman Islands,Romania,Malaysia,Niger,Albania,Brazil,Dominican Republic,Georgia,Myanmar,Yemen,Bermuda,Costa Rica,Algeria,Grenada,Malta,Tunisia,Cameroon,Iraq,Moldova,Netherlands,Seychelles,Cambodia,Kazakhstan,Nepal,Botswana,Estonia,Finland,Guyana,Indonesia,New Zealand,Turkmenistan,Denmark,Italy,Mexico,Sweden,Azerbaijan,Belarus,Congo, Democratic Republic,Congo,Lao Peoples Democratic Republic,Japan,Nicaragua,Antigua And Barbuda,Anguilla,Burkina Faso,Bhutan,Canada
PBS KIDS Video supports English, Spanish
Check the following list to see the minimum requirements of PBS KIDS Video.
iPhone
Requires iOS 12.1 or later.
iPad
Requires iPadOS 12.1 or later.
Apple TV
Requires tvOS 12.1 or later.
iPod touch
Requires iOS 12.1 or later.
PBS KIDS Video Alternative