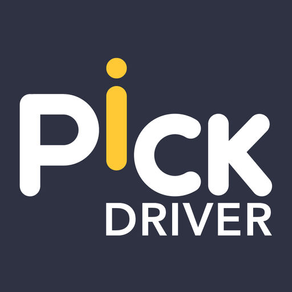 About Pick™ Driver
Passengers love Pick™ and so do our Drivers. Unlike our competitors, who assign rideshare pickups automatically, our exclusive patent-pending Rider / Driver matching technology lets you decide before you ride™.

Our exclusive Pick™ consumer-choice model incentivizes Drivers to provide best-in-class experiences. When customers have better experiences, they come back. That means more business and more money for our Drivers. A win-win-win!

Our app allows Drivers to accept pickups from Riders in the area, similar to other ridesharing services. However, only Pick™ allows Riders to read Driver reviews and see photos of vehicle interiors and exteriors before they accept the pickup. Similar to popular dating apps, there has to be a match before the pickup is scheduled. It's the only ridesharing app in the industry to deliver this option - and because this exclusive, patent-pending technology belongs to us, Pick™ will always be the only service to offer it.

We also offer the ability for both Riders and Drivers to save their favorites and be matched with them again.That way, if you had a really great customer - whether they're fun to talk to, really nice, or provide great tips - you can save them and they'll appear at the top of your list for future pickups. It's a great repeat-business model for our Drivers. Conversely, if you give or receive a rating of 1-star, we'll also make sure you're never matched with them again. It's quality over quantity on both sides of the ride.

IT'S EASY TO BECOME A Pick™ DRIVER
1. Download the app, and apply directly through it.
2. Upload a valid driver license and proof of insurance.
3. Pass our background check and be at least 21-years old.
4. Have access to a car with 4-or-more doors.
5. Start accepting rides and make money!

HOW IT WORKS
1. See the destination and accept rides with the click of our app.
2. Be matched with area Riders.
3. Riders view your ratings, profile and vehicle photos before accepting pickup.
4. Once matched, you'll receive the Rider pickup address.
5. All payments are processed and delivered through our Pick™ Money app.
6. Accept as few or as many rides as you want - there's no minimum.

Already driving for other ridesharing providers? That's ok. Toggle between all of them and multiply your potential earnings. Because we know everyone's schedules are different, there are no minimum ride requirements to maintain your Pick™ Driver status. It's easy, it's fun, and it's the only service in the industry that allows Riders to decide before you ride™. Be a part of the innovation about to sweep the nation. Currently available in Texas with plans to expand soon.
What's New in the Latest Version 1.0.2
Last updated on Jul 13, 2019
Old Versions
Pick™ Driver FAQ
Check the following list to see the minimum requirements of Pick™ Driver.
Pick™ Driver supports English