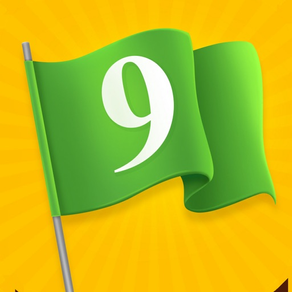 Play Nine: Golf Card Game
Golfing for Friends and Family
Free
Offers In-App Purchases
3.22
for iPhone, iPad and more
Play Nine: Golf Card Game Screenshots
About Play Nine: Golf Card Game
The best-selling golf game on the market, Play Nine: The Card Game of Golf is now on iPhone! Challenge your friends and family with our multiplayer game modes (Play With Friends and Multiplayer)

Play Nine is inspired by the classic card game of golf but reimagined with new exciting gameplay and funny golf characters. This quirky, simple game will keep you laughing for hours. In this mobile edition of our famous golf game, you can hone your skills by challenging the AI in our offline game or compete against your friends and family in multiplayer online modes.

PLAY WITH FRIENDS

Play closed online games with just your friends and family. Share the game code through text or another platform and you're ready to play. Keep the competition alive with our new in-game chat feature.

- Local mode for family games and friend games.
- In-game chat feature available.
- Custom game setup; choose the number of players(2-4) and holes(2-9).
- Perfect for family time and family game nights.

MULTIPLAYER

Challenge Play Nine fans from around the world. Join an available game or create your own!

- Online multiplayer games with people across the globe.
- In-game chat feature available.
- Custom game setup; choose the number of players(2-4) and holes(2-9).


OFFLINE

Hone your skills by playing the AI bot in our casual offline mode.

- Unlimited FREE gameplay against the AI.
- No time limits.
- Resume game whenever you want.
- Offline airplane games for traveling.
- New offline game bots for any level of player.

FEATURES

- Easy to learn. Simple to play.
- Safe family golf game for everybody.
- FREE tickets for multiplayer games against your friends and family.
- Collect coins by winning games and earning new achievements.
- Win it big by using coins in multiplayer games.
- Use coins to buy multiplayer tickets and other future items.
- Perfect card game for the family. Fun for any age including kids and adults.
- Play offline when you're in Airplane Mode or happen to find yourself without a cell signal.
- Play time: 15-20 min.

GAMEPLAY

Just like golf, the goal of the Play Nine is to take as few strokes as possible. Limit your strokes by matching pairs and getting a Hole-In-One. Take the fewest strokes and go for the lowest score after 9 Holes!

Each player is dealt eight cards with a discard pile and draw pile at the center of the table. To start the game each player flips two cards face up. Moving clockwise each player draws from either the deck or discard pile and has an option to replace one of their face up or facedown cards. If a player does not want their drawn card they may choose to flip one of their facedown cards for their turn. Players work to match vertical pairs of cards to reduce their number of strokes. Just like the game of golf, the person with the lowest score wins the hole.

Additional game instructions can be found in the app as well as an in-game tutorial that provides all the details on how to play.


Find the physical card game on our website or Amazon.



Visit us on the web:
https://www.playnine.com



Like us on Facebook:
https://www.facebook.com/playninecardgame/


Follow us on Instagram:
https://www.instagram.com/playninecardgame/

Terms of Use:
https://www.apple.com/legal/internet-services/itunes/dev/stdeula/
What's New in the Latest Version 3.22
Last updated on May 12, 2023
Old Versions
Fixed some bugs from version 3.21
Version History
Fixed some bugs from version 3.21
Brand new release for you guys!
1. Fixed some bugs.
2. Added to rewards for spin wheel and daily bonus for VIPs.
3. You can now DESELECT from the discard pile card if tapped accidentally
4. We also decreased play timer to 20 seconds for quicker games.
5. Autoplay functionality for when you have to take a quick break
Fixed some bug issues in the last version.
BACK TO NORMAL
See below for the bug fixes and things we brought back:

1. Brought back the daily spin(with some changes)
2. We also brought back daily rewards
3. Fixed some log in issues we had
Major changes made in recent build..
1. Scoring issues fix
2. Delay for better viewing of final score at the end of the hole.
3. Working on coins economy.
4. Lots of other UI/UX bug fixes.
Three things this time:
Updated ad placement in multiplayer.
Changed wait time when players leave multiplayer games.
Fixed other minor bugs.

Updated SDKs and fixed rewarded ads issues.
Solved some issues for people not able to log in.
New solutions added for some stability issues in Canada.
Rewarded ads were experiencing issues. Implemented some fixes!
Fixed some glitches. Upgraded an SDK or two for the backend. Added a crown to your avatar when you subscribe as a VIP Member.
Fixed some issues caused by iOS 16.

Should be running better now! Let us know through email or in-app support.
Thanks for all the feedback! We've worked on some things:

- New Achievements
- Fixed the bots again
- Worked on randomization of cards
- UI fixes
- Minor bugs
We've got an amazing update for you!

- New bots in Offline Mode.
- A brand new store with new In-App Purchases.
- We redesigned the chat box for faster messaging.
- Cell-to-wifi connection error is fixed.
- Plus a bunch of little things to make it work better :)


Fixed small problems with In-App Purchases not showing correct prices.
Exciting new release with many bug fixes! Our reimagined multiplayer modes will help reduce connection issues and glitches during gameplay.

- General bug fixes
- Fixed overlaying cards bug on Multiplayer and Play With Friends
- New UI changes and enhancements
Fixed small bugs causing display issues and trouble connecting in Play With Friends mode.
Continued fixes on freezing issues during gameplay. We are listening to feedback and doing our best! We've also included an ad experience for free tickets.
Version 2.0 is our best release yet!
- Find open multiplayer games with our new multiplayer mode.
- New chat feature to talk with other players.
- Fixed some issues causing game to freeze.
- Bugs and minor UI issues fixed.
Play With Friends "room code invalid" bug is fixed.
After hours of troubleshooting, we've done it! Multiplayer and Play With Friends is working wonderfully. As always, please send us feedback and we'll continue fixing bugs.

Whats new:
- Multiplayer and Play With Friends working much better.
- Fixed game disconnection issues.
- Updated loading screen.
- Larger cards during gameplay.
- Many other minor bugs.

Stay tuned for new features!
They will be here soon!
Thank you for all your support!
You're the best!

TRY OUR NEWEST RELEASE!
Multiplayer and Play With Friends modes have been improved!
Fixed disconnection issues.
Other bug fixes.

You spoke. We listened! The latest version of Play Nine: Mobile has been updated based on user feedback.

We are releasing an update in the coming days to minimize the number of times you see the "Reconnected. Waiting for your turn." and other disconnection issues.

What's New:
1. Fixed some multiplayer disconnection issues
2. Larger gameplay cards
3. UI changes to graphics
4. Spelling errors fixed
5. No ads on login
6. Only your first name is shown when playing multiplayer games
7. Other minor bugs

Please rate and send us feedback. We are LISTENING!
Play Nine: Golf Card Game FAQ
Check the following list to see the minimum requirements of Play Nine: Golf Card Game.
iPhone
Requires iOS 11.0 or later.
iPad
Requires iPadOS 11.0 or later.
iPod touch
Requires iOS 11.0 or later.
Play Nine: Golf Card Game supports English
Play Nine: Golf Card Game contains in-app purchases. Please check the pricing plan as below:
Yearly VIP Subscription
$9.99
Related Videos
Latest introduction video of Play Nine: Golf Card Game on iPhone
Play Nine: Golf Card Game Alternative