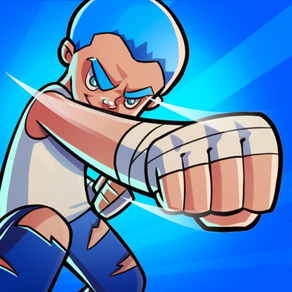 Pocket Clash: Gang Wars
Battle Strategy Game
Free
Offers In-App Purchases
1.5.0
for iPhone, iPad and more
Pocket Clash: Gang Wars Screenshots
About Pocket Clash: Gang Wars
IIs your gang the best in the town? Show your power by leading your gang to win the spectacular street fight!

The clash is on! It's time for your gang to join the mayhem and win the war today! Meet the rebellious street squads and use powerful attacks to become the most indestructible gang in the world.

MEET THE GANG!
- Meet different gangsters with different invincible skills!
- Merge the same gangsters to level up their combat power!
- Meet the Boss to win more fierce battles!

SET UP THE FORMATION!
- Use your best strategy to set up the gang formation!

UNLOCK SPECIAL ATTACKS!
- Use special attacks to do more damage and destroy the enemies faster!

Are you ready to join the gang war? Download and play Pocket Clash now!

Contact us: lightspeed.03m@gmail.com

Sounds from freesound.org:
• victory-cry-reverb-2 by Chripei
• badass-victory by pearcewilsonking
• boo-01.wav by Tim Kahn
• jingle-lose-00.wav by Littlerobotsoundfactory
• coins-pouring-04 by Littlerobotsoundfactory
• menu-select-00 by Littlerobotsoundfactory
• document-folder-open-close.flac by timbre
• victory-sound-1 by Silverillusionist
• victory-sound-2 by Silverillusionist
• victory-sound-3 by Silverillusionist
• Healing 2 (Tranquility).wav by Silverillusionist
• jingle-achievement-00 by Littlerobotsoundfactory
• skyrim-heal-start by cyberkineticfilm
• power-up-bright by InspectorJ
• Short Explosion.wav by animationIsaac
• Spiketrap.wav by Deathscyp
• Diablo Wrath - Fight Wounded Rage.mp3 by SoundFlakes
• Healing 2 (Tranquillity).wav by SilverIllusionist
• child/demonic/angry/yelling: we'll kill you get out here by AmeAngelofSin
• 04261 Cinematic raising phased whoosh.wav by Robinhood76
• Cinematic Impact by deleted_user_3277771
• Suspense Whoosh/Transition 01 by tyops
• Cash Register Purchase by Zott820
• Inside a Tornado.wav by RogerBoyX69
• Electrical Shock (Zap).wav by BigKahuna360""
• Yeki [Ambient InspectorJ]
• Fusion2.wav by wildweasel
• Opening Garage.mp3 by bokal
• FireSpell1.wav by alonsotm
• Gunshot by schots
• Female hero rpg request by AmeAngelofSin

Sounds from soundimage.org
• Nighttime Escape by Eric Matyas
• Urban Assault by Eric Matyas
• Chasing Villain by Eric Matyas

Others :
• wingless-serph.net
• Jokersounds - https://maoudamashii.jokersounds.com/
What's New in the Latest Version 1.5.0
Last updated on Feb 19, 2021
Old Versions
VALUABLE CHESTS AVAILABLE
Open as many chests as possible every day to become the most powerful gang in the world!

CHALLENGING LEVELS AWAIT
Embark your gang journey to win exhilarating battles along with the gang!

Share your gang journey with us via: lightspeed.03m@gmail.com
Version History
VALUABLE CHESTS AVAILABLE
Open as many chests as possible every day to become the most powerful gang in the world!

CHALLENGING LEVELS AWAIT
Embark your gang journey to win exhilarating battles along with the gang!

Share your gang journey with us via: lightspeed.03m@gmail.com
SHOW THEM WHO'S BOSS!
Now you can assign more than 1 Boss to the battlefield. Get ready to win the clash!

EXCITING BATTLE EXPERIENCE
We've improved several features to make your battle experience feel more exhilarating.

Share your gang journey with us via: lightspeed.03m@gmail.com
WHO'S THAT GIRL?
It's a New Boss! Recruit her to make your gang stronger!

BETTER BATTLE EXPERIENCE
We've added some feature information to help you make a better battle strategy.

Share your battle experience with us via: lightspeed.03m@gmail.com
BETTER GAMING EXPERIENCE
It's time to beat the enemy and all enemy's bosses as we've improved the game experience for you!

Share your battle experience with us via: lightspeed.03m@gmail.com
HOW FAR IS YOUR GANG JOURNEY?
Gain more battle experience and level up your gang journey to win exciting rewards!

GAME IMPROVEMENTS
We've improved some features to make you feel more comfortable on the battlefield.

Share your battle experience with us via: lightspeed.03m@gmail.com
LET'S GO ON PATROL!
What patrol? Please update your game to find out!

MORE CHALLENGING BATTLES
We've added more exciting battles for you. Are you ready to join the mayhem?

Share your battle experience with us via: lightspeed.03m@gmail.com
WHO ARE THEY?
They are the new boss in the gang. Download and play now to meet them all!

POWERFUL BATTLE EXPERIENCE
Unleash the invincible boss' skills and use the special attacks to win the gang war!

GOOD NEWS
We've defeated those annoying bugs!

Share your battle experience with us via: lightspeed.03m@gmail.com
THE BIGGEST GANG IN THE WORLD
Conquer as much area as you can to become the most powerful and the biggest gang in the world!

MEET THE NEW GANG
Don't forget to recruit them as they will destroy the enemies with no mercy!

BETTER STREET WAR EXPERIENCE
Bugs are not allowed to join the gang.
JOIN THE STREET FIGHTS!
It's time for you to join the street fight together with the gang!

FANTASTIC EXPERIENCE!
More lively street fights, challenging levels, exciting rewards, and colorful environments for you to enjoy.

NO MORE INTRUDERS!
We mean, bugs! We kicked them out mercilessly.
Pocket Clash: Gang Wars FAQ
Check the following list to see the minimum requirements of Pocket Clash: Gang Wars.
iPhone
Requires iOS 10.0 or later.
iPad
Requires iPadOS 10.0 or later.
iPod touch
Requires iOS 10.0 or later.
Pocket Clash: Gang Wars supports English
Pocket Clash: Gang Wars contains in-app purchases. Please check the pricing plan as below:
Related Videos
Latest introduction video of Pocket Clash: Gang Wars on iPhone
Pocket Clash: Gang Wars Alternative