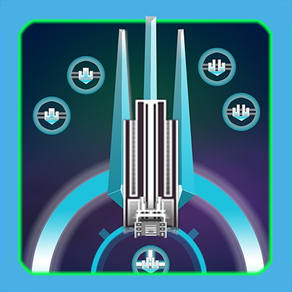 Quasar Phase
Space Battle
2.01
for iPhone, iPad and more
About Quasar Phase
Realtime space battle between two fleets.

Supports up to 16 players at one time in Local Multiplayer Mode.

DeathMatch Mode : Head to Head or play the A.I.
Season Mode : 6 Weeks and Playoffs.
What's New in the Latest Version 2.01
Last updated on Jul 10, 2022
Old Versions
Gameplay upgrade.
Adjusted hps.
New defensive shockwave!

Version History
Gameplay upgrade.
Adjusted hps.
New defensive shockwave!

You can now launch multiple heroes, battlestars, and destroyers.
Added Destroyers and Battlestars.
Added a full 6 Week season with Playoffs at the end.
Multiple AI Levels.
DeathMatch now supports Series (Up to best of 7)
Total reboot.
Lots of new changes coming.
Will be merging everything from the old Quasar Phase and Battle Room.
rebalanced hit points
fixed visual issues on smaller devices
removed launch zones
added upgrades screen
stronger ai
New Main Base Cannon Card.
Rebalanced speed and shot power.
Energy lines on main bases.
Fixed crash bug.
Instead of one main base, you now have many.
Bases are converted instead of destroyed.

Special weapons operate from all bases!

Things have changed so much that the Maps and Levels had to be rebuilt - so you'll lose your progress in the Levels of Mayhem...

Control panels are now the color of your team.

Special base weapons recharge faster.

Adjusted the scoring system - to reward players that get to the higher levels.
added Game Center support
GAME PLAY CHANGES --------------------------------------------------

game play has been rebalanced.
the rock-paper-scissors is no longer hard coded.

main base can be upgraded!

new specials and you always start with a special right away.
this is very helpful for some of the one player levels.
also, each special has a stronger effect as you upgrade your base.

all tech upgrades now have two levels (old version had one)

fighters used to have a specific advantage when attacking destroyers now they just cause more damage in large groups, which means they can cause some real damage to the main base, destroyers, battlestars, and outposts.
(your fighters are now capped at 50 at a time)

heroes are a bit stronger. they're very good for defense when in large groups with the 'hero heavy fire' strategy on

battlestars can now kill both fighters and heroes with their tractor beams

destroyers have way less hps, but cause a lot more damage. also, they no longer have auto-shielding against battlestar photons.

outposts are much stronger - more damage and hps.
they also upgrade much faster, so it's a good idea to get them early.


ONE PLAYER MODE --------------------------------------------------

rebuilt the one player levels.
(sorry, had to reset the data file so you're gonna lose your unlocked levels)


TWO PLAYER MODE --------------------------------------------------

support for slow, fast, and crazy speed.
crazy speed = awesome insanity

you can play the AI now as well

you can also have the AI play the AI! (very cool to watch for those huge battles - bit slow sometimes!)


EXTRAS --------------------------------------------------

stats after each battle

battle time on screen
upgraded the launch. destroyers and battlestars will immediately point in the direction of their target (instead of having to turn all the way around)

fixed a couple of bugs:

ai would get stuck and not launch ships in certain situations.

game would slow down a lot in some one player levels (mostly 22 and up)
Quasar Phase FAQ
Check the following list to see the minimum requirements of Quasar Phase.
iPhone
Requires iOS 12.0 or later.
iPad
Requires iPadOS 12.0 or later.
iPod touch
Requires iOS 12.0 or later.
Quasar Phase supports English