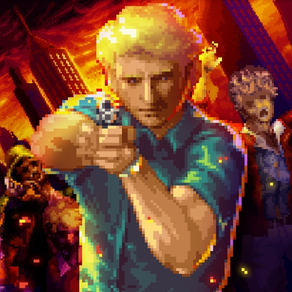 Raging Bytes
A pixelated zombie RPG
1.1.0
for iPhone, iPad and more
About Raging Bytes
A police officer, Ben, awakens in hospital after an accident to find the city overrun by zombies!
What in the world is going on here? Can the government be relied on? Do any other survivors remain?
Ben stumbles upon a doctor named Barbra while struggling through zombie-infested streets.
Together, they make their way to Ben's police station, but only more horror awaits them.

Can you survive the raging b"y"tes of the zombies?

Features

- A story-driven plot akin to that of zombie movies
- A byte of horror without all the gore
- Attractive characters full of drama
- Turn-based battles with satisfying depth
- Find supplies in all kinds of places
- No in-app purchases!

Written and supervised by:Jiro Ishii
Development:Hit-Point
Publishing:KEMCO

* This app supports devices newer than iPhone 7 and iPad 5th with iOS 12 and up. User support on non-supported devices is not guaranteed.
What's New in the Latest Version 1.1.0
Last updated on Apr 12, 2023
Old Versions
English version released.
Version History
English version released.
Raging Bytes FAQ
Raging Bytes is available in regions other than the following restricted countries:
Malawi,Tonga,Uganda,Dominican Republic,Gambia,British Virgin Islands,Kosovo,Guatemala,China,Burkina Faso,Bhutan,Congo,Antigua And Barbuda,Mali,Mauritania,Palau,Tajikistan,Zimbabwe,Bahrain,Costa Rica,Guyana,Namibia,Serbia,Brunei Darussalam,Lao Peoples Democratic Republic,El Salvador,Zambia,Libya,Pakistan,Turkmenistan,Azerbaijan,Papua New Guinea,Saudi Arabia,Grenada,Kyrgyzstan,Bermuda,Suriname,Senegal,Cambodia,Niger,Israel,Montenegro,Mozambique,Chad,Armenia,Egypt,Tanzania,Vanuatu,Uzbekistan,Jordan,Oman,South Korea,Lebanon,Iceland,Sao Tome & Principe,Anguilla,Sierra Leone,Yemen,Iraq,Swaziland,Turkey,Liberia,Macedonia,Albania,Ghana,Jamaica,Madagascar,Myanmar,Nauru,Bosnia & Herzegovina,Botswana,Cameroon,St. Kitts and Nevis,Morocco,Montserrat,Turks and Caicos,Dominica,Kenya,Cote Divoire,Moldova,Mauritius,Rwanda,United Arab Emirates,Benin,Tunisia,Nicaragua,St. Lucia,Barbados,Micronesia,Sri Lanka,Belarus,Gabon,Georgia,Guinea-bissau,Seychelles,Trinidad and Tobago,Bahamas,Congo, Democratic Republic,St. Vincent & The Grenadines,Kazakhstan,Honduras,Mongolia,Nepal,Cape Verde,Algeria,Fiji,Kuwait,Maldives,Nigeria,Panama,Afghanistan,Angola,Belize,Solomon Islands,Qatar,Cayman Islands
Raging Bytes supports English, Japanese
Check the following list to see the minimum requirements of Raging Bytes.
iPhone
Requires iOS 11.0 or later.
iPad
Requires iPadOS 11.0 or later.
iPod touch
Requires iOS 11.0 or later.
Related Videos
Latest introduction video of Raging Bytes on iPhone