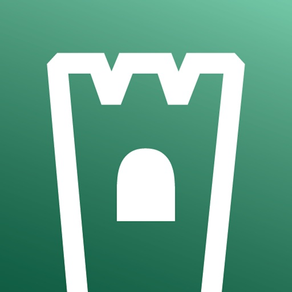 Rapunzl: Simulate. Invest. Win
Free Trading. Real Cash Prizes
2.9.16
for iPhone, iPad and more
Rapunzl: Simulate. Invest. Win Screenshots
About Rapunzl: Simulate. Invest. Win
Join Rapunzl, the only free simulated investing community where the top 30% of investors win prizes in fantasy investing competitions every week! We've already given away over $100,000 in prizes and we're not stopping anytime soon…

The rules are simple: We give you $10,000 to build a real-time stock portfolio. You create free, simulated long and short stock positions. Enter your portfolio into competition for free & win prizes every week and month with fantasy stock competitions!

Discover your investor potential & never risk a dollar. Rapunzl does not charge users to simulate a portfolio and all of our fantasy investing competitions are simulated & entirely free. It's time to earn while you learn to invest; without any risk or any of the hidden costs.

Conquer the stock market with simulated investing. Follow friends' & family's simulated stock portfolios; add companies' stocks to your investing watchlist; and explore the worlds of investing & finance. You can even trade like top investors from the Rapunzl community!

The Rapunzl investing app makes you a Wall Street investor that's taking charge of their personal finances, without ever risking more than your simulated stock portfolio. Learn the trade of investing to master the highs & lows of the stock market and win free prizes just for building a portfolio and joining the competition!

This app is perfect for beginner investors, part-time day traders & full-time finance professionals!

For FREE you can:
- Buy, Sell, Short 8,000+ stocks
- Access real-time financial data, market data insights & business news
- Learn to trade & invest with beginner tools & tutorials
- Discover top performing investors through social connections
- Win CASH PRIZES!

Become an investor on Rapunzl for free & simulate a stock portfolio with live prices & zero-commission simulated trading. Join Rapunzl's social investor community and access analyst ratings, earnings calendars & market news as you learn to trade & compete in fantasy investing competitions.

Rapunzl Investments transforms the financial world & improves your personal finance skills. We lower the high returns of Wall Street down to ordinary investors with free investing & huge fantasy rewards every week! The stock market has never been more social or accessible. Not only is everything free, but you can win money!

Already, Rapunzl has hosted stock competitions with $100,000+ in prizes so the only question remaining is: Do you think you have what it takes to be the top investor?

Join a Rapunzl Investing Competition for free today!

If you have questions or need help, visit our website: www.rapunzlinvestments.com

DISCLAIMERS
You represent & warrant that you are at least 18 years of age. In locations where the minimum age for permissible use of Rapunzl is greater than 18 years of age, you represent & warrant that you meet the age requirement for the minimum age for permissible use of the Rapunzl App and Rapunzl's Investing Simulator. If you are over the age of 18 and not a legal & valid US resident, you are not eligible to receive any of the competition prizes offered on the free Rapunzl simulated trading app. Rapunzl simulated investing competitions are not associated with financial services firms, trading apps, or social investing platforms. Rapunzl is not a registered investment advisor or broker-dealer. Rapunzl is a simulated investing app. We do NOT provide investment advice or solicit investments, including for stocks or anything related to stock market investing. NO CONTENT shared by Rapunzl or disseminated through Rapunzl's stock simulator should be considered a recommendation or solicitation for the purchase or sale of investment products. If you're under the age of 13 you cannot use the Rapunzl app. Simulated Rapunzl trading is permitted between the ages of 13-17; however, you may not make in-app purchases on Rapunzl & cannot redeem cash prizes or other rewards. Competitions are not affiliated with Apple in any way.
What's New in the Latest Version 2.9.16
Last updated on May 17, 2023
Old Versions
Updates to payout process and improved access to support. Fixed a few bugs to improve your investing experience.
Version History
Updates to payout process and improved access to support. Fixed a few bugs to improve your investing experience.
We've improved data feeds to prohibit trading stocks which have halted trading in the middle of the day and introduced a volume liquidity fee to more realistically simulate real market conditions. Happy investing!
Fixed issues with company logos not displaying correctly. Improved payout process by blocking international banks and making it more clear that competition prizes are only available for legal US residents. Happy investing!
The latest from Rapunzl's developers squashing bugs, improving performance, and making a better simulated investing experience. Happy investing!
Fixed bug with linking payouts for certain accounts. Updated benefits of leveling up and improved ability to refresh prices on trade screen. Happy investing!
Fixed performance bug that was showing incorrect portfolio performance, added My School screen to track classmates, and improve Payout system to pay prizes faster. Happy investing!
Fixed issues with pricing data. Expanded the ability to search for classmates and find the top earners on Rapunzl so that you can follow their investment strategies. Resolved a lingering bug that was making it difficult for some people to contact support and improved the trading experience. Happy investing!
Fixed a bug that was impacting competition payouts and made it easier to place trades after-hours. Also fixed an issue which was impacting some users' ability to contact support directly within in the app. Expanded competition prizes and squashed a couple bugs that were impacting friend requests. Happy investing!
Minor bug fixes impacting some competition rankings. Added the ability to save your phone number to increase security accessing your account. Happy investing!
We added cryptocurrency descriptions, trading volume, and daily high and low periods. We've also improved our notification functionality, updated our trading interface to provide a greater flexibility of trade options, and made it simpler to update bank details when you are cashing out your winnings. Happy investing!
We updated our competition lobby so that you can join competitions before they begin! We've also improved our push notification experience and made additional improvements to our trade engine in order to keep your portfolios buzzing. Happy investing!
We've added push notifications so that you can stay up to date on the latest competitions and keep track of your earnings! We also fixed a few minor bugs in order to create an easier trading experience. Happy investing!
Crypto is live! We've improved the trading experience by solving a problem some portfolios had when attempting to cover short positions. We also added push notifications to help remind you to join the latest competition to help continue earning prizes. And, by popular demand, we've added the menu screen onto your crypto feed so that you can access the information whether you're trading stocks or crypto. Happy investing!
CRYPTO IS FINALLY LIVE! Now Rapunzl offers simulated stock portfolios AND simulated crypto portfolios, allowing you to master your trading skills in both stocks and crypto. Oh, and yes that means we've got even more prizes where the top 30% can win. Join our risk-free, fantasy investing competitions every week and dive in!
We've improved the simulated investing experience once more! Our team resolved trading issue that was causing some portfolios to display the incorrect account balance. Rapunzl also made minor bug fixes to competition rankings which should make the leaderboards load faster and avoid inaccurate representations of portfolio performance.
We fixed a bug that was impacting some user's ability to place trades during market hours and improved performance when placing trades.
Fixed an issue with the watchlist, expanded our crypto educational tools, and improved the speed to share Rapunzl and earn $1 for every new friend that signs up for our free competitions!
Made it easier to cash out prize winnings and fixed a lingering bug that was blocking users with routing numbers that began with 0 from adding their account details. Time to redeem your prize winnings and continue earning as you share Rapunzl!
We've made it easier to share with friends and gave everyone a sneak peek at crypto trading which is coming soon! In the next few weeks you'll be able to simulate both stock and crypto portfolios giving you double the chances to learn and earn. We also fixed a minor bug that was preventing some users cashing out their winnings.
We made a few major bug fixes and improved the ability for individuals to share competitions with their friends... Happy Investing!
Updated so that it's easier and more rewarding to share Rapunzl with friends than ever before! Update to find out what's new!
We expanded our prize pool! Now you can earn while you learn to invest and once you're ready, we'll help you take the next step with $10 on us.
Improved charts, additional competitions, expanded leaderboards and much more! Check out the latest update and happy investing!
Fixed lingering issues with the portfolio chart color updates and also resolved a critical issue with cashing out so that winners can finally redeem their prizes via ACH!
We fixed an issue with portfolio charts, expanded our support section, and solved lingering problems users were experiencing updating their account credentials in order to cash out their winnings. Happy investing!
Rapunzl: Simulate. Invest. Win FAQ
Check the following list to see the minimum requirements of Rapunzl: Simulate. Invest. Win.
iPhone
Requires iOS 11.0 or later.
iPad
Requires iPadOS 11.0 or later.
iPod touch
Requires iOS 11.0 or later.
Rapunzl: Simulate. Invest. Win supports English
Rapunzl: Simulate. Invest. Win Alternative