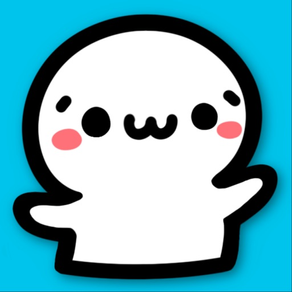 renshuu - Japanese learning
Pick up words, kanji, and more
Free
Offers In-App Purchases
1.3.9
for iPhone, iPad and more
renshuu - Japanese learning Screenshots
About renshuu - Japanese learning
A cute, ad-free, and enjoyable learning experience is waiting for you in the Renshuu community! The free version is unlimited: there's no timer before you are forced to pay!

- A path for every learning style and every goal -
Whether you are getting started with the alphabets or have been studying for years, jump in exactly where you belong! Don't waste time going through what you already know.

Renshuu maintains learning paths for most textbooks, the JLPT, Kanji Kentei, and for those who just want to learn. You can also carve out your own path! Our community has over 10,000 user-made lessons for even more focused learning.

- Cute, relaxing, and fun -
Our mascot Kao-chan is here to let you enjoy learning Japanese, whether it's through collectible coins every time you quiz, a character that evolves as you learn, manga pages that you unlock, or hundreds of hand-made illustrations.

Additionally, we have both single and multiplayer games to help you keep your learning and reviewing fresh!

- Personal service -
We are just a two-person company - and we don't use chat bots. That means that every question you have gets an answer directly from us.

- Rich, in-depth materials -
> Vocabulary: over 15,000 native-recorded audio files, 17,000 hand-picked images, and 160,000 example sentences make understanding vocabulary a breeze. Our growing library of accent/pitch data can even help you with accent reduction.
> Kanji: 12,000+ kanji, with no limits on what you can study! Over 2,000 colorful mnemonics help you to understand and retain the meanings.
> Grammar: Over 800 different expressions, each complete with native-written model sentences, construction diagrams, audio, and over 7,500 hand-made quiz questions.
> Sentences: Thousands of sentences complete with audio, divided by theme and difficulty levels.

- A superior quiz system designed around Japanese -
Our SRS-for-Japanese system doesn't treat Japanese materials like flashcards to be memorized, and breaks every item down into individual components so you can understand, and not just memorize. Mastery schedules keep you studying only what you need to, pushing weaker materials to the front for you to focus on.

Dozens of different question styles keep things fresh, while a flexible input system (multiple choice, typing, or writing) lets you answer the way that you want to.

- Customizable down to the last character -
Renshuu doesn't believe that there is a single way of studying that everyone should adhere to. Our expansive settings and customizations let you adjust the learning environment to what works best for you.



End user license agreement can be viewed here: https://www.renshuu.org/eula
What's New in the Latest Version 1.3.9
Last updated on May 12, 2023
Old Versions
Minor improvements to connection handling with the renshuu server.
Version History
Minor improvements to connection handling with the renshuu server.
Speed improvements, numerous bug fixes, and the following content to be release in early April:
1. Kao-garden - new items (including new houses!)
2. New "Reading Buddy" tool
3. New #tag search in Renshuu's vocabulary dictionary
April refresh, a ton of bug fixes, new lessons under Resources > Japanese Basics, and the framework for a new, upcoming feature: Reading Buddy!
Visual updates for March, a brand new filtering system for sentences (so you get more sentences closer to your level of learning), and tap on "just about anything" in sentences to now get detailed information about grammar structures (even multi-word ones) in the sentences!
- Visual refresh for February
- Much better support for external keyboards used with iPads, etc.
Visual update for January 2023, new items in the Kao Garden, various bug fixes, and easier access to pro information for renshuu pro members.
December visual refresh, more goods to reward your learning in the Kao Garden, and a New Year's card maker coming in the middle of December!
Visual refresh for November, and a small fix for the password reset page!
Small fix with registration via Apple or Google logins.
Better handling of external links so you can more easily share friend codes and link up to our Discord!
"Return to quiz" button added if you get distracted while in a quiz.
Halloween release! New limited-time items for your Kao Garden as you learn Japanese. Numerous fixes and improvements have also been made, and are detailed in the announcement within renshuu.
We hope you enjoy Kao Garden, our new achievement system! Enjoy even *more* Japanese and grow your own garden as you learn with us.
We've also started to increase our free audio, including our first male voice actors!
Artwork refresh for August
A ton of new lessons under Japanese Basics
Additional framework for Kao Garden feature (upcoming)
New N5/Beginner lessons added to Resources > Japanese Basics
Improved zoom response when zooming into input fields
Updates in preparation of Kao Garden (to be released later this summer)
Fix: improved support of background music from other apps

*Features and Content*
Split the Learn menu into "Resources" and "Tools"
Added a kanji radicals chart under Resources
Added our Text Analyzer under Tools
A ton of new lessons under Resources > Japanese Basics
A stamp card rally for May 2022!
renshuu now properly, temporarily lowers the volume of background apps (music, etc.) when you are listening to audio in the app.
Settings system for schedules and in-quizzing completely redone for easier-to-access customization!
Lastly, you can now add and view notes for vocabulary (mnemonic, usage information, and more!).
March update - new Community tab on your dashboard, anti-flood protection to keep schedules manageable when testing out new study styles, and a visual refresh for Question Center and Word Gardens!
A few minor menu changes, and some underlying framework for new features dropping in February!
Happy New Year 2022!

- Significant scrolling improvements on older devices when viewing term lists and grammar
- A huge batch of JLPT N2 Grammar now available for studying
- Search for phrases or sentences in the Vocabulary Dictionary and let renshuu break them up and give you information on each word, particle, conjugation, and more!
We've got daily mini-games for you throughout December as we look towards the unveiling of a digital 年賀状 (New Year's card) maker towards the middle of the month!
The menu has been updated with a cleaned up Help system, more centralized settings, and more!

N5/Beginner grammar quizzes have been significantly improved, with better vocabulary and difficulty matching between the grammar quizzes and the rest of your N5 studies.
November update with a completely revamped Help system and Settings panel!
We've got an October まつり (festival) for you! Simple challenges wait for you on your renshuu dashboard. Complete them and fill up your stamp card, which can be used at the end of the month to get free renshuu pro or XP for your Kao-chan character!
Notifications are now working again for renshuu! You can turn on notifications that you're interested in under the Notifications category in Settings.

Incorrect link for renshuu's discord has been fixed under Community.
Bluetooth keyboard input should now work!

Thank you again for using renshuu to enjoy learning Japanese!
Fixed a crash when trying to save images.

We've also got new Quick Draw realms with intermediate and advanced kanji out later this month!
renshuu - Japanese learning FAQ
Check the following list to see the minimum requirements of renshuu - Japanese learning.
iPhone
Requires iOS 11.0 or later.
iPad
Requires iPadOS 11.0 or later.
iPod touch
Requires iOS 11.0 or later.
renshuu - Japanese learning supports English
renshuu - Japanese learning contains in-app purchases. Please check the pricing plan as below:
renshuu pro subscription
$6.99
renshuu pro subscription
$6.99
Lifetime renshuu pro
$109.99
Lifetime renshuu pro
$129.99
renshuu pro subscription
$3.99
1 year access to renshuu pro
$49.99
1 year access to renshuu pro
$59.99
renshuu - Japanese learning Alternative